Medical Stores
by Craig Rohloff, with Martin Willey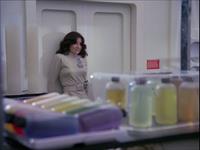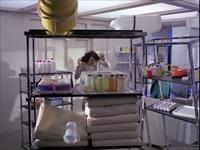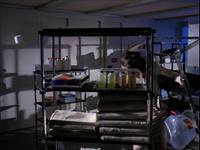 The Medical Stores appeared in The Lambda Factor. This was a unique set created by using the modular set walls arranged into a new configuration, filmed on M Stage on Friday 15th October 1976. It is reworked from the Research Room set filmed 3 days before. There is plenty of free-standing storage shelves and equipment throughout the entire set.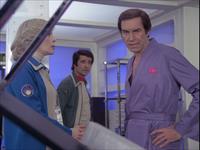 Note the depth of the lighted wall shelves. Most panels of this type are not deep shelves.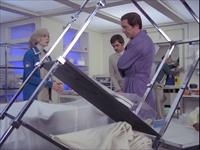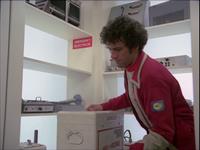 By the sub-storeroom door, unusual shelves with illuminated panel behind. These were seen in the Main Electrical Unit seen in The Beta Cloud.
Sub-storeroom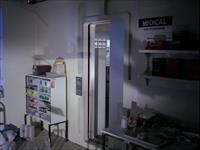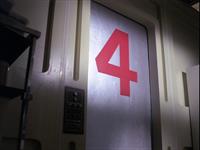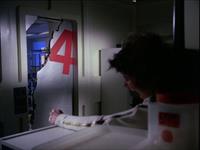 There is a "Sub-storeroom" with plain, flat metallic door, unlike any door previously seen on Alpha. Strangely, the sub-storeroom has a large numeral 4 emblazoned on the inside door of the room. It would make more sense for such a numeral to be on the outside, so that each individual sub-storeroom (presumably there are 1, 2 and 3) could be seen at a glance from the main room. Perhaps the sub-storeroom has multiple exits, or sub-sub-storerooms, on the unseen fourth wall. These could be small rooms like the Main Electrical Unit seen in The Beta Cloud, essentially a walk-in closet.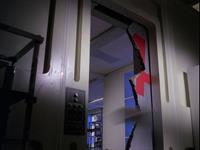 The door control panel on the inside is on the wrong side of the door frame. It should be back-to-back with the control panel on the outside.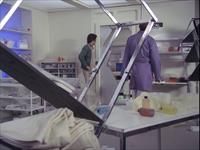 The room within has a wall-sized set of vent louvres opposite the door. Perhaps this room is a walk-in cold store, to keep certain medical supplies refrigerated, hence the unusual door. The louvres are also seen in the Nuclear Central Core corridor in The Bringers of Wonder Part 2
We only see three of the four walls of the main room. One shot shows a shadow on the right. This may be the shadow of a standard panel frame, perhaps a lighted wall panel, on the fourth wall. The tipped shelves show it must be a little distance further to the right, perhaps another 4 feet/ 1.2m.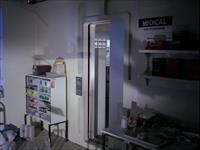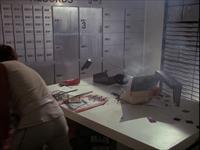 The other visible-on-screen wall inside that room has an array of metal cupboard doors; it appears to be a re-use of a wall from the Records Lab seen in The Bringers of Wonder Part 1.
Plan
Like the main room, the fourth wall of the sub-room is also unseen on screen.
---