COMMLOCK AND STUN GUN Plastic Model Kit (MPC)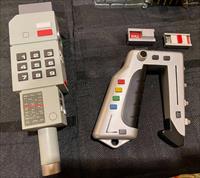 USA July 2021
MPC941/12
$41.99.
A plastic 1:1 model kit of the two props, by Round 2 under their MPC brand.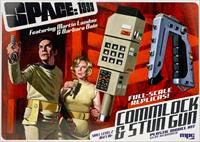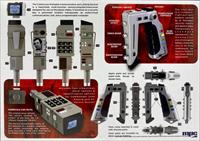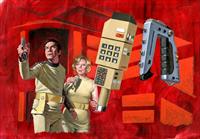 Original box art by Jamie Hood. The poses are based on photos supplied by ITV Ventures (Koenig is from Force of Life, Helena is from The Troubled Spirit).
The box contains in small text "This product is a prop replica and requires assembly. It does not stun or kill and does not shoot projectiles or laser beams". The box sides note both prop models are "engineered for lighting", but the kit itself does not include any electronics.



The models are closely based on original props for the commlock and stun gun, especially the working commlock prop, which matches perfectly the decals and even Landau photo.
Photos of assembled kits as displayed at Wonderfest, 2021. Co-incidentally the kit was released at the same time as the (much delayed) Sixteen 12 electronic comlock and stun gun. Round 2 uses "commlock", while Sixteen 12 uses "comlock"; the series used both at different times, but the former was more common. ITV supplied the same photos to both companies, so the same Koenig and Helena poses appear on both. The Sixteen 12 replica uses more contoured, sometimes transparent buttons; the Round 2 buttons are squarer but more accurate (although most studio props, including those of the main actors, used flat stickers instead of buttons). The Round 2 stun gun includes both Year 1 and Year 2 designs for stun/kill slider; the Sixteen 12 only has the Year 2 version. The black grid on the lower third of the commlock front is oddly raised and rounded on the Sixteen 12 replica.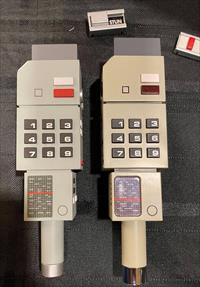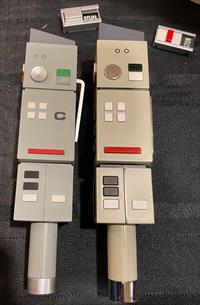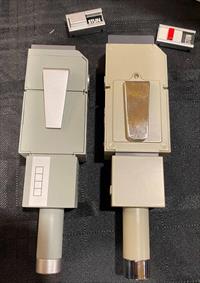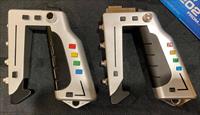 Copyright Martin Willey. Thanks to Gordon Moriguchi.