Big Finish Audio Dramas
---
UK 13 September 2019
CD: ISBN: 978-1-83868-069-5 €18.32
Digital download: ISBN: 978-1-83868-070-1 €14.99
Episode length: 1h 51m 9s
Behind the scenes length: 54m 12s
Big Finish started producing licensed audio dramas based on Doctor Who in 1998, and have diversified into other UK fantasy television franchises, including Anderson's Captain Scarlet and Terrahawks. The "audio dramas" are produced like radio dramas, with professional actors often including original cast. They are sold on CDs and internet downloads. Senior producer is David Richardson, who used to write about Space: 1999 for TV Zone magazine in the 1990s.
Big Finish previously did an audio "re-imagining" of another ITC series, The Prisoner, starting in 2016. The series featured an updated format, with new music, and used a mixture of adaptions based on original episodes and new stories. It seems this is the template for Space: 1999.
The first play, Breakaway, was announced 12 August 2019 (with a premature advance announcement by Jamie Anderson on 11 August), for release on 13 September 1999. "An additional box set of four episodes will follow early in 2020." Two stories will be based on original episodes (one is Death's Other Dominion), two will be original. Briggs intends the stories to be more of a continuing serial, with a development over the stories.
The adaption (over 2 CDs) of Breakaway is based on the original episode (with some original dialogue) but expanded significantly. It was written and directed by Nicholas Briggs, with Jamie Anderson script-editing. On a third disc is a 1-hour audio documentary about the making of the play. Total length is given as 167 minutes, so play length must be a little under 2 hours.
Music is by Benji Clifford, an actor and sound editor who does music and sound design for Big Finish, and also co-hosts their podcast with Briggs. It is a new score (and sound effects), but the main theme is closely based on Barry Gray (channelled via Geoff Love).
Strangely two characters have subtle and rather needless name changes, neither of which will be obvious in an audio format (Simmonds becomes "Simmons", Gorski is "Gorsky"). Petra is the newscaster who interviews Simmonds and Koenig is the early scenes (a newscast establishes the opening of the story, replacing the Simmonds/Koenig briefing in the Eagle).
Packaging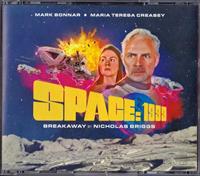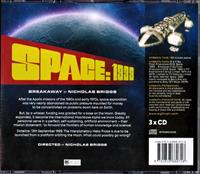 There is a 4 page leaflet (12cm x 12cm) with credits.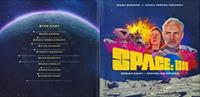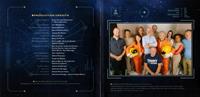 Anderson Entertainment special edition
The card slipcase.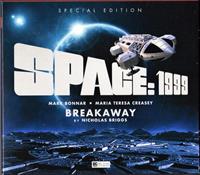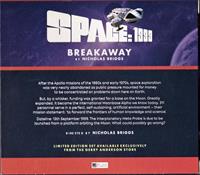 There is an 8 page leaflet (12cm x 12cm) with photos.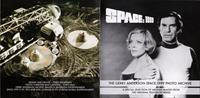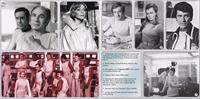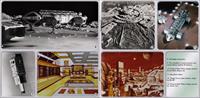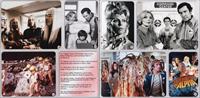 Links
Print: SFX magazine issue 318/ October 2019 has a feature p62-65, a review on p111 (3.5 stars out of 5), and a full page advert on p47.
Print: FAB magazine issue 94/January 2020 has a review by Ian Nelmes p44-45