Script To Screen
---
The first day of filming for Guardian Of Piri was on Tuesday 7th May 1974. In the morning they completed filming for Missing Link, and filmed additional scenes for the first episode, Breakaway (which had been completed in early January).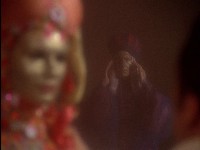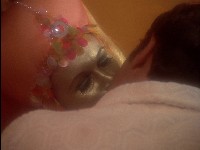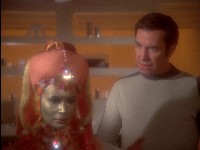 The scenes in Missing Link are in Koenig's quarters. Scene 83 is when Vana and Koenig first kiss ("I want you to stay with me"); scene 84 reveals Raan watching them. The scene was started on Monday 6th and completes today. The music recorder (and sound playback) is presumably for Vana's theme, the sad music that Vana projects with her mind. It is odd that a physical prop was specified here; none is visible in the scene. Scene 95 is the final scene in his quarters ("Sandra has convinced you to return")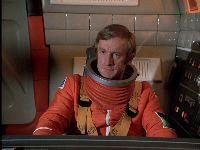 Next, Nick Tate is filming Eagle scenes for Breakaway ("Alpha, can you hear me? The Moon is going out of the Earth's orbit.") In the first episode, astronauts have a different design of collar; this is one of several shots with the later collar design that were added to the episode in re-shoots.
Guardian Of Piri starts filming about 11am, with Eagle command module shots from the start and end of the episode.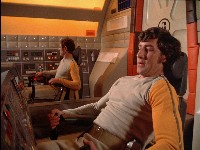 Scenes 4-21 show Irving and Davis from the start of the episode. Gareth Hunt plays Irving and John Lee Barber plays Davis. Director Charles Crichton disagreed with Hunt during this filming. 7th May was Hunt's only day on set. Michael Culver and John Gleeson replaced them in all the scenes on the planet surface, which started filming on 20th May. They refilmed all the shots from today on Friday 24th May (details here), with the exception of 142. So the shots from the end of the episode are Hunt's only appearance. John Lee Barber would appear as a pilot in other episodes.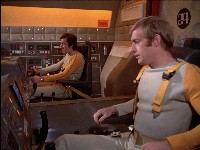 Scenes 29,32 and 38 show Carter and Johnson flying to find Irving's Eagle. An intermediate scene (scene 34, with Carter talking to Koenig on the monitor) was held over to the following day, because Martin Landau was not available for these scenes.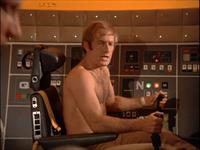 Scene 142 shows Alan, Johnson, Irving and Davis returning to the Eagles at the end of the episode.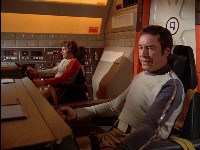 The shots of Koenig and Morrow returning to the Eagle (scene 141) were filmed the next day, which also included Carter visiting the Marie Celeste Eagle. The shots of Koenig and Carter flying to Piri were followed by the big fight between them (stuntmen were Marc Boyle for Koenig and Joe Dunne for Carter, arranged by Alf Joint). The passenger module scenes followed the day after, on Thursday 9th May.
GROUP THREE PRODUCTIONS LTD.




CALL SHEET NO: 12

"SPACE 1999" T.V. SERIES

.


EPISODE 7. "MISSING LINK"




EPISODE 8. "GUARDIAN OF PIRI"

.
DIRECTOR:

RAY AUSTIN (MISSING LINK)
CHARLES CRICHTON (PIRI)

STAGES:

"M"
NORTH TUNNEL.

DATE:

TUESDAY 7TH MAY, 1974

UNIT CALL:

8.30.AM.
---

ARTISTE
CHARACTER
D/R
MAKE-UP CALL
SET CALL

---

INT. ZENNO/KOENIG'S QUARTERS.

To complete: 83. 84. 95.
MARTIN LANDAU
KOENIG
321
7.30
8.30
PETER CUSHING
RAAN
328
7.30
8.30
JOANNA DUNHAM
VANA
327
7.30
8.30
STAND-INS:
Alan Meacham
for Mr.Landau
8.00
8.30
George Holdcroft
for Mr.Cushing
8.00
8.30
Lesley Stamps
for Miss Dunham
8.00
8.30
PROPS: Music recorder. Tray of food. Commlock and stand.
WARDROBE:

Koenig in Alpha uniform for Sc.95. Koenig in robe for all
other scenes, in Zenno
SOUND: Playback required.
CAMERA DEPT: Glass disappearing shot required for Sc.95
DRAPES: Draper with black drapes to stand by for Sc.95.
---
2. ADDITIONAL SHOOTING - "BREAKAWAY".
INT. EAGLE COMMAND MODULE.
| | | | |
| --- | --- | --- | --- |
| NICK TATE | CARTER | 326 | 8.30a.m. for rehearsal. |
PROPS: Commlock.
WARDROBE: Carter wears space suit and collar. No helmet.
---
3. EPISODE 8. "GUARDIAN OF PIRI"
INT. EAGLE COMMAND MODULE. Sc. Nos. 4. 7. 10.12.15.17.19.21.29.32.38.142
PRENTIS HANCOCK
MORROW
335
Standby till 1.00
NICK TATE
CARTER
326
from above.
GARETH HUNT
IRVING
325
10.00
11.00
JOHN LEE BARBER
DAVIS
336
10.30
11.00
JAMES FAGAN
JOHNSON
Caravan 6
10.30
11.30
PROPS: Commlocks. Stunguns. Medical monitors - wrist.
WARDROBE:

1. Alpha uniforms worn by pilots etc.
2. Carter stripped to waist: tunic carried.
3. Johnson in Alpha uniform.
ART DEPT: Different Eagle dressing for Sc.29
MAKE-UP: Body make up for Carter. Sc.142.
CAMERA: Sea head required.
/CONTINUED .....
GROUP THREE PRODUCTIONS LTD.




CALL SHEET

NO: 12 (CONTINUED)

EPISODE 8. "GUARDIAN OF PIRI"

.
---
ELECTRONIC:

Sc. 4 - 32.
A. B. Eagle monitors.
Sc. 38.
A. B. Eagle monitor to Morrow link.
Sc. 142.
A. B. Eagle monitor link.

CATERING:

A.M. break on "M" Stage.

P.M. break on North tunnel

for 75 people

RUSHES:

Theatre 7 at 5.30p.m.

TRANSPORT:

Ray Atkin to collect Mr.Landau at 6.45a.m.
KEN BAKER,
Assistant Director.