Script To Screen
---
The 13th and final day of shooting for Guardian Of Piri was Friday 24th May 1974. This is the climatic scene at the foot of the Guardian, as Koenig shoots the Pirian girl, the guardian explodes, and everyone runs for the Eagles. This was a continuation from Thursday 23rd, an extended day which had been scheduled to complete most of these shots. Almost the full cast is on set (missing is Operative 2, Christine Donna). There are even real butterflies (as the call sheet notes, "hopefully").
There are a couple of spelling mistakes here. Pirian is spelt "Pyrian" (a typo since call sheet 9 on Monday, but correct in previous sheets). Actor Tony Allyn is called Tony Allwyn twice (he was also named wrongly on the 23rd May call sheet, but in other sheets his name was spelt correctly). Suzanne Roquette is named Suzanna.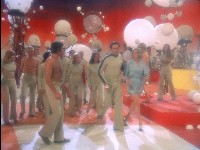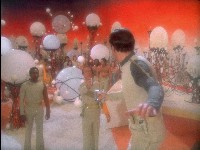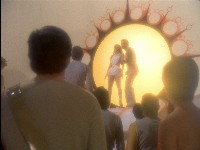 Scene 131 is a long scene from Koenig and Helena walking through the angry crowd, shooting Mathias, Alan and Irving, to the confrontation on the steps, and finally throwing the Pirian robot down the steps.
Filming was scheduled to start on Wednesday 22nd May, with more filming on Thursday 23rd. Filming on Friday 24th was only on the Guardian steps. Stunt woman Dorothy Ford had been "shot" by Koenig on Thursday (she strategically covers her face with her hands as she falls), but Catherine Schell was still present on Friday (shots are not necessarily filmed in sequential order, particularly reaction shots). Although the dummy Pirian girl and the effects (explosions, wind, and the "bubble machine") were ready on Thursday, it seems they were filmed on Friday.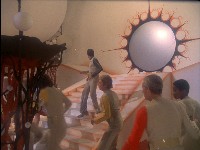 Scene 133 is a short scene as Koenig runs down the steps "in a shower of sparks" (there are some light flashes, wind, and the bubble machines starts to produce soap bubbles).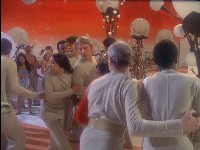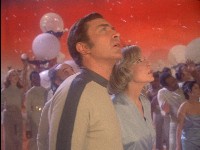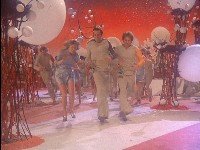 Scene 135 and 137 are reaction shots of the Alphans, in particular Irving and Davis looking up. The effects scene 136 would have shown their Eagle, hanging in the sky, fall into the pinnacles and exploding. It doesn't seem that any of this footage was used.
Scene 139 has Bergman seeing that the Moon is leaving orbit, and Koenig orders "Back to the ships!" It then has all the shots of the Alphans running in the storm. These scenes were filmed with two cameras.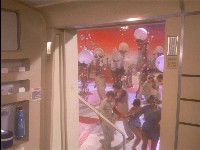 Scene 140 is a view from the Eagle door as the Alphans run into the Eagle. Note that the shots of the pilots sitting down in the command module were filmed on 7th May, the first day of filming, which is why Gareth Hunt appears. The replacements shots with Michael Culver would be filmed in the afternoon of 24th May, as we'll see below.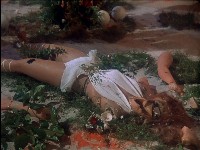 Finally the set is redressed for scenes 146 and 147, as life returns to Piri. Scene 146 shows the body of the Pirian girl, with spring water gushing out of the red soil. The water can be seen at her feet; there is a single live butterfly on the right by her arm. Neither details are very clear in the shot.
Scene 147 should have been "a series of shots illustrating the planet's return to life", but none are used in the episode; they are replaced by a special effects shot of the surface with greenery.
GROUP THREE PRODUCTIONS LIMITED.

"SPACE 1999" TELEVISION SERIES

.


EPISODE 8 - "GUARDIAN OF PIRI"




CALL SHEET NO: 13
| | | | |
| --- | --- | --- | --- |
| DIRECTOR: | CHARLES CRICHTON | STAGE: | 'M' and NORTH TUNNEL |
| DATE: | FRIDAY, 24th. MAY, 1974 | UNIT CALL: | 8.30.AM. |
---

ARTISTE
CHARACTER
D/R
MAKE-UP CALL
SET CALL

---

(1)

EXT. GUARDIAN. SC.NOS:131pt.133.135.137.139


(2)

EXT. PLANET/EAGLE. SC.NOS:140.


(3)

EXT. PLANET. SC.NOS:146.147.



MARTIN LANDAU
KOENIG
321
7.30.am.
8.30.am.
BARBARA BAIN
HELENA
322
7.00.am.
9.00.am.
BARRY MORSE
BERGMAN
324
9.30.am.
10.00.am.
CATHERINE SCHELL
PYRIAN GIRL
325
7.15.am.
8.30.am.
PRENTIS HANCOCK
MORROW
335
9.00.am.
10.00.am.
ZIENIA MERTON
SANDRA
328
7.15.am.
8.30.am.
NICK TATE
CARTER
326
9.00.am.
10.00.am.
CLIFTON JONES
KANO
327
8.00.am.
8.30.am.
ANTON PHILLIPS
MATHIAS
CARAVAN 6
7.30.am.
8.30.am.
MICHAEL CULVER
IRVING
CARAVAN 4
7.45.am.
8.30.am.
JOHN GLEESON
DAVIS
CARAVAN 4
7.45.am.
8.30.am.
JAMES FAGAN
JOHNSON
-
7.45.am.
8.30.am.
TONY ALLWYN
FIRST GUARD
CARAVAN 6
7.45.am.
8.30.am.
SUZANNA ROQUETTE
TANYA
336
7.15.am.
8.30.am.
JUNE BOLTON
OPERATIVE 1
336
7.15.am.
8.30.am.
RAYMOND HARRIS
OPERATIVE 3
-
7.45.am.
8.30.am.
LOFTUS BURTON
OPERATIVE 4
-
7.45.am.
8.30.am.
ANDY DEMPSEY
OPERATIVE 5
-
7.45.am.
8.30.am.
WILLOW
NURSE 1
-
7.30.am.
8.30.am.
TONY GOODALL
ALPHA STAFF
-
7.45.am.
8.30.am.
JULIET KING
NURSE 2
-
7.30.am.
8.30.am.
STAND-INS:
ALAN MEACHAM FOR MR.LANDAU
)
8.00.am.
8.30.am.
SUZANNE HEIMER FOR MISS BAIN
)
RON WATKINS FOR MR.MORSE
)
A.N.OTHER FOR MISS SCHELL
)
EXTRA ARTISTES:
9 MEN
) ALPHA STAFF
-
8.00.am.
8.30.am.
8 WOMEN
)
STUNT ARTISTES:
ALF JOINT, ARRANGER
-
8.00.am.
8.30.am.

PROPS:

Commlocks. Stun guns. mattresses. organitron and case.dummy of
Pyrian girl. electronic circuitry.

SFX:

Laser gun fx and explosion. wind fx. 2 spitfures. 1 RKO. 3 x 4-ft
fans. Bubble machine and polythene ball fx. Pyrotechnic fx from
ceiling.

FIRST AID:

Nurse to s/by from 8.30.am

FIRE DEPT:

Fireman to s/by from 8.30.am

WARDROBE:

Pyrian dummy to be dressed after stunt action double.

MAKE-UP/HAIR:

Tony Allwyn,Nick Tate,Loftus Burton,Alan Harris and Mike Stevens
are still topless.

CAMERA:

Star filters. glass shot for Sc.58pt. 2 cameras for hurricane
sequence.

ART DEPT:

Live butterflies (hopefully) for Scs.146.147.
Running water effects for Scs.146.147.
---
/CONTINUED .....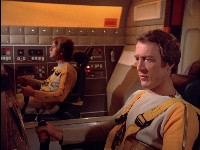 Finally, all the early shots of the Eagle command module featuring Irving and Davis were re-shot. The set was in the North Tunnel stage. Originally they had been shot on Tuesday 7th May, with Gareth Hunt as Irving and John Lee Barber as Davis. Michael Culver and John Gleeson replaced them in all the scenes on the planet surface. Now, finally, they filmed the opening scenes in the Eagle.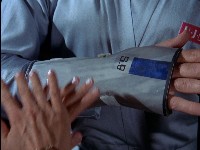 Finally, an insert for scene 109, when the Pirian girl appears in Main Mission and cures Koenig's injuries. The full scene was shot on Wednesday 15th May, and that shot had all the effects sequences (glass FX for the healing, smoke and toffee glass for breaking the monitor, breakaway splint). This insert was not filmed on the Main Mission set (stage L). The only shot that is clearly not on the Main Mission set is the close-up of Koenig's arm splint disappearing (against a black background), but no splint prop was required, as it was on 15th May. It's also possible the insert is a reaction shot of Landau which just shows the curved wall behind him.
---

ARTISTE
CHARACTER
D/R
MAKE-UP CALL
SET CALL

---

(4)

INT. COMMAND MODULE. SC.NOS:4.7.10.12.15.17.19.21. (RETAKES).



MICHAEL CULVER
IRVING
CARAVAN 4
F R O M A B O V E
JOHN GLEESON
DAVIS
CARAVAN 4
F R O M A B O V E

PROPS:

Commlocks. stun guns. medical wrist monitors.

ART DEPT:

Different Eagle Number dressing.

CAMERA:

Sea head required.

ELECTRONIC:

Scs.4-21 Eagle motor traces.

---

INSERT - INT.MAIN MISSION. SC.109.



MARTIN LANDAU
KOENIG
321
F R O M A B O V E
CATHERINE SCHELL
PYRIAN GIRL
325
F R O M A B O V E

STAND-INS:

FROM ABOVE.

WARDROBE:

Koenig in pyjamas.

---

RUSHES:

Theatre 7 at 5.30.pm.

CATERING:

AM and PM break for 95 people on 'M' Stage. 2 trolleys please.

TRANSPORT:

1) Ray Atkin to collect Mr.Landau at 6.30.am.
and Miss Bain.
2) Unit car to collect Mr.Morse at 9.00.am.
KEN BAKER,
ATTISTANT DIRECTOR.