Script To Screen
---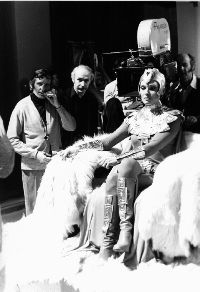 At the start of November, 1976, Dorzak began filming on the Moonbase sets on stage L, and in the alien spaceship on the North Tunnel stage. Normally Devil's Planet, being filmed at the same time, would have been shot on M stage, adjacent to L. However, Walt Disney Productions took over M stage to film scenes for the film One Of Our Dinosaurs Is Missing, and Devil's Planet was relocated to a smaller Pinewood stage, B, close to the studio offices. Dressing rooms, make-up and wardrobe were set up in the D, F and G office buildings alongside stage B.
They would return to M stage from Wednesday 10th November (day 7), to film the planet surface scenes.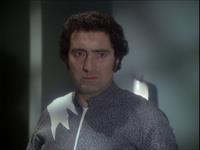 The stunt crew at the end of Year Two were led by Peter Brayham, who plays Garth in this episode (he can also be seen as an Alphan guard in The Dorcons). Cliff Diggins doubles for Landau, as he often does in Year 2, while Sares is doubled by Cyd Child, who usually doubles Catherine Schell and is best known as Diana Rigg's stunt double in The Avengers. Note the warning about whips at the bottom of the call sheet.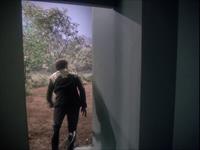 In scene 135, Koenig escapes out of the prison complex. It's a brief shot in the final episode, but a full fight scene was filmed in the corridor on 9th November. See below.
GERRY ANDERSON PRODUCTIONS LTD.

"SPACE 1999" SERIES II

CALL SHEET No.6

EPISODE: "DEVIL'S MOON"

TUESDAY, 9th November, 1976

DIRECTOR: TOM CLEGG

STAGE: 'B'

UNIT CALL: 8:30 a.m.
---

ARTISTE

CHARACTER

D/R

MAKE UP

ON SET

---

INT. CELL BLOCK 3. SCENES: 76 : 78: 79pt.: 80: 82.

MARTIN LANDAU

Koenig

321

8.00

8.30

HILDEGARD NEIL

Elizia

F.72

10.00

11.00

ANGUS McINNES

Jelto

F.70

7.45

8.30

ARTHUR WHITE

Kinano

F.70

"

"

PETER BRAYHAM

Garth

F.76

8.00

8.30

BEULAH HUGHES

Guard 4

F.69

9.30

11.00

RIKKI HOWARD

Guard 6

F.75

"

"

INT. KOENIG'S CELL. SCENES: 109: 111: 113: 115: 121: 123: 126: 128:.
132: 165: 167

MARTIN LANDAU

Koenig

321

From above

FELICITY YORK

Tower Guard

F.75

12.00

12.30

INT. CORRIDORS. SCENE: 133: 135: 169: 83

MARTIN LANDAU

Koenig

321

From above

HILDEGARD NEIL

Elizia

F.72

" "

CASSANDRA HARRIS

Sares

F.68

2.00

3.00

KATYA WYETH

Guard 1

F.75

"

"

VIDA TAYLOR

Guard 2

F.68

"

"

VILNA RILEY

Guard 3

F.69

"

"

BEULAH HUGHES

Guard 4

F.69

From above

FELICITY YORK

Guard 5

F.75

"

"

RIKKI HOWARD

Guard 6

F.75

"

"


STAND INS

Bill Westley

for Mr. Landau

312

8.00

8.30

Ginny Ross

for Miss Neil

"

"

"


STUNTS

Peter Brayham

Arranger

F.76

-

8.30

Cliff Diggins

Dble. Mr. Landau

F.76

8.00

8.30

Cyd Child

Dble. Miss Harris

F.76

2.00

2.30

WHIP EXPERT

GERRY WAIN

G.96

-

10.30
PROPS: As per script to include whips for guards. Elizia's baton,
Mattresses. Elbow pads.
ART DEPT: Breakaway bunk. Ripped sheets. Mini walkie-talkie.
FIRST AID To stand by on set from 8.30 a.m.
CATERING: A.M. & P.M. breaks for 75 people on 'B' Stage.
LUNCH: 1 - 2 p.m.
RUSHES: Theatre 2 at 5.30 p.m.
TRANSPORT Doug to pick up Mr. Landau as arranged.
NOTE TO UNIT: Please remember that WHIPS are DANGEROUS. Please do
not handle or play with them.
THIS IS A CLOSED SET. NO VISITORS WILL BE ALLOWED.
The scene 135 fight scene was described in the script on page 62 as follows:
135 INT. CORRIDOR. ENTRA 135
As KOENIG rushes to find an escape ... but there are,
of course, no doors.
KOENIG notices a section of wall beginning to disappear.
He flattens himself against another wall, concealing
himself as best he can.
A THIRD GUARD, SARES, enters, reacts to KOENIG, goes
for her whip, having no time to seal the doorway behind
her.
KOENIG uses his whip and both whips entwine around each
other ... giving off a series of sparks. They abandon
the whips and SARES uses her feet and her hands to knock
KOENIG down and around. KOENIG finally throws her down
and runs through the open doorway to the exterior.
Publicity photos show the fight between Sares and Koenig in scene 135. They show the scene closely follows the script, with Sares running in, Koenig and Sares locking whips, and Koenig finally knocking her down.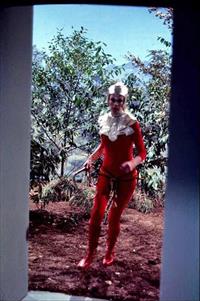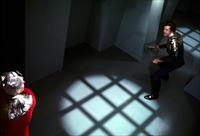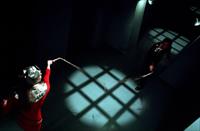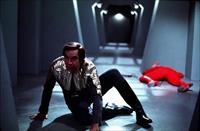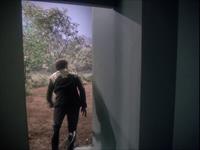 The scene immediately followed another scene of Koenig fighting two guards, and was followed by an extended chase sequence with more fights. It was probably cut to prevent the fights becoming repetitious, plus this scene was less essential to the plot.
---
Space 1999 copyright ITV Studios Global Entertainment. Thanks to Carine Wils.