---
The This Episode sequences in the Year One Titles are an exciting montage of visual highlights. Occasionally alternate takes and cut scenes were included, providing a brief glimpse of what the episodes could have been.
Helena is talking to a nurse, pointing at a monitor screen. In the episode, the scene where Kano is linked to computer starts showing the nurse looking at the monitor as Helena moves past, evidently a few moments later.

Koenig meets the servant on Piri. After she insists "They have accepted the dominion of the Guardian", Koenig runs off to Kano. The camera features her, and zooms in as she smiles slightly. The "This Episode" shot is a slightly different version of that shot.

Koenig, in pyjamas, walks up to find the Command Conference in progress without him. We see a view of Helena and Bergman in discussion. The particular shot in the This Episode sequence isn't in the episode, although the characters are in identical positions, with Helena playing with a pen.

Koenig storms out of the Command Conference. This view isn't seen in the episode (he simply disappears from frame as the camera remains with Helena and Bergman)

The servant shows Koenig images of Helena on the Main Mission screens. This close up view of the servant does not appear in the episode.

The Guardian tower explodes. The "This Episode" shot (above) is slightly different to the shots seen in the episode (below)- the first is a similar upward view, but closer, the second is more distant.

The view of the servant's body in the vegetation is a more distant, static shot. In the episode, it is a pan from a close up of the broken torso up to reveal the vegetation.
Unused special effects shots of Piri seen in the "This Episode" sequence.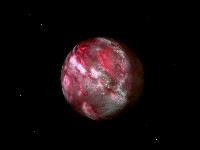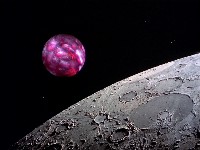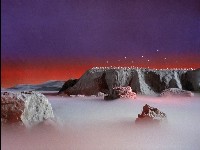 ---
Copyright Martin Willey