Autopsy Room
The Autopsy Room appears briefly in Matter Of Life And Death. Although we only see a little of it on screen, much more was built including a communications post.
We see other autopsy rooms in Another Time, Another Place (revamp of Diagnostic Unit from the same episode), in End of Eternity (revamp of Intensive Care in the same episode) and The Troubled Spirit (Medical Centre in the same episode).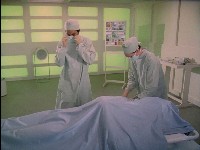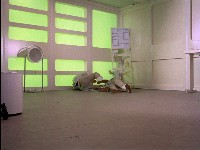 Note the double doors at the head of the bed. They were open in the shot of the door sign, but are closed here. There's a Giano ashtray on the left of the frame. In the episode, we only see the lighted wall behind Mathias, and the wall up to the door.
Wall plans by Craig Rohloff. Mathias and his assistant are thrown to the top left corner here. The walls on the bottom and right are seen in the publicity shots, not in the episode. The top right corner is not seen in any views.
---
Copyright Martin Willey