Below is a small selection of fan convention programmes.
Thanks to Chuck Raue for some descriptions and scans, and to Gordon Moriguchi for some images.
The report features transcripts of the lectures and the question and answer sessions with guests Gerry Anderson, Barry Gray, David Prowse, Nick Tate, Clifton Jones, & Martin Landau.
Convention 1979, Pittsburgh, PA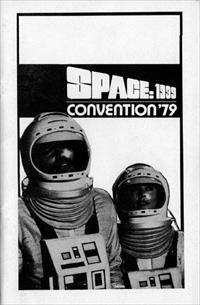 Program by Mare Fitzgerald. Digest sized (14cm x 21.5cm) rather than regular letter sized
Contains a short history of the Save: 1999 Alliance, an illustrated article on the patches worn on the uniforms, an adaptation of the first draft (and very different from filmed version) script for the episode "The Black Sun", and photos and biographies of the convention guests.
Convention 1980, Columbus, OH
overview of the convention and its events, the results of the Space: 1999 Alliance SF Awards poll, the article "Everything You Wanted To Know About Space: 1999 But Were Afraid To Ask", photos.
Postcon report contains transcripts of the lectures and the question and answer sessions with guests David Prowse, Nick Tate, Prentis Hancock, and Herb Jefferson Jr. (from Battlestar Galactica ).
Convention 1981, Atlanta, GA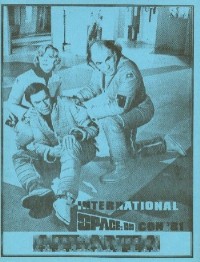 the work of the famed "Georgia Delegation" of Space: 1999 fandom. Lots of artwork, photos, articles, and more. Due to the air traffic controller's strike that occurred at the same time as the convention, many people who intended to attend were unable to make this convention so distribution of this program, due to the low attendance, was light.
Convention 1982, Springfield.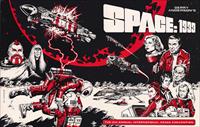 This slick program featured a wrap around cover of the artwork of Steve Kyte. The inside featured a comicbook style adaptation of the 2nd season episode "The Taybor" (the only Year 2 episode that for some reason was left out of the paperback book adaptations); a centerfold blueprints of Gwent (The Infernal Machine) executed by Stephen Corbett from the original model by convention guest Martin Bower; some behind the scenes stories from the making of the series; and photos and biographies of the convention guests.
Postcon report features transcripts of the lectures and the question and answer sessions with guests Barry Morse , Gray Morrow , Martin Bower, and Sarah Douglas ( Superman II ). Lots of photos from the convention and an article on the Space City exhibit that was on display at the convention with original miniature modelwork from Gerry Anderson productions on display.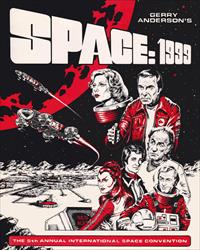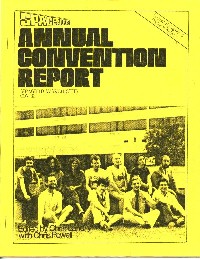 Convention 1983 Cincinnati, OH.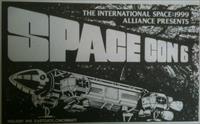 This great program featured an illustrated article on the "Year 3 Episode Guide".....a guide to the 24 "episodes" formed from the well known fan novels produced over the years & photos and messages from the series stars with their well wishes for a great convention. Program was done by Mare Fitzgerald.
This was an exhibition (rather than a convention) mounted by the City of Edinburgh recreation department, in co-operation with Fanderson and Gerry Anderson. It was held at the City Art Centre on Market Street from 1st March - 5th April 1986. While primarily focused on the puppet shows, Phil Rae's 1999 models were on display. The exhibition brochure, designed by Edinburgh planning department, is 16 pages glossy paper with impressive covers by Steve Kyte (front) and Graham Bleathman (rear). The pages describe the history of the shows, and mention the merchandising.
2013 blog entry with all pages
Space 1999 Mini-con, Leeds, UK (1987)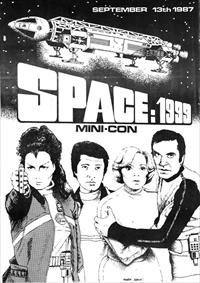 Wonderful artwork cover by Mark Shaw for the first UK convention dedicated solely to Space: 1999.
Alphacon, Leeds, UK (1990)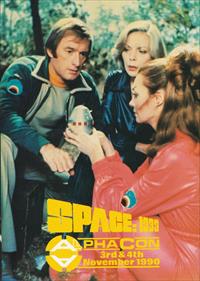 A glossy A5 booklet with original articles, this marked a significant improvement in the quality of convention books.
Psycon, Manchester, UK (1992)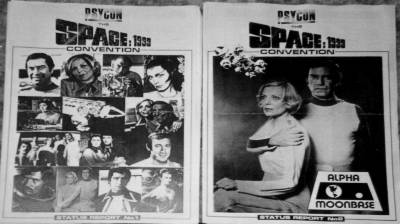 No convention program, but good updates from Mark Shaw.
Breakaway, Los Angeles, USA (1999)
16 page convention book with colour covers (graphic by Roberto Baldassari). Profiles of guests, 99 ways to tell if you're a really dedicated Space 1999 fan
140 page fan fiction book titled "Moonbase Memoirs" (card covers, front art by Mark Shaw). Seven stories, edited by Terry Bowers and Rebecca Eisenhuth, illustrated by Janet Schill, Robert Wood and Mark Shaw.
Post Con Report (published 2000), with colour covers and glossy black and white pages full of photographs of guests, attendees and past conventions. Plus "What's It All About Alpha" play by Alice Newsom and script to Message From Moonbase Alpha by Johnny Byrne.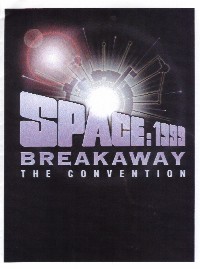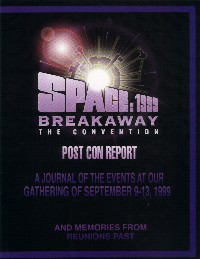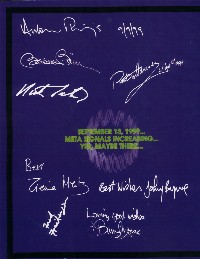 UFO: 1999, Bradford, UK (1999)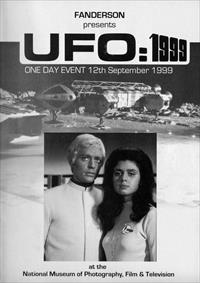 Booklet sized convention book, illustrated with black and white photographs and articles on the making of UFO and Space: 1999. More
Earthbound: 2005, Tampa, USA (2005)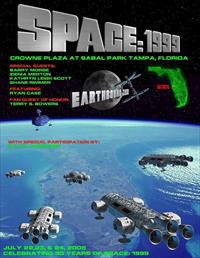 28 page booklet, colour covers (the front is a fantastic image by Ken Scott) with black and white interior (put together by Philip Merkel). Filmographies of guests (Barry Morse, Zienia Merton, Shane Rimmer, Kathryn Leigh Scott, Sylvia Anderson), notable quotes from the series, art by Emilio Sanchez.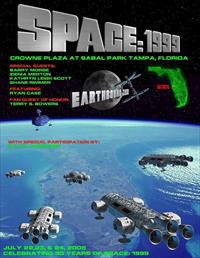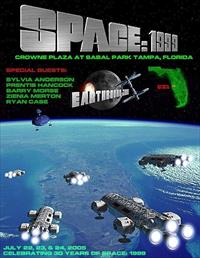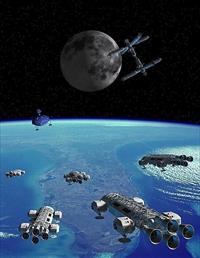 Destination Moonbase Alpha, Pinewood, UK (2005)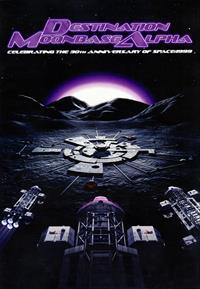 8 page full-colour booklet, written and designed by Chris Bentley, with cover by Roberto Baldassari. History of the series, profile and map of Pinewood Studios, programme of events.
Alpha:2012, Burbank, California, USA (2012)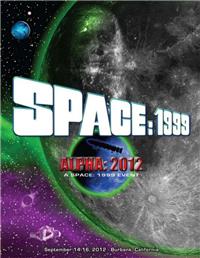 30 page booklet, colour covers, with black and white interior. Filmographies of guests (Landau, Bain, Hancock, Tate, Phillips, Penfold, Geeson), studio visit article by Robin Hill, Space 1999 directors by Robert Wood.
Alpha:2014, Peterborough, UK (2014)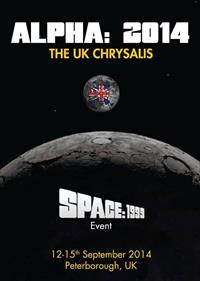 20 page booklet, colour throughout, created by Gordon Moriguchi. Hotel map, convention guidelines, photo montages, meet the guests, fans, conventions, merchandise.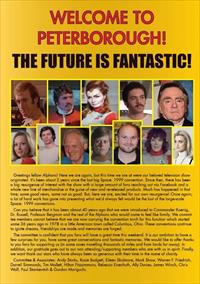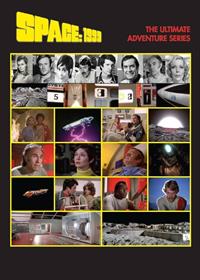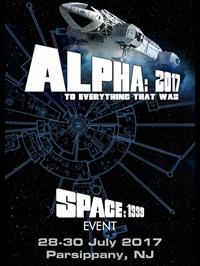 24 page booklet, colour on thick glossy paper.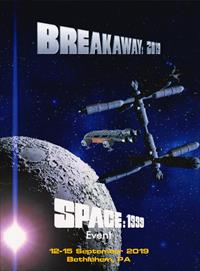 24 page booklet, colour on thick glossy paper. Pages 3-11 full page photos of each guest; p14 social media; p18-19 current merchandise; other pages photo montages for Ken Scott, Peter O'Rourke, fan portraits, Zienia Merton tribute.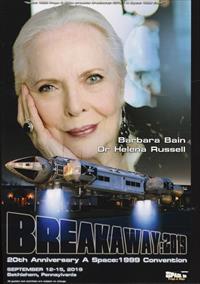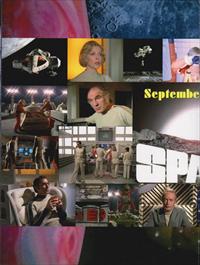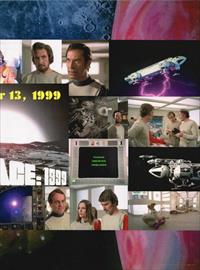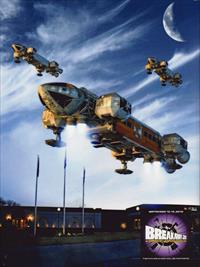 Six photo cards, in the style of vintage Donruss bubble gum cards, one for each guest. 6.5cm x 9cm. On the reverse, the breakaway logo and date with Alpha plan.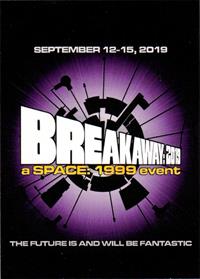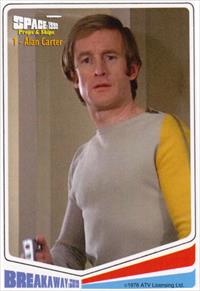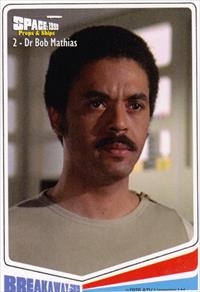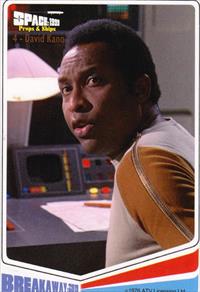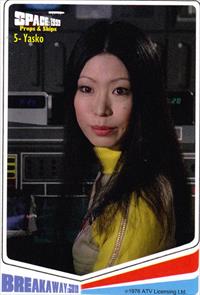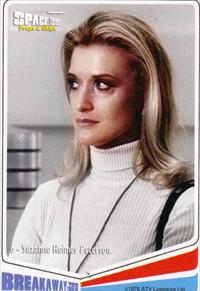 ---