---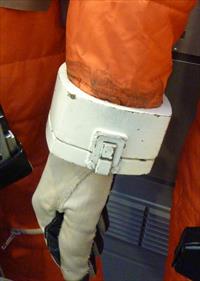 The gloves are Les Leston brand driving gloves (Les Leston was a British racing driver in the 1950s). They are held to the fibreglass ring at the end of the sleeves by small magnets, but in The A B Chrysalis this suit gained latches to hold it more securely.
The wrist ring from the Nick Tate suit. The red square is just a piece of red perspex glued on.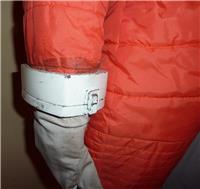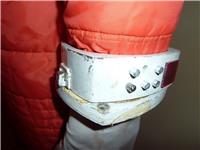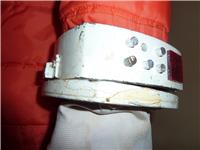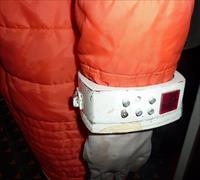 Wrist ring with latch from Martin Landau suit. The magnets are in the sleeve end; the gloves have metal inserted in the corners.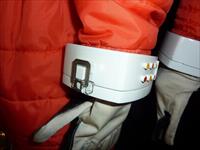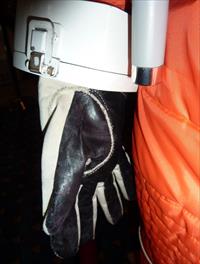 The Les Leston gloves. On the interior of the left glove, there is a helpful label "L. HAND", alongside the original Les Leston brand label. No such label exists in the right glove, but presumably the actors could work it out by a process of elimination. Note on the outside of the right glove is a chevron pattern of stitching. This may have been a Les Leston branding that was removed, as it would have been visible on screen.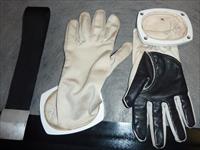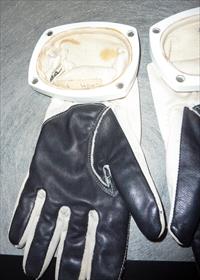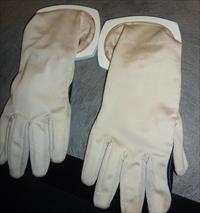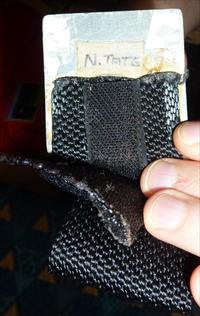 The waist belt has a metal plate on one end, but is actually secured by Velcro. The spacesuit has two narrow threads on either side of the waist which serve as belt loops. This is Nick Tate's belt.
---
Contents copyright Martin Willey. Thanks to Mark Shaw, Andrew Frampton, David Sisson, Jim Winch.