Occasionally model figures were used in SFX scenes. Some were crude plaster models, such as those in the moonbuggy at the start of Breakaway, but they are so distant that the illusion is maintained. Others, such as the large scale foam figures seen in the remote controlled moonbuggy in The Taybor and The Exiles, are accurately detailed.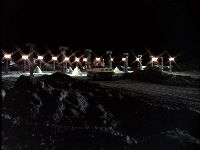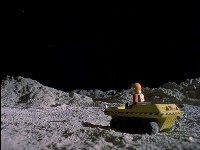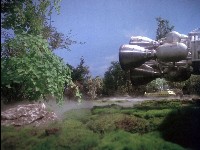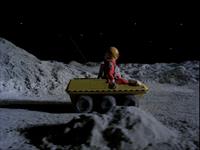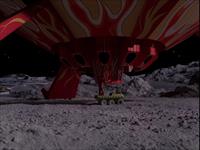 For War Games and Space Brain the distant scenes of astronauts in space were also model figures.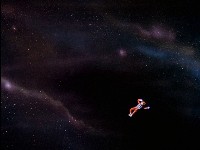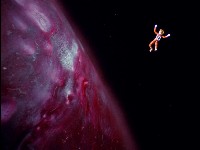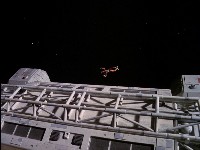 These were a redressed astronaut toy, Mattel's "Major Matt Mason" (distributed in the UK as "Major Matt"). This was a rubber toy with a wire frame, and the limbs have an unnatural curve rather than joints. The spacesuit is based on a NASA Mercury astronaut suit, with an oversized helmet.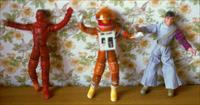 This photo was taken by David Hirsch around 1978 at Martin Bower's house. It shows three "Major Matt" figures. The centre figure seems to be the one used in shots from War Games and Space Brain. The left figure seems to have been painted red, perhaps in preparation for a full redressing that was not carried out. The right figure of a security guard looks like a Palitoy "Action Man" (the UK version of Hasbro's "G.I.Joe"). It was not used in any episode, but perhaps it was prepared for a shot of a guard being ejected into space.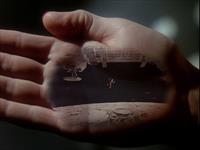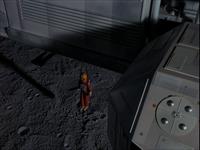 ---
Copyright Martin Willey