Script To Screen
---
Tuesday 2nd April 1974 was the first shooting day for Another Time, Another Place. These started with the opening scenes in Main Mission, as Regina (Judy Geeson) enters. Everybody is thrown across the room, and one technician (stuntman Colin Skeaping) falls from the balcony. In scene 11 it goes dark and we see the duplicate Alphans- although some of those scenes (against black velvet) will be shot later. Finally we have scene 79, from the end of the episode, as the Alphans look up waiting the collision with the second moon. Helena is holding the bunch of flowers from Earth.
Among the extra artistes is Pam Rose, who appears regularly in Year 2 as a Command Center operative. Here she is doubling for Judy Geeson.
The first two episodes, Breakaway and Matter of Life and Death, had been completed and screened for the first time in the US (to TV executives, possibly at the National Association of Television Program Executives convention in Los Angeles). There is a nice note from producer Gerry Anderson conveying the thanks of Lew Grade to the crew.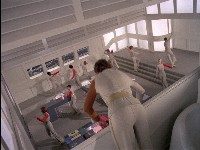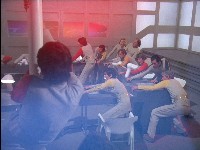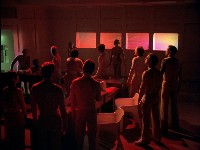 GROUP THREE PRODUCTION LTD.

"SPACE 1999" TELEVISION SERIES


EPISODE 6: "ANOTHER TIME,


ANOTHER PLACE"




CALL SHEET NO: 1
| | | | |
| --- | --- | --- | --- |
| DIRECTOR: | DAVID TOMBLIN | STAGE: | L |
| DATE: | TUESDAY, 2ND APRIL, 1974 | UNIT CALL: | 8.30 a.m. |
---

ARTISTE
CHARACTER
D/ROOM
MAKE UP CALL
SET CALL

---

INT. MAIN MISSION SC: NOS:

1A. 3.5.7. 9. 11. 79.
MARTIN LANDAU
KOENIG
321
9.00am
10.00am
BARBARA BAIN
HELENA
322
8.30am
10.00am
BARRY MORSE
BERGMAN
324
9.30am
10.00am
JUDY GEESON
REGINA
325
7.15am
8.30am
PRENTIS HANCOCK
MORROW
336
7.45am
8.30am
ZIENIA MERTON
SANDRA
328
7.30am
8.30am
NICK TATE
CARTER
326
7.30am
8.30am
CLIFTON JONES
KANO
327
8.00am
8.30am
SUZANNE ROQUETTE
TANYA
'I' 181
7.30am
8.30am
ANDY DEMPSEY
OPERATIVE 1
'I' 180
7.45am
8.30am
LOFTUS BURTON
OPERATIVE 2
'I' 182
8.00am
8.30am
ROBERT PHILLIPS
OPERATIVE 3
'I' 195
7.45am
8.30am
JUNE BOLTON
OPERATIVE 4
'I' 196
7.30am
8.30am
JOY HARRISON
OPERATIVE 5
'I' 197
7.30am
8.30am

STAND-INS:

A.N. Other
for Mr. Landau
8.00am
8.30am
Suzanne Heimer
for Miss Bain
8.00am
8.30am
Tony Allen
for Mr. Morse
8.00am
8.30am
Jane Henley
for Miss Geeson
8.00am
8.30am

EXTRA ARTISTES:

Alan Harris
Main Mission
8.00am
8.30am
Mike Stevens
Main Mission
8.00am
8.30am
Lesley Stamps
Main Mission
8.00am
8.30am
Pamela Rose
Double for Miss Geeson
8.00am
8.30am

STUNT ARTIST:

Colin Skeaping
Technician
8.00am
8.30am
PROPS:

Mattresses, boxes, trolleys, dressing to spill over, bunch of
flowers.
ELECTRONIC:

Sc: 1A (A) Radar (B) Pulsator (C) Moonbase (D) Eagle.
Sc: 3 (A) Radar with dot. (B) (C) (D) as 1A.
Sc: 5 (A) Radar with dot - vt noise over.
(B) (C) (D) as 1A.
Sc: 7 as 5 - all monitors die during action.
Sc: 79 (A) High speed pulsator (B) Moon. Earth. Moon.
(C) Moonbase (D) Eagle.

CAMERA DEPT:

Condenser 9.8 for Arriflex. 15mm for R.35. High speed
R.35. Wild Arriflex. Star filters. Padding for camera
(stunt shot)

ELECTRICAL:

Light fx. on windows from Sc: 7. Coloured light fx.
Light change. Lights fail Sc: 7. Mirror board fx.
required. White out fx. Sc: 11.

SPECIAL FX:

Sparks and smoke fx. from Sc: 3. Trolleys on jerk wires -
2-way. 2 Moles fans for window fx. Gliiter fx.
continued................./
| | |
| --- | --- |
| EP: 6 "ANOTHER TIME, ANOTHER PLACE" | TUESDAY 2ND APRIL, 1974 |
CALL SHEET NO: 1
FIRE DEPT:
Smoke alarms to be removed on L Stage.
ART DEPT:
Matt cover for B.P. screen from Sc: 3.
Black velvet to stand-by from Sc: 7.
DRAPES DEPT:
Drapes to stand-by on L Stage from 8:30am.
TRANSPORT:
(1) Ray Atkins to collect Miss Bain at 7.45am.
(2) Unit car to collect Mr. Landau at 8.15am
(3) Unit car to collect Mr. Morse at 8.45am
(4) Unit car to collect Miss Geeson at 6.30am
CATERING:
A.M. and P.M. break for 75 on L Stage.
SCHEDULE FOR:
Tues. 2/4 Int. Main Mission/Koenig's Office
Sc: Nos: 1A.3.5.7.9.11.79.
Wed. 3/4 Int. Main Mission/Koenig's Office
Sc: Nos: 21.15.18.22.
Thur. 4/4 Int. Main Mission/Koenig's Office
Sc: Nos: 24.25.27.29.32pt.
KEN BAKER
Assistant Director.
SPECIAL NOTE:
Pictures number One and Two have had a tremendous
reception in the States and Sir Lew Grade has
especially asked that his thanks and appreciation
be passed on to all members of the Unit.
GERRY ANDERSON