Script To Screen
---
Tuesday 16th April 1974 was the 9th day of filming (they had just had a long weekend for Easter; 12th was Good Friday, 15th was Easter Monday, both public holidays in the UK). The unit now moves from the Moonbase sets on stage L to the Earth sets on stage M (via, for this day only, a corridor set on stage H).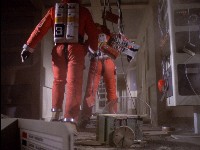 The first shots, on stage H, are in the Alpha corridor. In scene 44, Koenig and Alan, in spacesuits, walk through the dark corridor of the abandoned Alpha, passing the shell of a communications post, gutted of equipment.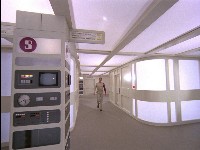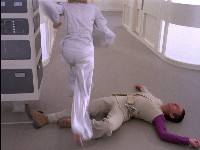 The dust and equipment is cleared away for a regular corridor scene. In scene 31 Regina (Judy Geeson) is in her pyjamas, spinning in confusion. The guard (Tony Allyn) sees her and goes to help, but she knocks him down with Mathias's commlock and steals his stun gun. This scene had been started on Thursday 11th, before the holiday.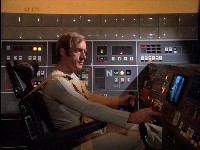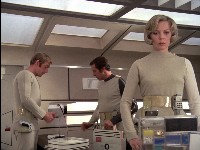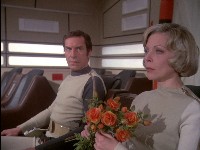 We then move to the Eagle set on stage M. Most of these are regular Eagle shots. In scene 51, Alan is flying them to Earth ("Eagle now on course for Santa Maria"; Prentis Hancock is present as he talks with Alan in this scene). In scene 56 he tells Koenig "There are signs of habitation below, sir". In scene 58 we move to the passenger module. Scene 76 is again in the passenger module, as they leave Earth, Helena holding the bunch of flowers.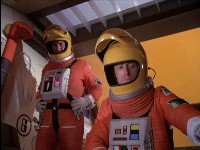 We then move back to the pilot section and earlier in the plot, as Koenig and Alan land on the duplicate Moonbase for scene 42.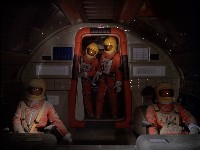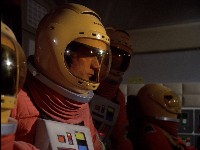 The pilot section is redressed for scene 46, the crashed Eagle where Koenig and Alan find their own dead bodies. The trick shots are achieved with doubles- Landau's regular double Alan Meacham for Koenig, and Harry Van Engel for Alan. Van Engel (imdb, born 1931), mostly worked as a stand-in (often for Lawrence Olivier), and had small parts in Dr Who and Blakes 7.
We move from the Eagle set to the adjacent planet surface set. Scene numbers have a "N" suffix to indicate night.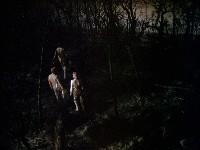 Next are the scenes with the tower on the Earth surface (scenes 57 and 58, see script). Most of this was cut, but the call sheet mentions a camera tower was built (a point of view from the alien tower?). This high shot of Landau, Bain and Tate walking away could be from the camera tower, the only surviving part of the sequence. Most of the alien tower would be a special effects shot, apart from the plaque which is mentioned here ("There is a plaque on the structure, a strange alien-looking symbol."). No photos survive of what this looked like.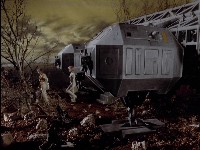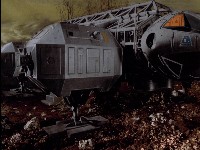 The tower sequence was replaced by another shot, with the Alphans leaving a "full sized" Eagle (a foreground glass shot). This was conceived and shot three months later. It was filmed at Bray Studios on Monday 8th July 1974, during the filming of the episode Alpha Child. The actors were the regular stand-ins, Suzanne Heimer for Helena and Alan Meacham for Koenig, with Harry Van Engel (see above) returning as Alan Carter.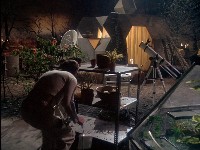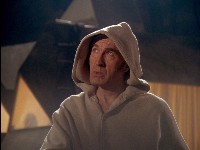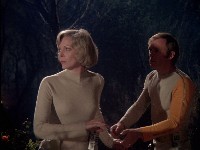 Next they arrive at the settlement. Koenig see Bergman tending his plants and checking his telescope (scene 59). The other shots are of Alan and Helena looking through the windows of another structure. The interior shots, with Sandra and Earth Helena, will be shot separately on a different day.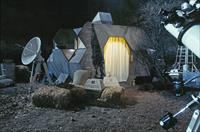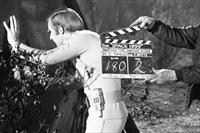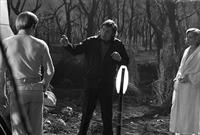 As usual, the last shots of the day got pushed back to the following day. The Alan/Helena shots (scenes 60-64) were filmed Wednesday 17th, as shown in these behind the scenes shots.
GROUP THREE PRODUCTION LTD.

"SPACE 1999" TELEVISION SERIES


EPISODE 6: "ANOTHER TIME, ANOTHER


PLACE"




CALL SHEET NO.9
| | | | |
| --- | --- | --- | --- |
| DIRECTOR: | DAVID TOMBLIN | STAGE: | H & M |
| DATE: | TUESDAY, 16th April, 1974 | UNIT CALL: | 8.30 a.m. |
---

ARTISTE
CHARACTER
D/ROOM
MAKE UP CALL
SET CALL

---

1).

INT.CORRIDOR

Sc.Nos. 44 to comp,31. (H STAGE)
MARTIN LANDAU
KOENIG
321
9.00am
10.00am
JUDY GEESON
REGINA
325
7.45am
9.00am
NICK TATE
CARTER
326
8.00am
8.30am
TONY ALLYN
1ST GUARD
328
8.00am
8.30am

Stand Ins:

Mike Stevens
for Mr. Landau
8.00am
8.30am
Jane Henley
for Miss Geeson
8.00am
8.30am

Props: Space packs, stunguns, Mathias commlock, (dummy commlock), mirror (Sc.31)

Camera: High speed R.35. 15mm Plate for VTR camera, Arriflex.

Special Fx: Air line, dust fx.

Make Up: Sunburn face for Regina from Sc.30.

Electronics: Sc.31. Compost 1 & 2. Live action.

---

2).

INT. EAGLE COMMAND MODULE/PASSENGER MODULE/CRASHED EAGLE.

Sc.Nos.51.54CN.,56N,76,42,46.
MARTIN LANDAU
KOENIG
321
from above
BARBARA BAIN
HELENA
322
10.00a.m.
12.00noon
PRENTIS HANCOCK
MORROW
335
9.30a.m.
10.00a.m.
NICK TATE
CARTER
326
from above

Stand Ins:

from above
Suzanne Heimer
for Miss Bain
8.30am
9.00am

Extra Artistes:

Alan Meacham
Double for Mr. Landau
8.30am
9.00am
Harry Van Engel
Double for Mr. Tate
8.30am
9.00am

Props: Shoulder kits, stunguns, bunch of flowers.

Camera: Seahead required. High speed camera required for Sc.46.

Sp.Fx: Fan fx. for Sc.56. Dust fx. for Sc.46.

Electronics: Sc.51.Monitor:Morrow on link. Sc.54C.Monitor:Koenig on link.
Sc.56.Monitor:VTR noise. Sc.76. Monitor:Moon.Earth.Moon.Sc.42.Moon:
Navigation pulse.

Art Dept: Redress for Sc.46. Names for doubles outfits.

---

3).

EXT. EARTH SURFACE: TOWER SECTION.

Sc.57N. 58N.
MARTIN LANDAU
KOENIG
321
from above
BARBARA BAIN
HELENA
322
from above
NICK TATE
CARTER
326
from above

Stand Ins:

from above

Props: Shoulder packs, stunguns, plaque.

Construction: Camera tower.

Sp.Fx: 2 Moles fans for wind fx.

---

4).

EXT. EARTH SURFACE.

Sc.Nos.59pt.N., 60N, 62N, 64N.
MARTIN LANDAU
KOENIG
321
from above
BARBARA BAIN
HELENA
322
from above
BARRY MORSE
BERGMAN
324
S/By till 1.00p.m.
NICK TATE
CARTER
326
from above

Stand Ins:

from above
Tony Allen
for Mr. Morse
to be advised
Props: Growing vegetations, optical telescope, pen, pad.
M/Up/Hair: Earth Bergman.
---
CATERING: a.m. break on H Stage and p.m. break on M Stage for 70 people.
RUSHES: Theatre 7 at 5.30p.m..
TRANSPORT:
Ray Atkins to collect Mr.Landau at 7.15and Miss Bain at 9.15a.m.
Unit car (Doug) to collect Miss Geeson at 6.45a.m.
Barry Morse pick up to be advised.
KEN BAKER.Asst.Director.