Script To Screen
---
The original shooting schedule for the episode was for 10 days, from Tuesday 2nd April 1974 to Wednesday 17th April. As normal, filming over-ran, reaching day 12 on Friday 19th. Two days, Wednesday 10th and Thursday 18th, were extended days, trying to make up time. From Monday 22nd April, the next episode, Missing Link, had to start filming. But there were still unfilmed scenes for Another Time, Another Place.
It was decided the unit would split into two, the "A" unit under Ray Austin filming Missing Link, and the "B" unit under David Tomblin continuing to shoot the missing scenes for Another Time, Another Place. Originally scheduled for just Monday and Tuesday, it actually finished on day 15, Thursday 25th April. Although there had been some second unit shooting at the same time as the main unit, this was the first time the unit split into two crews, each filming a different episode simultaneously. In Year 2, several episodes were shot like this.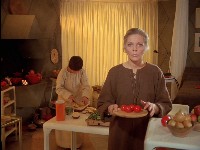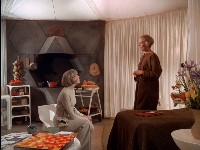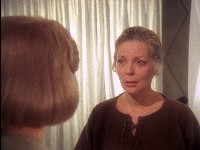 On Friday 19th, production manager Ron Fry issued a second shooting schedule for the missing scenes (see below). The first scenes are the interior of the Earth living unit when Alpha Alan and Helena look in the window (the exteriors were shot on Wednesday 17th). We then film scene 70, when Alpha Helena talks to Earth Helena ("All I know is that we were the same person once...we became two different people..."). This would be shot with split screen (in reality, Barbara was talking to her stand-in, Suzanne Heimer). These interiors were originally scheduled for Monday 8th and Tuesday 9th on L stage (among the Moonbase sets); now they will film on the North Tunnel stage.
Next on the North Tunnel stage, for the remainder of Monday and much of Tuesday, were black void scenes. There was no set, just black velvet drapes. However, the complicated split screen work for the above sequence spilled over two days, and most of these black velvet scenes were eventually shot on Thursday 25th April.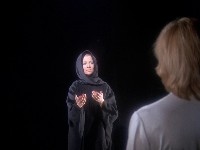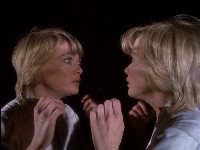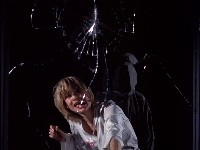 Next on the North Tunnel stage was scene 30, Regina's hallucination sequence in Diagnostic when she hits Mathias. The Diagnostic Unit set had been filmed on Wednesday 10th April (the start of the scene with her in bed, and the end when she hits Mathias). Here they shot the scenes in a black void, with Regina breaking the mirror. This was filmed in slow motion, with a high speed camera. Anton Phillips is present, but the shots in the episode all show him on the set, from 10th April, not these void scenes. It looks like at least some of scene 30 was done on the 22nd or 23rd, but a retake was required on the 25th.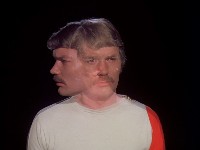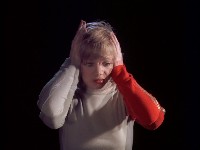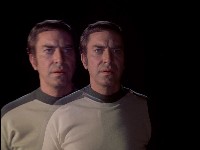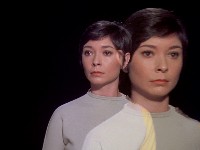 These were the double-exposure shots from the opening space warp sequence (scenes 9 and 11), as the Alphans split into two. Originally scheduled over Monday and Tuesday, they were eventually filmed on Thursday. Landau and Zienia Merton were filming day 4 of Missing Link, on 'L' stage; the other Alphan cast would not normally have been present, but were called in for these shots.
The last shots were Main Mission screen with captions ("Earth Orbit confirmed") although none of them were eventually used.
SHOOTING SCHEDULE NO.2. "ANOTHER TIME ANOTHER PLACE" (EPISODE 6)
DATE
STAGE
SET
SCENE NOS.
PAGES
CHARACTERS REQ'D
ESSENTIAL REQUIREMENTS
MONDAY
22nd
April
1974

'B'
UNIT
NORTH
TUNNEL
INT. LIVING UNIT
61.63.65. (N) 70 (D)
3 3⁄8
ALPHA HELENA
(EARTH HELENA)
EARTH SANDRA
CARTER


Double:

A. & E. Helena

Sound Dept:

Playback


Plumbers Dept:

Practical
fire on set


Camera Dept:

High speed R.35
camera

NORTH
TUNNEL
INT. BLACK VELVET
(DIAGNOSTIC)
Comp.30.
-
REGINA
DR.MATHIAS


Double:

Regina

Sp.Fx:

Mirror breaking fx.


Prop Dept:

Continuity props
as required.
NORTH
TUNNEL
INT. BLACK VELVET
(MAIN MISSION)
9pt.11pt.
-
REGINA
KOENIG
TUESDAY
23rd
April
1974

SECOND
UNIT
NORTH
TUNNEL
INT. BLACK VELVET
(MAIN MISSION)
Comp.9. Comp.11.
-
HELENA
BERGMAN
CARTER
MORROW
SANDRA

M
INT. MAIN MISSION
- COMPUTER SCREEN
Inserts for Sc.22.32.
-
-
Live t.v. link to set
Computer readout as per
script
RON FRY,
Production Manager.
19.4.74.
GROUP THREE PRODUCTION LTD.

"SPACE 1999" TELEVISION SERIES




Ep: 6: "ANOTHER TIME, ANOTHER PLACE"




CALL SHEET

No.15

'B' UNIT
| | | | |
| --- | --- | --- | --- |
| DIRECTOR: | DAVID TOMBLIN | STAGE: | NORTH TUNNEL |
| DATE: | THURSDAY 25th April, 1974 | UNIT CALL: | 8.30 a.m. |
---

ARTISTE
CHARACTER
D/ROOM
MAKE UP CALL
SET CALL

---

INT.BLACK VELVET (MAIN MISSION)

9pt. 11pt.
MARTIN LANDAU
KOENIG
321
from Main Unit
BARBARA BAIN
HELENA
322
10.00
12.00
BARRY MORSE
BERGMAN
324
8.30
9.00
JUDY GEESON
REGINA
325
8.45
10.00
PRENTIS HANCOCK
MORROW
336
10.00
10.30
ZIENIA MERTON
SANDRA
335
8.15
9.30
NICK TATE
CARTER
326
10.15
11.15

STAND INS:

Alan Meacham
for Mr. Landau
from Main Unit
Suzanne Heimer
for Miss Bain
8.00
8.30
Tony Allen
for Mr. Morse
8.00
8.30
Pamela Rose
for Miss Geeson
8.30
9.00



PROPS: Commlocks.




MAKE UP: Regina normal for Sc.9.pt.




WARDROBE: Regina in Alpha uniform.




DRAPES: Black velvet required. Drapes to standby from 8.30 a.m.




2) INT. DIAGNOSTIC UNIT: Retake: Sc.30 to comp: To Standby

JUDY GEESON
REGINA
325
from above
ANTON PHILLIPS
DR. MATHIAS
327
standby till 1 p.m.
PROPS: Diagnostic editor and dummy repeat. Commlock.
CAMERA: High speed S.35 camera.
SPECIAL FX: Allan Bryce to standby.
DRAPES DEPT: Drapes to standby.
3) INSERTS: Sc. Nos. 30pt., 31pt., Computer inserts for Sc. 22, 32.
As discussed with Art Department.
ELECTRICAL DEPT: with caption to standby.
CATERING:

A.M. and P.M. breaks for 45 people, please.
TRANSPORT:
Ray Atkin to collect Miss Bain at 9.15 a.m.
Unit car (Doug) to collect Mr. Morse at 7.30 a.m.
Unit car (Mac) to collect Miss Geeson at 7.45 a.m.
BILLY HERLIHY
Assistant Director.