Script To Screen
---
Monday 8th July 1974 was the first full day of shooting for Alpha Child. It was also Barry Morse's only day in this episode- he only appears in the 3 scenes in his living quarters, filmed in the morning. He will return the following week, Monday, 15th July, but not for this episode. At noon, filming starts in Main Mission, and will continue until next Monday, 15th July. Barbara Bain isn't needed for any of these scenes, and has a day off.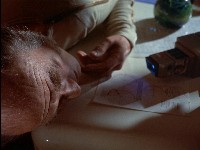 Filming starts with scene 110B, near the end of the episode, with Jarak announcing "The designated will die." Only Barry Morse is present, likely as they wanted to give their child actor a little later start than normal.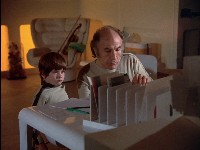 In scene 23, Bergman shows Jackie the pictures of the flowers ("Flow-er"). Jackie is looking intently around the scientific equipment in the room.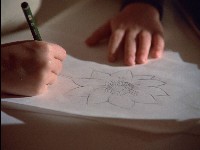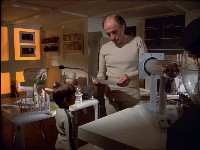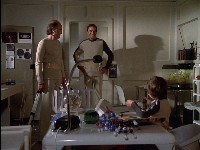 In scene 27, Jackie draws his picture of the flower, which Bergman pins up on the board. Koenig arrives. The props instructions indicate this drawing is probably drawn by the assistant art director, Michael Ford.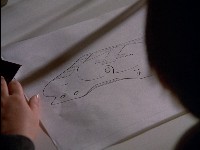 Jackie also draws a picture of the spaceship, but covers it from Koenig and Bergman. There were "repeats" of these, photocopies which could be replaced if the drawing was damaged.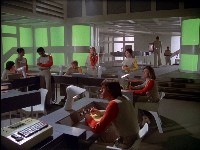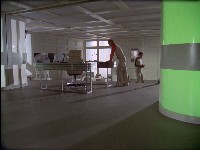 The Main Mission scenes start at midday, with the opening scenes of the episode. In Main Mission (scene 3), the staff are tense. In Koenig's office we see Koenig and Morrow also tense (scene 4, but filmed as a continuous track from Main Mission to the office). The Red Alert sounds, and Koenig and Morrow stride into Main Mission.
The script specifies a little detail for Sandra, which is visible on screen (although she is standing, not sitting):
At the console, SANDRA is stirring a cup of coffee, stirring and stirring until TANYA and CARTER give her a look as if to say "Do you mind?". SANDRA shrugs an apology, leans back and waits. Tension increases.
June Bolton is listed on the call sheet as "operative 1". For some reason she was not present, and Maureen Tan stepped in to replace her.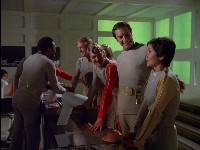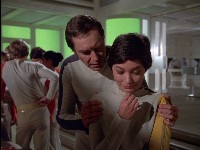 From now on we are in scene 7. They see Helena on the Big Screen showing baby Jackie. The close-ups of the Big Screen showing Barbara Bain with the baby in Medical were shot on Monday, 15th July. Sandra's "I'm...I'm happy" was a late script addition.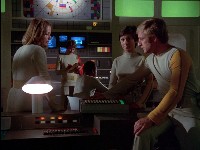 Finally, scene 16B is the scene with Carter, Morrow, Sandra and Paul discussing the newly grown Jackie "Maybe we had no right to expect it to be normal."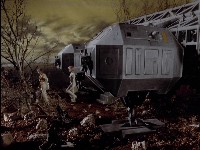 Meanwhile, at Bray Studios, Brian Johnson was filming a rare bit of live action (with doubles for Koenig, Helena and Carter)- an insert shot for Another Time, Another Place. The scene replaced an earlier scene with an alien tower, filmed on Tuesday 16th April 1974. Regular stand-ins Alan Meacham and Suzanne Heimer double for Koenig and Helena, while Harry Van Engel is Carter, who had previously appeared in that episode as the dead Alan in the Eagle crash. Back at Pinewood, Martin Landau's stand-in was Mike Stevens, who was often seen in front of the camera as an Alphan.
GROUP THREE PRODUCTIONS LIMITED

"SPACE 1999" TELEVISION SERIES

.


"ALPHA CHILD" - EPISODE 10

.

CALL SHEET NO: 1
| | | | |
| --- | --- | --- | --- |
| DIRECTOR: | RAY AUSTIN | STAGE: | 'L' |
| DATE: | MONDAY, 8TH.JULY, 1974 | UNIT CALL: | 8.30.AM. |
---

ARTISTE
CHARACTER
D/R
MAKE-UP CALL
SET CALL

---

INT. BERGMAN'S QUARTERS SC.NOS: 110B.23.27.

MARTIN LANDAU
KOENIG
321
9.30.am.
10.30.am.
BARRY MORSE
BERGMAN
324
8.00.am.
8.30.am.
PRENTIS HANCOCK
MORROW
325
10.00.am.
10.30.am.
WAYNE BROOKS
JACKIE
Caravans
REQUIRED FROM 9.00.AM.
STAND-INS:
Mike Stevens for Mr.Landau
-
8.30.am.
9.00.am.
Ron Watkins for Mr.Morse
-
8.00.am.
8.30.am.
A.N.Other for Master Brooks
-
Required from 9.00.am.

PROPS:

Books. Commlock. wrist monitors. flower photographs. Wayne's
pansy picture (see M.Ford). scientific equipment dressing.drawing
pins. board. Wayne's space ship picture and repeats.

ELECTRONIC:

Sc.23. Alpha card on Compost.
Sc.27. Alpha card on Compost. Morrow commlock link.

---

INT.MAIN MISSION/KOENIG'S OFFICE. SC.NOS: 3.4.7.16B.

MARTIN LANDAU
KOENIG
321
FROM ABOVE
PRENTIS HANCOCK
MORROW
325
FROM ABOVE
NICK TATE
CARTER
326
11.00.am.
12.00.noon.
ZIENIA MERTON
SANDRA
328
11.00.am.
12.00.noon.
CLIFTON JONES
KANO
327
11.30.am.
12.00.noon.
SUZANNE ROQUETTE
TANYA
336
11.00.am.
12.00.noon.
JUNE BOLTON
OPERATIVE 1
336
11.00.am.
12.00.noon.
SARAH BULLEN
OPERATIVE 2
336
11.00.am.
12.00.noon.
RAYMOND HARRIS
OPERATIVE 3
-
11.30.am.
12.00.noon.
LOFTUS BURTON
OPERATIVE 4
-
11.30.am.
12.00.noon.
ANDY DEMPSEY
OPERATIVE 5
-
11.30.am.
12.00.noon.

STAND-INS

From above.

PROPS:

Practical coffee. cups. spoons. commlocks. wrist monitors.

ELECTRONIC:

Sc.3.(a) Radar trace (b) Tech trace (c) Panning Moonbase
(d) Eagle on Pad.
Compost: as (c)
Sc.4. Red alert panel.
Sc.7. as (3) (b) red alert panel.
Sc.16B as (3)

ELECTRICAL:

Red Alert panels to be practical.

---

EPISODE 6 "ANOTHER TIME, ANOTHER PLACE" - BRAY STUDIOS

EXTRA ARTISTES:

SUZANNE HEIMER
DBL for Miss Bain
-
8.00.am.
8.30.am.
ALAN MEACHAM
DBL for Mr.Landau
-
8.00.am.
8.30.am.
HARRY VAN ENGEL
DBL for Mr.Carter
-
8.00.am.
8.30.am.

PROPS:

Continuity props for Sc.56: stunguns. survival packs.
RUSHES:
Theatre 7 at 5.30.pm.
CATERING:
AM and PM break for 80 people on 'L' Stage
TRANSPORT:
(1) Ray Atkins to collect Mr.Landau at 8.45.am.
(2) Unit car (Doug) to collect Mr.Morse at 7.17.am.
(3) Unit car to collect Wayne Brooks at 8.15.am.
Mrs.Sarrag own arrangements.
KEN BAKER,
ASSISTANT DIRECTOR.