Script To Screen
---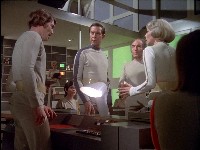 The original ending of the episode did not involve Haines. It is set in Main Mission between Koenig, Bergman and Helena, and strikes a similar elegiac note to other year 1 episodes. The characters lament the loss of lives. Helena states that other ships like Voyager have gone into space and could be caused damage, although previously we had established that the Voyager programme had been abandoned and other deep space probes don't seem to be dangerous (except to their crew, for the Astro 7, Uranus mission, Swift mission, Ultra Probe and Venus space station).
64
EPILOGUE
FADE IN
146 EXT. SPACE SKY. S/FX.
The moon seen in relation to the space sky.
147 INT. MAIN MISSION 147
MORROW, CARTER and SANDRA are attending to the damage reports
coming in.
BERGMAN and HELENA are sitting by the observation window.
KOENIG comes out of his office.
MORROW
Commander!
KOENIG
Yes?
MORROW
Did Lander have to take that ship up himself?
I mean couldn't he have done it all by
remote control?
BEAT
KOENIG
Only he knew that Paul...
They look at each other. MORROW nods slowly and turns back
to his duties.
KOENIG goes over to BERGMAN and HELENA.
BERGMAN
We got our second chance, John.
VOYAGER'S RETURN 31st July 1974
BLUE PAGE AMENDMENTS
65.
147 cont'd.
KOENIG
At what a cost.
BERGMAN
Two worlds. Millions dead. And now Lander,
Aarchon, and his people.
HELENA
People?
BERGMAN
Don't you think they were human?
KOENIG
They wanted to get back at us; they wanted
revenge. I'd say the Sidons were all too
human.
HELENA
We've been sending things like Voyager One
into space for decades. Who knows what
damage they've done, or how many worlds
like Sidon are looking for us right now?
HOLD as they consider this.
HOLD and
FADE OUT:
END TITLES.
THE END
VOYAGER'S RETURN 31st July 1974
BLUE PAGE AMENDMENTS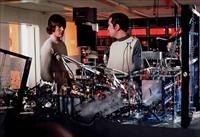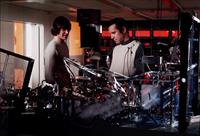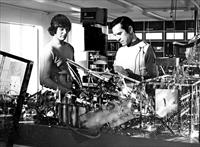 The 6th August pink pages take Koenig to Haines. This ending turns a sad ending to a more optimistic note. The Haines line "What makes people tick, Commander?" will become simply "Why, Commander? Why?"
Instead of saying "Here, get to it.", Koenig's line will be changed to identify the box- "This is the memory bank from the Voyager."
Oddly, Koenig addresses Haines first as "Jim" and then as "Haines".
NEW PAGE 64
EPILOGUE
FADE IN
146 EXT. SPACE SKY. S.FX.
Moon seen in relation to the space sky.
147 INT. EXPERIMENTAL LAB.
CLOSE ON control circuit.
It is dead lifeless.
A hand comes suddenly into frame and shatters the flimsy
looking control circuit.
PULL BACK. HAINES has knocked down the control circuit.
He looks grim, upset. BEAT.
KOENIG (V.O.)
(quietly)
It did it's work Jim.
HAINES whirls about. KOENIG is standing quietly a short
distance away. He is holding the black box from Voyager.
KOENIG comes forward and stares down at the shattered
control circuit.
HAINES
What makes people tick,
Commander?
KOENIG looks down at the shattered remains of the control
pattern.
KOENIG
Good question.
HAINES
You work with a man. You know
him. You come to respect him -
and suddenly you don't know him
at all.
KOENIG
All that changed was the name.
The man was the same.
HAINES takes this in.
VOYAGER'S RETURN
PINK PAGE AMENDMENTS. 6th August
NEW PAGE 65
147 CONTD.
KOENIG
Listen Haines. His sacrifice gave
us a future - his knowledge hope.
Someone has to carry on his work.
If you respected the man make sure
his sacrifice wasn't wasted.
(hands him the box)
Here, get to it.
KOENIG turns and walks out watched by HAINES.
HOLD.
FREEZE FRAME
END TITLES.
THE END
VOYAGER'S RETURN
PINK PAGE AMENDMENTS. 6th August
---
Copyright Martin Willey