Script To Screen
---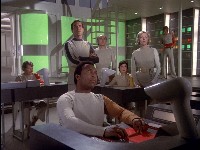 Filming for Voyager's Return started on Wednesday 7th August 1974, starting with all the Main Mission/ Koenig's office scenes. They would spend 5 days on the Main Mission set.
Here we examine the call sheet for the last day of Main Mission filming, on 13th August.
Linden has launched in Voyager to head towards the Sidon ships. In the first scene shot, scene 130, Aarchon appears on th e screen to demand "What is the purpose of this John Koenig?". After finishing the shots, the crew quickly did the corridor scenes (on stage H), and started the scenes in Medical, which they would complete on the following day.
Main Mission operative Loftus Burton is called "Loftus (Voyager) Burton" here; the previous day he was listed as "Loftus (Computer) Burton". It's possible he was speaking the dialogue for Voyager ("This is the voice of Voyager One") during these shots; the actual dialogue was added in post-production. The camera is normally positioned where his desk is (front right in Main Mission), so Loftus Burton is only glimpsed briefly in two reverse shots.
The dialogue for Aarchon was filmed separately on 14th August, 2 days later. Actor Alex Scott was not present to read his lines, so either another actor read them on set, or the assistant director Ken Baker.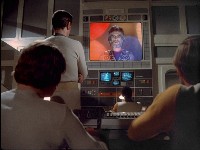 The BP screen mentioned in the call sheet is the back-projection screen, the Big Screen in front of Main Mission. They were not using it for back projection, because they fitted a matte screen over it and added the images in post-production. Some of the close-ups of the Main Mission screens would be completed on the final day, 21st August.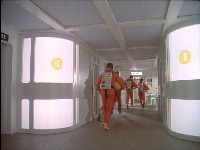 After finishing with Main Mission, the crew moves to a new stage, 'H', for the corridor scenes. First up, is scene 34, the "crash crew" of four astronauts running down the corridor. This shot will be reused in the episodes War Games and The Infernal Machine.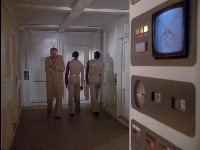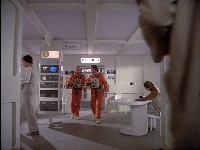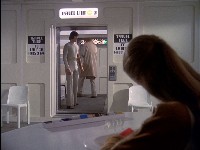 The other corridor scenes are much later. In scenes 102-13, Linden leaves Medical (passing security guards Tony Allyn and Quinton Pierre). Scene 113 is the confrontation between Haines and Linden in the door of the travel tube. There are lots of Alphans here- Quinton Pierre walks past again. The other Alphans are unnamed, but one of the astronauts (number 4) is John Clifford, while the medic is Paul Kirby. This is the first scene for Barry Stokes as Haines.
Finally the crew return to L stage, alongside Main Mission, for shots in the Medical Centre. With all the other scenes to complete, most of these shots were completed the following day, on 14th August.
The first two scenes, scene 36A and 90, were obviously shot, but was cut from the episode (see below). Scene 90 was finished, scene 36A was completed the next day.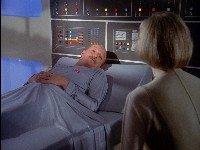 After the Alphans encounter Aarchon inside Voyager One, Linden collapses. Scene 99 is Linden recovering in bed, talking to Helena. Although scheduled for the 13th, it was actually filmed on the 14th.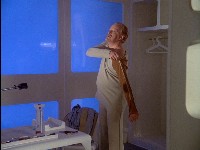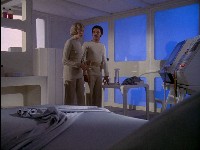 In scene 101, alone now, Linden gets dressed. In scene 111, Helena and Mathias find him gone. Both were scheduled for the 13th, but shot on the 14th August.
| | | |
| --- | --- | --- |
| GROUP THREE PRODUCTIONS LIMITED | | "SPACE 1999" TELEVISION SERIES |
| | | "VOYAGER'S RETURN" - EPISODE 12 |
CALL SHEET NO: 11
DIRECTOR

:
BOB KELLETT
STAGE:
'L' & H

DATE

:
TUESDAY,13TH.AUGUST,1974

UNIT CALL

8.30.AM.
---
| | | | | |
| --- | --- | --- | --- | --- |
| ARTISTE | CHARACTER | D/R | MAKE-UP CALL | SET CALL |
---
INT.MAIN MISSION/KOENIG'S OFFICE .SC.NOS: 130,131pt.132pt.133 (ALL TO COMPLETE),136,
139,142,145.

MARTIN LANDAU
KOENIG
321
7.30.am.
8.30.am.
BARBARA BAIN
HELENA
322
7.00.am.
8.30.am.
BARRY MORSE
BERGMAN
324
8.00.am.
8.30.am.
JEREMY KEMP
LINDEN
325
7.50.am.
8.30.am.
PRENTIS HANCOCK
MORROW
335
8.00.am.
8.30.am.
ZIENIA MERTON
SANDRA
328
7.45.am.
8.30.am.
NICK TATE
CARTER
326
7.30.am.
8.30.am.
CLIFTON JONES
KANO
327
8.00.am.
8.30.am.
SUZANNE ROQUETTE
TANYA
336
7.30.am.
8.30.am.
SARAH BULLEN
OPERATIVE 1
336
7.30.am.
8.30.am.
LYNDA WESTOVER
OPERATIVE 2
336
7.30.am.
8.30.am.
LOFTUS(VOYAGER)BURTON
OPERATIVE 3
-
8.00.am.
8.30.am.
CHRIS WILLIAMS
OPERATIVE 6
-
8.00.am.
8.30.am.
ANDY DEMPSEY
OPERATIVE 5
-
8.00.am.
8.30.am.
STAND-INS:
Alan Meacham for Mr.Landau
-
8.00.am.
8.30.am.
Suzanne Heimer for Miss Bain
-
8.00.am.
8.30.am.
Tony Allen for Mr.Morse
-
8.00.am.
8.30.am.
Brian Towns for Mr.Kemp
-
8.00.am.
8.30.am.
EXTRA ARTISTES:
MIKE STEVENS
ALPHA STAFF
-
8.00.am.
8.30.am.

PROPS

:
Commlocks. wrist monitors.

ART DEPT

:
Matte cover for BP screen. Voyager set link.

CAMERA DEPT

:
Glass shot required Sc.136.

ELECTRONIC

:
117.119.(a) radar(b)steller plot(c) panning moonbase.
(d) Eagle pad only.
122.123 as 117 (a) radar to Linden link.

---

(2) 'H' STAGE: INT.CORRIDORS/INTERSECTION/TRAVEL TUBE.SC.NOS: 34.102.103.107.113.

JEREMY KEMP
LINDEN
325
FROM ABOVE
BARRY STOKES
HAINES
Caravan 6
9.30.am.
10.30.am.
TONY ALLYN
1ST SECURITY GUARD
Caravan 4
10.00.am.
10.30.am.
STAND-INS:
Brian Towns for Mr.Kemp
-
FROM ABOVE
A.N.Other for Mr.Stokes
-
8.30.am.
9.00.am.
EXTRA ARTISTES:
QUENTIN PIERRE
2ND GUARD
-
8.30.am.
9.00.am.
4 ALPHAN MEN(Crash Unit)
-
8.30.am.
9.00.am.
2 ALPHAN MEN )
Sc.113
-
8.30.am.
9.00.am.
2 ALPHAN WOMEN )

WARDROBE

:
Space suit for Alphans Sc.34 and Sc.113.

ELECTRONIC

:
Sc.34.102.103.107.113 Compost: Alpha card.

ART DEPT

:
Signs (1) 'Experimental Lab' (2)'Launch Pad'.

---
/Continued ..............
/2
(3) 'L' STAGE: INT.MEDICAL DEPT. SC.NOS. 36A.90.99.101.111.
MARTIN LANDAU
KOENIG
321
FROM ABOVE
BARBARA BAIN
HELENA
322
FROM ABOVE
BARRY MORSE
BERGMAN
324
FROM ABOVE
JEREMY KEMP
LINDEN
325
FROM ABOVE
NICK TATE
CARTER
326
FROM ABOVE
ANTON PHILLIPS
MATHIAS
Caravan 4
STAND-BY TILL 1.00.PM.

STAND-INS

:
FROM ABOVE

PROPS

:
Commlocks.bandages for Linden Sc.99. wrist monitors.

ELECTRONIC

:
36A compost: Captions to Alpha link.
90.99. Bedhead: Normal vital life signs.Compost:Alpha.Bedhead.
101.111. Compost: Alpha card.

ART DEPT

:
Captions for Sc.36A.Linden labels for Monitors.

WARDROBE

:
Linden in pyjamas for Sc.90. Linden uniform as dressing.

MAKE-UP

:
Linden wears chest bandage from Sc.99.

RUSHES

:
Lunch time to be advised..

CATERING

:
AM break 'L' Stage. PM break to be advised for 85 people.

TRANSPORT

:
(1) Ray Atkins to collect Mr.Landau and Miss Bain at 6.30.am.
Unit car(Doug) to collect Mr.Morse at 7.15.am.
Ken Baker,
ASSISTANT DIRECTOR
.
This scene first appeared in the 5th August pink pages, and was filmed on 13th and 14th August. It was cut from the episode. It was scripted to appear immediately after the first command conference, when Helena says "We'd better find out all we can about fast neutrons". In the final episode, the computer voice is not heard at all (probably to avoid confusion with the voice of Voyager One's computer). Here is the scene from page 13A:
36a INT. MEDICAL CENTRE 36a
CLOSE on Monitor. A computer message appears on the screen.
The computer voice reads it.
COMPUTER VOICE
Your request on fast neutron effects... Detailed
information not banked in computer... Records suggest
contact Doctor Ernst Linder Experimental Physics
Laboratory....
During this pull back to reveal HELENA watching the monitor.
HELENA
Dr. Linder.
Message ends.
She goes.
Scene 90 Medical
This scene was in the original 29th July script, with one pink line amendment. The Voyager has just landed, but they have not yet boarded the ship. Helena is checking Linden when Koenig and Bergman arrive. This is the scene from page 45, which was filmed on 13th August but cut from the episode.
90 INT. MEDICAL CENTRE. 90
The doors open and BERGMAN and KOENIG come in. HELENA
comes up to them.
KOENIG
How is he?
HELENA
He's taken a tremendous hammering.
KOENIG goes down the medical centre followed by BERGMAN
and HELENA.
They stop at LINDER's bed.
KOENIG
Thank you.
He looks up at them.
LINDER nods with awkward embarrassment.
KOENIG
The ship is now ready to enter...
You should be the first to
board her... Is he fit enough to get up?
HELENA
Not really, but I don't think I can stop him.
LINDER reacts.
---
Copyright Martin Willey