Script To Screen
---
The crew spent 2 days filming inside the Voyager One set, Thursday 15th and Friday 16th August. Below is the call sheet for the first day, day 7 of filming.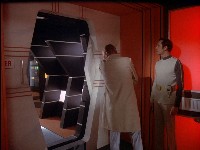 Scene 92 is in the boarding tube, with the Travel Tube and Voyager sets either side.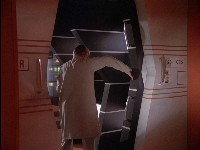 The next scene, 115, is much later in the story, but uses the boarding tube set again. Linden, having activated the drive, enters the ship to prepare to launch.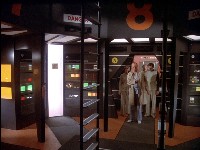 Scene 93 is the first scene inside the Voyager. This continues up to the appearance of Aarchon, which is the end of Act Two. Act Three starts with scene 94, following immediately afterwards. Only part of scene 94 would be completed today.
The following day, 16th August, would complete scene 94, although there was little left, as it notes "Sidon POV". Only Koenig, Linden and Aarchon are present. The other scenes feature Linden piloting the Voyager, and shots of Aarchon for burn-ins on the Main Mission screen.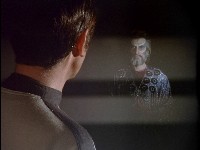 This is the "mirror shot" noted in the call sheet. It is an old stage trick called "Pepper's ghost". Angled glass is placed in front of the camera, with the Voyager wall behind. Alex Scott stands to the side of the set, against black velvet drapes. A bright light shines on him; his reflection is seen on the glass, as if a ghostly Aarchon is floating in front of the wall.
Alex Scott was only present for 3 days of filming, from 14th August to 16th August. This was the only time he was on a set; his shots on the 14th and 16th were against "Aarchon background", with lights, mirrorfoil and camera lenses creating weird effects.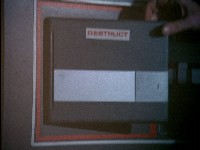 The call sheet has a requirement for the Art department to provide "Mike Ford's coffin(Keith's better)". Mike Ford was the assistant art director (later he won Oscars for Raiders of the Lost Ark and Titanic), Keith Wilson was the art director. The opening hatch is, we think, the "coffin". It was called a "coffin" because on set the hinge creaked loudly like something out of a Dracula movie. It is the hatch first used in Earthbound. There was another hatch used in desks; from this, it's possible Mike Ford made this one, Keith Wilson made the other, and the crew preferred Keith's.
| | | |
| --- | --- | --- |
| GROUP THREE PRODUCTIONS LIMITED | | "SPACE 1999" TELEVISION SERIES |
| | | "VOYAGER'S RETURN" - EPISODE 12 |
CALL SHEET NO: 7
DIRECTOR

:
BOB KELLETT
STAGE:
'M'

DATE

:
THURSDAY,15TH.AUGUST,1974

UNIT CALL

8.30.AM.
---
| | | | | |
| --- | --- | --- | --- | --- |
| ARTISTE | CHARACTER | D/R | MAKE-UP CALL | SET CALL |
---
INT.VOYAGER ONE/BOARDING TUBE.SC.NOS: 92,115,93,94pt.

MARTIN LANDAU
KOENIG
321
7.30.am.
8.30.am.
BARBARA BAIN
HELENA
322
7.00.am.
8.30.am.
BARRY MORSE
BERGMAN
324
8.00.am.
8.30.am.
JEREMY KEMP
LINDEN
325
7.45.am.
8.30.am.
PRENTIS HANCOCK
MORROW
335
9.30.am.
10.00.am.
ALEX SCOTT
AARCHON
327
REQUIRED FROM 10.00.am.
STAND-INS:
Alan Meacham for Mr.Landau
-
8.00.am.
8.30.am.
Eileen Harvey for Miss Bain
-
8.00.am.
8.30.am.
Tony Allen for Mr.Morse
-
8.00.am.
8.30.am.
Brian Towns for Mr.Kemp
-
8.00.am.
8.30.am.

PROPS

:
Commlocks. wrist monitors. bandages for Linden.clipboard.

MAKE-UP

:
Sweat for Linden Sc.115.

ART DEPT

:
Scrawled names Sc.93.Switches sign:'Drive'.'Destruct'.
Mike Ford's coffin(Keith's better).Gauze sheets required.

ELECTRONIC

:
93.94.(a)(b)(c)(d) off.Commlock link/Morrow.

DRAPES

:
Drapes to stand-by with black velvet.

CAMERA DEPT

:
Mirror shot. glassbox required.

RUSHES

:
Theatre lunch time to be advised.

CATERING

:
AM and PM break for 70 people on 'M' Stage.

TRANSPORT

:
(1) Ray Atkins to collect Mr.Landau and Miss Bain at 6.30.am.
(2) Unit car(Doug) to collect Mr.Morse at 7.15.am.
Ken Baker,
ASSISTANT DIRECTOR
.
---
Copyright Martin Willey