Script To Screen
---
The final day of filming for Voyager's Return was 21st August 1974, day 11. The final set was the Experimental Lab, where Linden and Haines recreate the Voyager control circuit. It was built on stage M, where "guest" sets were built (Main Mission lived on stage L, and smaller Alpha sets were built alongside it, like the Medical Centre). They started filming on the Experimental Lab set on Monday 19th, filming for 3 days.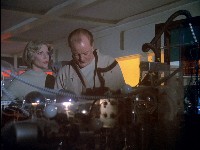 The first scene is 81, as Linden, watched by Helena, works on the circuit, trying to stop the Voyager's drive. Helena says "Good luck." Her original scripted line was "I hope you've made it." but his was changed in 9th August line amendments. Scenes 83 and 85 are short scenes without dialogue as he works, ending with him slumping back in exhaustion as the rumbling from the Queller drive ends.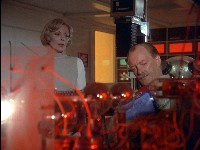 Scene 88. The Voyager has just landed. Helena smiles at Linden and says "You've done your job. Now I've got to do mine." Barbara Bain changes the line slightly: "Alright, Doctor. You've done your work. Come along. Let me do mine."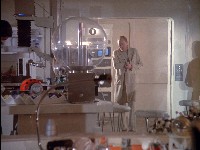 Scene 104. The Sidon ships are closing on Alpha, and Linden leaves Medical to visit the Lab. In scene 112, Haines enters, sees the circuit running, and leaves.
We see Al Flemyng as one of the technicians. We don't see much of the background technicians in these scenes. Former Blue Peter presenter Anita West got a dressing room, but is only briefly glimpsed. Laurie Davis isn't clearly visible in any shots. The one technician who is clearly seen in many earlier Lab scenes is Alan Harris, although he was not present on this last day.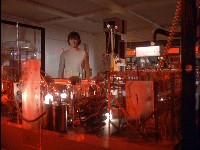 Five of these scenes (116A, 134A and other "A" scenes) are short reaction scenes without dialogue, added on a pink page amendment on 6th August. In each of them, Haines is watching the circuit glowing.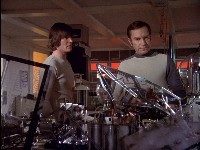 The final scene, and biggest of the day, is the final scene of the episode, scene 147. Martin Landau had a late start, at noon, because he wasn't required for the earlier shots. In the early part of the scene Haines destroys the circuit. Normally the director would film several takes of this, between which the Art Department had to be repair it quickly.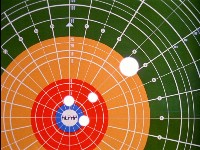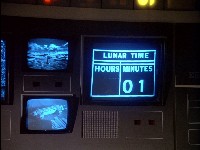 Finally the crew filmed various inserts of the chart and the countdown clock in Main Mission, back on stage L. No actors were present. These had originally been on call sheet 6, for 14th August, but after 3 other sets (Medical, all the Eagle scenes, and Aarchon in his ship) they had not got round to them.
| | | |
| --- | --- | --- |
| GROUP THREE PRODUCTIONS LIMITED | | "SPACE 1999" TELEVISION SERIES |
| | | "VOYAGER'S RETURN" - EPISODE 12 |
CALL SHEET NO: 11
DIRECTOR

:
BOB KELLETT
STAGE:
'M'

DATE

:
WEDNESDAY,21ST.AUGUST,1974

UNIT CALL

8.30.AM.
---
| | | | | |
| --- | --- | --- | --- | --- |
| ARTISTE | CHARACTER | D/R | MAKE-UP CALL | SET CALL |
---
INT.EXPERIMENTAL LAB .SC.NOS: 81,83,85,88,104,106,112,116A,134A,138A,140A,144A,147.

MARTIN LANDAU
KOENIG
321
11.00.am.
12.00.noon.
BARBARA BAIN
HELENA
322
7.00.am.
8.30.am.
JEREMY KEMP
LINDEN
325
7.45.am.
8.30.am.
BARRY STOKES
HAINES
327
9.30.am.
10.00.am.
ANITA WEST
TECH (1)
356
7.45.am.
8.30.am.
STAND-INS:
Alan Meacham for Mr.Landau
-
8.00.am.
8.30.am.
Suzanne Heimer for Miss Bain
-
8.00.am.
8.30.am.
Brian Towns for Mr.Kemp
-
8.00.am.
8.30.am.
A.N.Other for Mr.Stokes
-
8.00.am.
8.30.am.
EXTRA ARTISTES:
LAURIE DAVIS
TECH (2)
-
8.00.am.
8.30.am.
AL FLEMYNG
TECH (4)
-
8.00.am.
8.30.am.

PROPS

:
Queller Drive.artefact to be damaged.Black Box.Bamdages for
Queller.Clipboard.

ART DEPT

:
Control circuit to be smashed for Sc.147.repeat bulbs req.

FIRE DEPT

:
Smoke alarms to be removed from 'M' Stage.

MAKE-UP

:
Sweat for Linden from Sc.74.

ELECTRONIC

:
Scs 74-144A as 37.Compost:Alpha to Countdown clock.
Sc.147 as 37.Compost:Alpha.

---

INSERTS MAIN MISSION - COUNTDOWN CLOCK/LUNAR CHART.SC.NOS: 47pt.62pt.75pt.78pt.80pt.
55pt. 'L' STAGE.

ART DEPT

:
Countdown clock. Lunar chart practical.

CAMERA

:
Glass box required.

RUSHES

:
Theatre lunchtime to be advised.

CATERING

:
AM and PM break for 70 people on 'M' Stage.

TRANSPORT

:
Ray Atkin to collect Miss Bain at 6.30.am. then Mr.Landau
at 10.15.am.
Ken Baker,
ASSISTANT DIRECTOR
.
---
Copyright Martin Willey