Script To Screen
---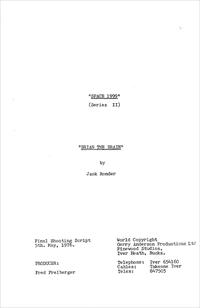 Jack Ronder's script for Brian The Brain is dated 5th May 1976. Twelve revised pages were added on 11th May, mostly to the end of the script. Filming began a week later on 18th May.
The script from 5th and 11th May is very close to the filmed episode, but there are some small differences. Below we discuss one small deleted scene and one small addition, but first a change in a scene between Tony and Maya.
At the end of Act One, Koenig and Helena leave with Brian for the Swift. Maya is suspicious of the machine. We see the Swift launch. Although he can't know the ship has launched, Tony orders "Red Alert". We see his hand as he presses the button (an insert shot showing some peeling Letraset). Maya simply says "No response", having let Tony make the executive decision.
The script has Maya declaring Red Alert. Tony angrily rebukes her for bypassing the chain of command. It's an unusual display of petulant authority, which is wisely cut from the final episode. The Swift launched was scripted after this exchange, not before, so the audience could sympathise with Tony that Maya is irresponsible.
It is possible this was filmed as scripted (on 18th or 19th May), and the version we see is a re-shoot from 7th June (when additional Command Center scenes were shot for this episode).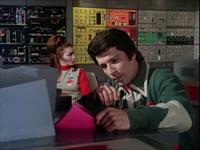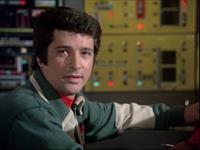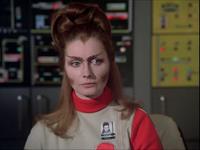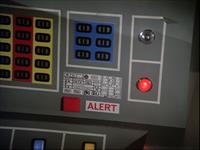 MAYA
Tony, I've got a bad feeling
about that that machine.
TONY
A bad feeling? Come on, Maya,
give it a chance. It's doing
a check for us, we still don't
CONTINUED:
26.
TONY (Contd.)
know where we're heading. The
trouble with you, Maya, your
brain works like a computer so
you're jealous of this other
computer.
MAYA
I have a bad feeling. What are
they doing on Swift? Open a
channel.
ON TONY at his console.
TONY checking. Then hits a button, looks at monitor.
CLOSE ON MONITOR: The monitor goes from 'CHANGE OF
HORIZON' to blank.
ON TONY: He hits the button again.
ON MONITOR: No response, still blank.
ON MAYA at her console.
MAYA hits three buttons.
ON MONITOR: No response, it is blank.
ON MAYA: She looks at the console.
HER POV, the red alert switch. She operates it.
ON TONY
TONY
You have no authority for
that! The red alert is my
responsibility. And authority
comes from the Moonbase Commander,
or failing him, from me!
ON MAYA, she is looking at the console.
ON TONY, he looks, nothing has happened. No lights, no
buzzers, no klaxons.
ON MAYA and TONY
MAYA
The Red Alert has no response.
TONY
We've been cut off! Where's
the Commander? Where's
Dr. Russell?
67 EXT. MOONBASE ALPHA (SFX) 67
The SWIFT on launch pad. It blasts off into space.
FADE OUT:
END OF ACT ONE
Although the 11 May changes reworked slightly some later scenes (from Maya turning into the mouse), there were no substantial changes. Only one scene would be cut- scene 41 on page 13. It was a short scene between two pilots with technical dialogue. Cutting it removed the need to cast another pilot.
41 INT. EAGLE ONE. PILOT SECTION 41
EAGLE ONE PILOT speaks to EAGLE TWO PILOT on monitor.
EAGLE ONE PILOT
Eagle One to Eagle Two, angle
ten degrees from me.
EAGLE TWO PILOT
(on monitor)
Eagle Two ten degrees.
EAGLE ONE PILOT
Maintain velocity.
EAGLE TWO PILOT
(on monitor)
Eagle Two velocity maintained.
The 11th May scenes included one short new scene, 136A among several pages of rewriting the final scenes of the episode.
Brian has been pushed out of the airlock, but his antenna is caught. He threatens to wipe Moonbase Alpha's computer memory. The 11th May changes make Brian more sympathetic. "All I wanted was life ... and friends ... I was so lonely." A new scene, 136A, is added to show the Alphans taking pity on him. In the rewritten epilogue, they will be merciful, reprogramming the robot with the ten commandments. The rewrite makes the Alphans more compassionate, but Brian's sudden contrition is implausible. The benevolent story twist seems unearned.
"BRIAN THE BRAIN"
11th May, 1976
69
35 CONTD. (135)
BRAIN
If you don't get me back in,
I'll wipe it clean anyway.
KOENIG
I'll take a choice on that.
Cut the antenna!
BRAIN
(crying)
Don't cut my antenna ...
Please don't cut my antenna...
KOENIG
Brain, we'll let you live, if
you give us your memory-core
undamaged.
136 EXT. SPACE SKY. (SFX) 136
The BRAIN at the end of its antenna, dangling from
the Swift.
BRAIN
Yes, take my memory, take
everything...
(cries)
All I wanted was life ... and
friends ... I was so lonely
... Take it all...
136A INT. SWIFT PILOT SECTION. 136A
HELENA
He's crying...
MAYA reacts with commiseration to match HELENA's.
KOENIG nods grimly as the BRAIN's sobs continue
OVER.
FADE OUT:
END OF ACT FOUR
---
Copyright Martin Willey