Script To Screen
---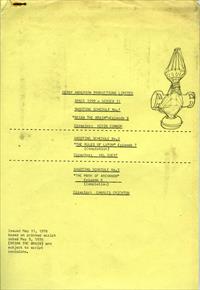 This is the shooting schedule for Brian The Brain, prepared on 11th May 1976 for the start of filming on Monday 17th May. Filming was scheduled to take 10 days, with an extended day on Wednesday 19th May to do additional scenes for earlier episodes, The Rules of Luton and The Mark of Archanon. The original directors, Val Guest and Charles Crichton, were brought back that day to do those scenes.
Before this episode, the cast and crew were filming two episodes simultaneously, The Rules of Luton and The Mark of Archanon. When the next episode, Brian The Brain, was due to start, both episodes still had scenes to shoot. The Mark of Archanon took all of 17th May and part of 18th. A 3-episode extended day was filmed as planned on the 19th to complete the last scenes.
Brian The Brain would start on Tuesday 18th. Because Monday 31st May 1976 was a national holiday (Spring Bank Holiday), the 10th filming day was Tuesday 1st June, and an 11th day was needed on Wednesday 2nd.
Finally there was an additional part day filming on Monday 7th June. After a morning filming New Adam New Eve, the afternoon was spent filming Command Center shots for Brain the Brain (possibly this scene) plus two other episodes, The Exiles and The Rules of Luton.
At this stage, neither Nick Tate and John Hug were available, so there was just "Eagle One Pilot" (later it would become Fraser).
On Brian Johnson's copy of the shooting schedule, he doodled a spaceship design.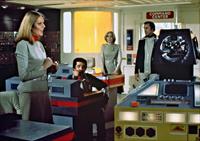 The first 3 days, from Tuesday 18th May, were spent filming these Command Center scenes.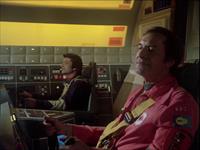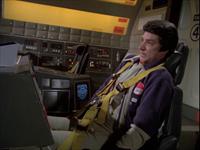 On Wednesday 19th, they filmed all the Eagle pilot section scenes for The Rules of Luton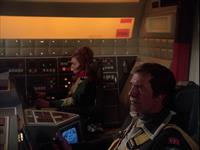 This was followed by the Koenig/Maya Eagle pilot section scenes for The Mark of Archanon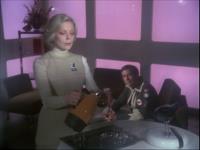 Also scheduled was the new final scene for The Mark of Archanon. This was not filmed on the 19th, because Fred Freiberger published a memo on the 20th with the new script; it must have been filmed later.
GERRY ANDERSON PRODUCTIONS LIMITED
SPACE 1999 - SERIES II
SHOOTING SCHEDULE No. 1
"BRIAN THE BRAIN"-Episode 9
Director: KEVIN CONNOR
---
SHOOTING SCHEDULE No.2
"THE RULES OF LUTON" Episode 7
(Completion)
Director: VAL GUEST
---
SHOOTING SCHEDULE No. 3
"THE MARK OF ARCHANON"
Episode 8
(Completion)
Director: CHARLES CRICHTON
Issued May 11, 1976
based on printed script
dated May 5, 1976
(BRIAN THE BRAIN) and
subject to script
revisions
"BRIAN THE BRAIN"-Episode 9 SHOOTING SCHEDULE No. 1 Page 1
---

Date
Set
Stage
Scene Nos.
Characters

---

Monday
17.5.76
INT. COMMAND CENTER


Special Requirements

:
Practical T.V.Monitors
Zoom Lens
L
2. 4. 6. 8.
10. 12. 14.
16. 18. 29.
22. 24. 28.
30. 32. 34.
36. 39. 43.
45.
(6 1/4 pages)
HELENA
KOENIG
MAYA
TONY
YASKO
1st OPERATIVE
EAGLE ONE PILOT
ALPHANS ( )

---

Tuesday
18.5.76
INT. COMMAND CENTER


Special Requirements

:
Practical T.V.Monitors
L
47. 50. 53.
66. 77pt. 78
(6-1/8 pages)
HELENA
KOENIG
MAYA
TONY
YASKO
1st OPERATIVE
BRAIN
ALPHANS ( )

---

Wednesday
19.5.76
INT. COMMAND CENTER


Special Requirements

:
Practical T.V.Monitors
L
80pt. 82. 137.
139.
(3 3/4 pages)
HELENA
KOENIG
MAYA
TONY
YASKO
1st OPERATIVE
ALPHANS ( )
INT. CORRIDOR - COMMAND
CENTER
L
27
(1/8 page)
ALPHANS ( )

INT. RECEPTION AREA

L
65
(3/8 page)
KOENIG
HELENA
BRAIN
SECURITY LIEUT.
2nd SECURITY MAN

INT. TRAVEL TUBE

L
55. 57. 60pt.
62pt. 64.
(2 1/4 pages)
KOENIG
HELENA
BRAIN
SECURITY LIEUT.
2nd SECURITY MAN

---

WEDNESDAY
MAY 19
1976
EXTENDED
DAY
TO COMPLETE
EPISODES
7 and 8
"

THE RULES OF LUTON

" Episode 7:

DIRECTOR

: VAL GUEST
INT. EAGLE ONE
PILOT SECTION
L
4. 6. 8.
(3/4 page)
KOENIG
MAYA
TONY

---

"

THE MARK OF ARCHANON

" Episode 8:

DIRECTOR

: CHARLES CRICHTON
INT. EAGLE ONE
PILOT SECTION
L
21pt. 22pt. 34.
36. 38pt.
(1 page)
KOENIG
MAYA

---

INT. CORRIDOR
L
86(new scene)
(3/4 page)
KOENIG
HELENA

---
---
Copyright Martin Willey