Script To Screen
---
This is the 8th filming day, on 27th May 1976. According to the Shooting schedule, these shots should have been filmed on Tuesday 25th, so they are running 2 days behind (after starting 1 1/2 days late).
Just over half the shooting days were in the Swift, which was filmed in the North Tunnel stage at Pinewood. This long stage was used for Eagle interiors (Guardian Of Piri and others) plus sets like the long waste dome corridor in Bringers Of Wonder part 2.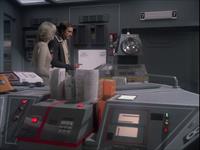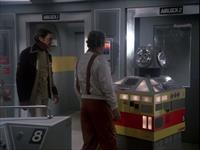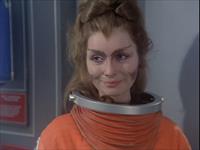 Filming starts with the continuation of scene 122, the long scene when Koenig, Helena and a small mouse confront Brian: "You killed the man who created you. Your own father. Why?" Later in the scene the mouse will turn into Captain Michael. In scene 126 they force him into the airlock. The final passenger module scene is 130, when Maya turns back into herself (Catherine Schell doesn't arrive on set until 11am).
Bernard Cribbins provides Brian's voice on set, using a lip microphone which is electronically linked to the lights on the robot, which flash in rhythm with his speech.
The scenes then shift to the Swift pilot section, and earlier in the story.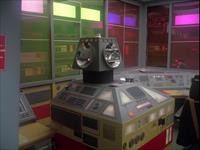 Scene 61 shows the first appearance of Brian in the story- emerging from the pilot section. In the story, Koenig and Helena are with 2 guards, but none of them are required for this shot.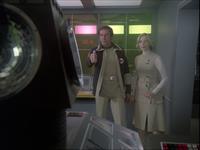 In scene 72 to 76, the Swift has taken off, and Brian goes to the pilot section. "Just let me trim this course." "Trim it back to Moonbase Alpha." Scene 76 is a long scene, with Brian telling Koenig to put down his gun, and threatening them by opening the airlocks (the suction effect described in the call sheet).
GERRY ANDERSON PRODUCTIONS LIMITED
"SPACE 1999" - SERIES II

CALL SHEET No.8

EPISODE: 9: "BRIAN THE BRAIN"
DATE:
THURSDAY: May 27, 1976
DIRECTOR: KEVIN CONNOR
STAGE:
North Tunnel
UNIT CALL:
8:30 a.m.
---

ARTISTE
CHARACTER
D/R
M/UP
ON SET

---

INT. SWIFT PASSENGER MODULE & PILOT SECTION

:
Sc. Nos. 122 to comp., 126, 128, 130, 61, 72, 74, 76.


MARTIN LANDAU
KOENIG
321
8.00
8.30
BARBARA BAIN
HELENA
322
7.00
8.30
CATHERINE SCHELL
MAYA
328
9.30
11.00
BERNARD CRIBBINS
BRAIN/CAPT.MICHAEL
336
--
8.30
MICHAEL SHARVELL-MARTIN
ROBOT
335
--
8.30

STAND INS

ALAN MEACHAM
for Mr. Landau
312
8.00
8.30
SUZANNE HEIMER
for Miss. Bain
312
8.00
8.30
PAT THOMPSON
for Miss Schell
312
8.00
8.30
DAVID CLARE
for Mr. Cribbins
312
8.00
8.30
PROPS:

As per script to include: commlocks, stun guns, badges.

ART DEPT:

The Brain with flashing lights, dials outside airlock (practical)
black buttons in airlocks, black velvet.

ELECTRICAL:

Cue lights, flashing lights on brain & console, practical dials outside
airlocks.

ELECTRONIC:

Lip mike link up with Brain.
To standby with smoke for robot & air set for suction effect.

WARDROBE:

Space suit required for set dressing.

CAMERA:

10 to 1 zoom lens: Capt. Michael turns into Maya Sc.126: special box
required.

ANIMALS:

1 mouse supplied by Animal Finders: on set 8.30 a.m.

CATERING:

A.M. and P.M. break for 70 people in North Tunnel.

LUNCH:

1 p.m. to 2 p.m.

RUSHES

Theatre 1 at 1 p.m.

TRANSPORT:

Ray Atkins to pick up Miss Bain as arranged as bring to Studio
Steve Smith to pick up Miss Schell as arranged and bring to Studio.
Doug Weatherley to pick up Mr. Landau as arranged and bring to Studio.
ROBERT LYNN
Assistant Director
---
Copyright Martin Willey