Script To Screen
---
Tuesday 1st June was the 10th day of filming and should have been the last, but some of these shots had to be completed the following day. The previous day, Monday, had been a holiday. There's a typo with Barbara Bain's set call being 7:30am, when it should be 8:30.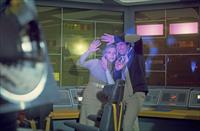 The first scenes of the day are "part" of already short scenes, and are probably the insert shots of Brian's lights flashing as he "makes a note". The first substantial scene is 98, when Brian asks if they love each other, and tortures them with the ultra violet.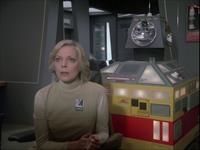 Scenes 105-114 have Helena and Brian watching the screens, while Koenig is walking on the surface. Brian shows stills on Captain Michael on the screen. Later scenes in the pilot section, with Maya now present, must have been filmed the previous week.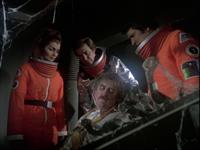 In scene 111, we are in the Swift mothership, a modified version of the Swift interior with the Weapons Section console for a pilot section and some Eagle bulkheads. The prop department made generous use of the "cobweb machine" here. Tony Anholt and Catherine Schell join the crew, with a late 11:30 start.
They did not complete this scene today, and would have to complete it the next day, delaying the start of the next episode.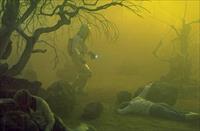 Then the crew moved to another stage, M, for the Planet D surface scenes. The entire crew of a mothership and 4 Swifts includes just two bodies, who re-arrange themselves for a second section of surface.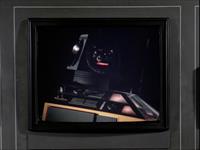 Finally there are two scenes showing the Brian "floating in space" against black velvet. There were also several model effects shots with a model robot, filmed later at Bray.
GERRY ANDERSON PRODUCTIONS LIMITED
"SPACE 1999" - SERIES II

CALL SHEET No.10

EPISODE: 9: "BRIAN THE BRAIN"
DATE:
TUESDAY: June 1, 1976
DIRECTOR: KEVIN CONNOR
STAGE:
North Tunnel & M Stage
UNIT CALL:
8:30 a.m.
---

ARTISTE
CHARACTER
D/R
M/UP
ON SET

---

INT. SWIFT PILOT SECTION

: Sc. Nos. 83pt., 85pt., 89pt., 93, 98, 105, 107, 109
112, 114.

MARTIN LANDAU
KOENIG
321
8.00
8.30
BARBARA BAIN
HELENA
322
7.00
7.30
BERNARD CRIBBINS
BRAIN/CAPT.MICHAEL
336
8.30
MICHAEL SHARVELL-MARTIN
ROBOT
335
8.30

INT. MOTHERSHIP CONTROL ROOM:

Sc.Nos. 111
MARTIN LANDAU
KOENIG
321
from above
CATHERINE SCHELL
MAYA
322
10.00
11.30
TONY ANHOLT
TONY
325
11.00
11.30
BERNARD CRIBBINS
CAPT.MICHAEL
336
from above
8.30

EXT. PLANET "D" SURFACE

: Sc.Nos. 103, 104, 108, 110, 113pt, 115.
MARTIN LANDAU
KOENIG
321
from above

BLACK VELVET SHOTS

: Sc.Nos. 134, 136. "The Brain"

STAND INS

ALAN MEACHAM
for Mr. Landau
312
8.00
8.30
SUZANNE HEIMER
for Miss. Bain
312
8.00
8.30
PAT THOMPSON
for Miss Schell
312
8.00
8.30
DAVID CLARE
for Mr. Cribbins
312
8.00
8.30

CROWD

2 MEN
CORPSES
312
T.B.A.
PROPS:

As per script to include: commlocks, stun guns, cobweb machine, dust
metal fuel cylinder.

ART DEPT:

Trolleys & frame work packed with equipment with coloured wire:
ladders for spaceships, cable and hook, the Brain with flashing lights
Stills of Capt. Michael, black velvet.

ELECTRONIC:

Lip mike link up with Brain: stills of Capt. Michael on monitor Sc.107
sine wave on monitor Sc.111.

ELECTRICAL:

Cue lights: C.S.I. Spot: flashing lights on the Brain & consoles,
Fan.

S.F.X.:

To standby with smoke/mist effect and dust.

ANIMALS:

1 mouse supplied by Animal Finders - on set 9.30 a.m.

CAMERA:

10 to 1 zoom lens: special box required.
Maya turns into mouse Sc.111

CATERING:

A.M. and P.M. break in North Tunnel for 75 people, please.

LUNCH:

1 p.m. to 2 p.m.

RUSHES

Theatre 1 at 1 p.m.

TRANSPORT:

Ray Atkins to pick up Miss Bain as arranged as bring to Studio
Steve Smith to pick up Miss Schell as arranged and bring to Studio.
Doug Weatherley to pick up Mr. Landau as arranged and bring to Studio.
ROBERT LYNN
Assistant Director
---
Copyright Martin Willey