Script To Screen
---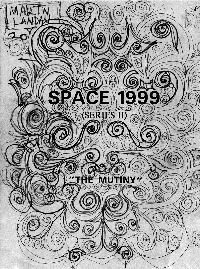 Script cover.
The shooting script for The Seance Spectre was titled "The Mutiny". The title was changed shortly before filming, and all production documents appended "formerly The Mutiny" to the episode title.
Right is the script cover and title page, with doodles by Martin Landau (thanks to Julie). Martin Landau's comments in the top right corner of the title page say BAD NEWS Re: SPACE 1999. Mon Oct 18th 1976 3:00 P.M. As from the mouth of Gerry Anderson.
Further comments inside the script covers indicate that Landau disagreed with ITC New York boss Abe Mandell.
We're going ahead but let's not tell 'em.
We're not going ahead but let's not tell 'em
Either way Abe is mad - it's to his advantage that the last five shows are good- now everyone will drop the ball.
Boxed are the words To save £. The crew would be told the show was cancelled the following day, Tuesday 19th.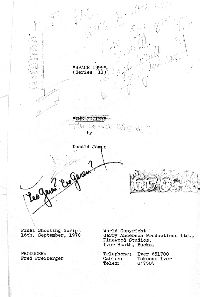 The title page.
---
Copyright Martin Willey