Year 1 wrap party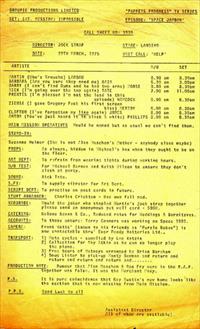 Filming of Space: 1999 year finished on Friday 28th February 1975. Post-production continued, but many of the cast and crew were now looking for new jobs.
On Saturday 29th March 1975, many of them came together again for a final party. The assistant directors, Ken Baker, Steve Lanning and Roy Button, prepared a call sheet for the party, like the actual call sheets they created every day for the episodes.
The joke about Nick Tate "going over the top" is from a line in The Last Sunset.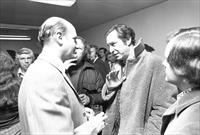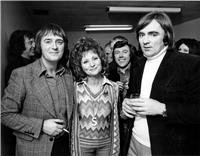 This was not a happy party for Gerry and Sylvia Anderson. Gerry had told Sylvia not to turn up, but she did. The Andersons had a big argument in front of the others. Sylvia asked ITC's David Withers to accompany them home, trying to contain their arguments, but it resumed at home and they resolved to divorce.
GROUPIE PRODUCTIONS LIMITED

"PUPPETS PROGRESS" TV SERIES

SET: INT. MISSION: IMPOSSIBLE

EPISODE: 'SPACE JAMBON'

CALL SHEET NO: 1999
| | | | |
| --- | --- | --- | --- |
| DIRECTOR: | JOCK STRAP | STAGE: | LANDING |
| DATE: | 29TH MARCH, 1975 | UNIT CALL: | 'HELP' |
---

ARTISTE

M/U

SET

---

MARTIN (Who's Groucho) LANDAU
8.00 am
8.30am
BARBARA (Are you sure they need me) BAIN
5.30 am
3.00pm
BARRY (I can't find Ouma and he had two arms) MORSE
8.00 am
8.30am
NICK (I'm going over the top again) TATE
7.00 am
11.00am
PRENTIS (I'm pleased I'm not the lead in this
episode) HANCOCK
8.00 am
8.30am
ZIENIA (I gave Gregory Peck his first screen
kiss) MERTON
8.00 am
8.30am
CLIFTON (I've forgotten my

line

again) JONES
8.00 am
8.30am
ANTON (You've just heard it in black & white) PHILLIPS
8.00 am
8.30am
MAIN MISSION OPERATIVES Would be named but as usual we can't find them.
STAND-IN:
Suzanne Heimer (She is not Alan Meacham's Mother - anybody elses maybe)
PROPS:

As always, hidden in Michael's box when they ought to be on
the floor

ART DEPT:

To refrain from wearing tights during working hours.

M/U TEST:

For Michael Barnes and Keith Wilson to ensure they don't
clash at party.

SOUND:

Nick Tate.

S.FX:

To supply vibrator for Art Dept.

SCRIPT DEPT:

To practise on post cards in future.

STUNT ARRANGER:

Charles Crichton - Has own fall pad.

WARDROBE:

Would the joker who stapled Martin's jock strap together
please send an anonymous get well card - SOON.

CATERING:

Helene Bevan & Co., Reduced rates for Weddings & Barmitzvas.

ACCOUNTS:

To those unsure: Terry Connors was working on Space 1999.

CAMERA:

Frank Watts (known to his friends as "Purple Robes") is
now contactable thru' Ever Ready Batteries Ltd.,

TRANSPORT:

Meta cycles - supplied by Lee Katzin
Collection for Ray Atkin as he can no longer play
the piano
Free tours of Watneys arranged by Brian Boreham
Doug Lister to pick-up Monty Berman and return and
return and return and return and.........

PRODUCTION NOTE:

Rumour that Alan Meacham & Ron Fry were in the R.A.F.
together was false. It was the Merchant Navy.

P.S.

It is pure coincidence that Ray Austin's new home looks like
the section that is now missing from Main Mission.

P.P.S.

Good Luck to all
Assistant Director
All of whom are available!
---
Copyright Martin Willey.