Born 1924, died 1991. Television includes The Avengers, Paradise Postponed (1986). Films include From Russia With Love (1963), Goldfinger (1964), Thunderball (1965), You Only Live Twice (1967), On Her Majesty's Secret Service (1969), Zardoz (1973), Superman (1978), Excalibur (1981), Return Of The Soldier (1982), Clash Of The Titans (1982), Shirley Valentine (1989).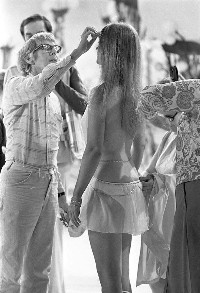 Make up artiste, Year 2:
Superman (1978), Clash Of The Titans (1982), Indiana Jones & The Temple Of Doom (1984), TV movie Woman In Black (1989).
Credited on The Rules of Luton with Basil Newall, he also worked on other episodes with "monster" make-up including New Adam, New Eve, The A B Chrysalis and A Matter of Balance, using his long experience on Hammer horror films.
Born 1925. TV series The Prisoner (1967), Worlds Beyond (1986), films Frankenstein Must Be Destroyed! (1969), Frankenstein and The Monster From Hell (1974), DreamChild (1985), Biggles (1985), Indiana Jones and The Last Crusade (1989). Died 1996.
International Velvet (1978)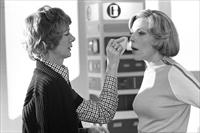 Phil Leakey was brought in to help with the old-age masks in Black Sun.
Born 1908, died 1992. He joined Hammer as a make-up artist in 1947 and worked on many of their horror films. Among his most well known films are The Quatermass Xperiment (1955), The Curse of Frankenstein (1957), Quatermass 2 (1957), Dracula (1958), The Revenge of Frankenstein (1958), The Ipcress File (1965), Morgan: A Suitable Case for Treatment (1966), Far from the Madding Crowd (1967), Henry VIII and His Six Wives (1972), Vampira (1974), the series The Zoo Gang (1974).
Hairdresser, Year 1 with Maude Onslow
A Man for All Seasons (1966), The New Avengers (1966)
Below: Helene Bevan with Maud Onslow, preparing Landau and Morse for Black Sun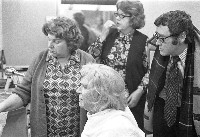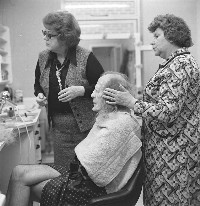 Hairdresser, Year 1 with Helene Bevan
The Heroes of Telemark (1965), The Satanic Rites of Dracula (1973), Barry Lyndon (1975)
Hairdresser, 17 episodes of Year 2
TV series Worlds Beyond (1986), Minder (1991), film Octopussy (1983), : Saving Private Ryan (1998, nominated for a BAFTA for best makeup/hair), Harry Potter and the Philosopher's Stone (2001), Hellboy (2004).
Hairdresser, The Seance Spectre, Devil's Planet, The Dorcons
Hairdresser on The Rocky Horror Show (1975), The Return of the Saint (1978), Raiders of the Lost Ark (1981), Star Wars Return of the Jedi (1983), Good Morning Vietnam (1987), 20,000 Leagues Under the Sea (1997)
---
Credited on Mark Of Archanon only, she also worked on other episodes uncredited.
Barry Lyndon (1975), Moonraker (1979), The Empire Strikes Back (1980), The Mirror Crack'd (1980), key hair stylist for For Your Eyes Only (1981), department head for Jigsaw Man (1984). She moved to the US, mostly working on TV including Mad Men (2008 series) and Episodes (US department head, 2014, 2015 series).
---
---
Born 1938, Michael Rasser was an English hairdresser from the 1960s to the 2000s whose celebrity clients from Mick Jagger and Liza Minelli to Cherie Blair and Anna Wintour. He started his career at the famous Leonard salon in 1954, and worked for Revlon in New York. In 1967 he and John Isaacs founded their own salon, Michaeljohn, in Mayfair, London. His regular clients included Princess Anne, including her wedding in 1973. He received the Royal Victorian Medal in the 2002 New Years Honours for services to hairdressing. He retired in 2007 and died in 2011.
"This is the first time I have been asked to look into the future and, frankly, I wouldn't like to predict what styles will be popular next week, next month or next year, let alone a quarter of a century hence!" He therefore created what he describes as "The Timeless Look". "It is basically classical," he explains. "The colouring is very much Barbara Bain's own, but I have taken the silver of the moon to symbolize the setting by introducing blonde highlights which give a subtle lift for the hair. She is lucky. Her hair is fantastically lovely. It is thick, strong hair which falls beautifully ... a pleasure for any hairdresser to work on."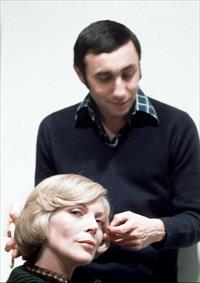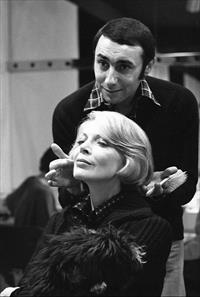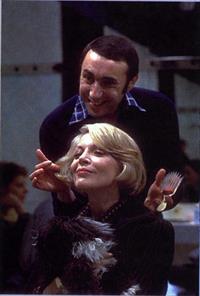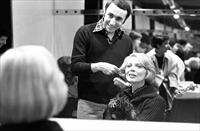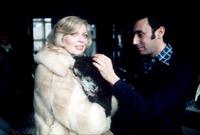 From Russia With Love (1963), Goldfinger (1964), Thunderball (1965), You Only Live Twice (1967), 2001 A Space Odyssey (1968), The Go-Between (1971), The Slipper and The Rose (1976), The Monster Club (1980), The Empire Strikes Back (1980).
Wardrobe assistant on Superman (1978), Star Wars- Return of the Jedi (1983)
Episodes Rules Of Luton, A B Chrysalis, A Matter Of Balance. Died 2005
---