---
---
Year Two End Credits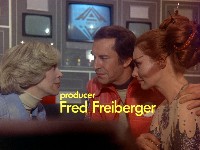 The final freeze frame now bore the caption "producer Fred Freiberger". As in Year 1, eight screens of credits followed, reusing the space scenes from Year One, lasting 30 seconds.
1. Again, the first screen was the ITC logo with the copyright message, over a featureless space scene.
2. The second screen showed the supporting cast list, again over a featureless space scene. All That Glisters did not have a supporting cast, and featured production credits from the fourth and fifth screens.
3. The corner of the green moon is top right, a green combat Eagle travelling left. Credits for music (Derek Wadsworth), production manager (Donald Toms) and casting director (Lesley de Pettitt).
4. The vertical galaxy centre left. Credits for editor, sound supervisor, sound editors, music editor. Finance director Terence Connors was credited here for the first 13 episodes only.
5. The comet retreating into the top right corner. Credits for sound recordist, camera operator, costume designer, assistant director, continuity, construction manager.
6. The small nebula appears upper right. Credits over for make up, hairdresser, wardrobe, assistant art director. Also credit to Rank Film Laboratories for the first 5 episodes.
7. The corner of red moon in top right. Credits titled "Special Effects", with lighting cameraman Nick Allder, camera operator David Litchfield, electronics Michael S. E. Downing, and, for the 6th and following episodes, "Processed at Rank Film Laboratories".
8. Corner of blue moon is bottom left, with blue Eagle travelling by it.
The series title appears: "Space: 1999" (no colon).
Below is the credit "based on a format by Gerry and Sylvia Anderson" for The Metamorph only.
For the other 23 episodes, the credit reads "created by Gerry and Sylvia Anderson.
In smaller letters at the bottom: "Filmed at Pinewood and Bray Studios, England".