Script To Screen
---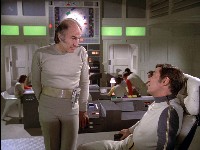 Filming for The Last Sunset started on Tuesday 23rd July 1974, starting with all the Eagle piloting shots, plus many of the passenger module scenes prior to the crash.
On day 2 of filming, Wednesday 24th July, they started the Main Mission scenes, which would last three and an half filming days, until Monday 29th when they returned to the passenger module, now in the crashed Eagle.
Unusually this episode required different lighting, with blue skies seen through the Main Mission windows. For the first day, they got through all the "night" scenes, with the black of space, before putting in the new backdrop and lighting over lunch for the afternoon scenes. The ordering of the afternoon scenes would anger Martin Landau, as we see below.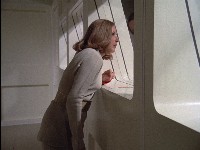 First they filmed all the Main Mission scenes from the start of the episode, up to Tanya's "Commander, we're being invaded." (scene 47).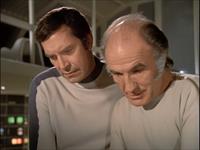 There is one scene from much later in the episode- scene 128, when Koenig and Dr Mathias return after searching for the Eagle, and Bergman shows his astrochart to describe how the moon may enter orbit. See the script page.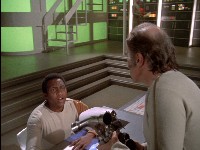 After lunch, with the new day backdrop, we get a sequence of shots mostly featuring Kano directing Eagle launches. One notable scene is 139, as Kano signals to Koenig as he launches, and Bergman rushes in carrying an Eagle component: "Stop him, Kano!" Scene 117 was originally a special effects montage of launching Eagles, setting out to search for the crashed Eagle. On 22nd July it was split into multiple short scenes, A to N, as Kano talks to the pilots and each Eagle launches.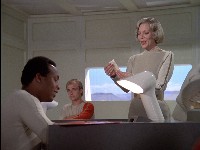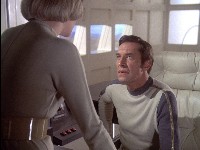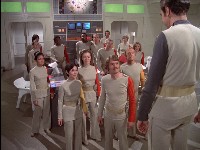 Finally, we have scene 56, at the start of act two just after the Moon has an atmosphere. The Alphans are analysing the results, and Koenig addresses the staff to ask for two volunteers to test the atmosphere. It's a big dramatic scene, placed at the end of the day, and Martin Landau was not happy about it.
| | | |
| --- | --- | --- |
| GROUP THREE PRODUCTIONS LIMITED | | "SPACE 1999" TELEVISION SERIES |
| | | "THE LAST SUNSET" - EPISODE 11 |
CALL SHEET NO:2
DIRECTOR

:
CHARLES CRICHTON
STAGE:
'L'

DATE

:
WEDNESDAY,24TH.JULY,1974

UNIT CALL

8.30.AM.
---
| | | | | |
| --- | --- | --- | --- | --- |
| ARTISTE | CHARACTER | D/R | MAKE-UP CALL | SET CALL |
---
INT.MAIN MISSION/KOENIG'S OFFICE .SC.NOS: NIGHT BACKING 3,6,8,20,23,28,30,32,36,45,

47pt,128.

DAY BACKING 93B.139.117A.E.Gpt.Hpt.Jpt.K.M.

141,56pt.

MARTIN LANDAU
KOENIG
321
7.30.am.
8.30.am.
BARBARA BAIN
HELENA
322
7.00.am.
8.30.am.
BARRY MORSE
BERGMAN
324
8.00.am.
8.30.am.
PRENTIS HANCOCK
MORROW
335
7.45.am.
8.30.am.
NICK TATE
CARTER
326
7.30.am.
8.30.am.
CLIFTON JONES
KANO
327
8.00.am.
8.30.am.
ANTON PHILLIPS
MATHIAS
325
10.00.am.
11.00.am.
SUZANNE ROQUETTE
TANYA
336
7.30.am.
8.30.am.
MAUREEN TAN
OPERATIVE 1
336
7.30.am.
8.30.am.
SARAH BULLEN
OPERATIVE 2
336
7.30.am.
8.30.am.
ROBERT PHILIPS
OPERATIVE 3
-
7.45.am.
8.30.am.
LOFTUS BURTON
OPERATIVE 4
-
8.00.am.
8.30.am.
ANDY DEMPSEY
OPERATIVE 5
-
8.00.am.
8.30.am.
EXTRA ARTISTES:
2 MEN
ALPHA STAFF
-
8.00.am.
8.30.am.
2 WOMEN
ALPHA STAFF
-
8.00.am.
8.30.am.
STAND-INS:
Alan Meacham for Mr.Landau
-
8.00.am.
8.30.am.
Suzanne Heimer for Miss Bain
-
8.00.am.
8.30.am.
Ron Watkins for Mr.Morse
-
8.00.am.
8.30.am.

PROPS

:
Commlocks. wrist monitors. Astrochart. Eagle component.
readouts.

ELECTRICAL

:
Light change. Night to Day at Sc.93B.
Practical readout Sc.8.56.
Red alert panel for Sc.40.

ART DEPT

:
Caption for Sc.141.

ELECTRONIC

:
Sc(3) (a) Radar.(b) Trace(c)Panning still(d)Eagle on pad.
Scs.(6)(8)(20)(23) as (3)
Sc.28(a)(b) as (3) (c)(d) Red Alert Panel.
Sc(30)(32)(45) as (28)
Sc(36) as (3)
Sc(47) (a)Radar(b)Bergman link(c)(d) Red Alert
Sc(128) (a) Radar (b) Animation (M.M.P.)(c)(d) as (3).
Sc(93B) as (3)
Sc(117A) to (117J) (a) Radar (b)(c)(d) VT noise.
Sc(117K) (a) Radar (b) Eagle rising tape(c)(d) VT noise.
Sc(141) as (3) (b) caption link.
Sc.(56) (a)(b)(c)(d) traces.

RUSHES

:
Theatre lunch time to be advised.

CATERING

:
AM and PM break for 85 people on 'L' Stage.

TRANSPORT

:
(1) Ray Atkins to collect Miss Bain and Mr.Landau at 6.30.am.
(2) Unit car (Doug) to collect Mr.Morse at time to be
advised.
Ken Baker,
ASSISTANT DIRECTOR
.
Martin Landau was not happy about this call sheet. These are his handwritten comments on the call sheet: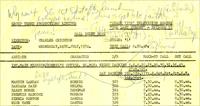 Why isn't 56 1st shot after lunch - everyone is here. There's got to be faith.
Games!
If there's a switch I won't do it!
Don't shift around
Do 56 right after lunch?
The 1st day
Last shot - could be shot anywhere!
taking advantage
It's not decent
One comment says "I will tell Ron Fry", who was the production manager who drew up the original shooting schedule.
The comments continue on the reverse, mixed with other notes mentioning Benny Hill, a popular TV comedian, with "restaurant? Ray Austin? Tate?", and a comedy toast.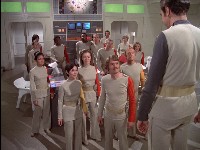 The problem with the call sheet was that scene 56 was a long and emotional scene with the full cast, but it was scheduled at the end of the day. Everyone would be tired and wanting to finish. Numerous routine scenes of Kano ordering Eagle launches and similar shots were scheduled before it.
Landau's suggestion was that scene 56 would be first after lunch. Presumably the note "if there's a switch I won't do it" actually meant "if there's not a switch..."
Landau was an actor with a lot of experience of day-to-day television filming who knew both the technical and dramatic requirements of scheduling, and as star he had considerable influence on the show. We don't know if he persuaded the production to swap this day's schedule.
---
Copyright Martin Willey