Script To Screen
---
The search Eagle passes over the crash site without seeing Paul or Alan. At night, Koenig and Mathias return to Main Mission, tired and dispirited. Bergman tries to cheer him up.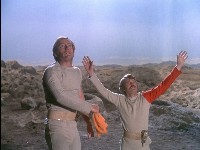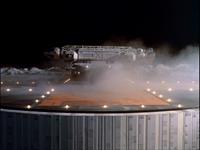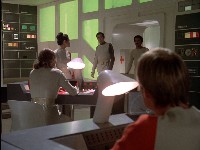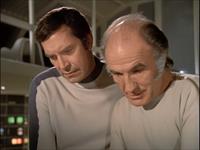 This is a short scene, but an emotional one. In his copy of the script, Martin Landau has marked up the page with acting notes. Landau rarely did this. This shot was filmed early in the schedule (see call sheet), not in story order. Hence the early note "after being lost" to remind himself of the story. Landau is also rewriting the dialogue, trying to draw out the emotion from the scene.
When the shot was filmed, the Command Office action was shifted from the round table to Koenig's console, with Main Mission beyond.
The following scene, 129 in the crashed Eagle, was rewritten for the 23rd July pink page revisions.
36
126 CONTD.
A faint vapour trail fades away over the horizon.
TWO-SHOT MORROW/CARTER
MORROW
We came to choose a site for the
new Alpha. Looks like it has to
be here.
They look up at the empty sky.
127 EXT. LUNAR SKY. SFX. 127
MORROW'S P.O.V.
The empty, cloudless sky.
128. INT. MAIN MISSION/KOENIG'S OFFICE. 128
after being lost
KANO, at the console, is running the search operation.
KOENIG and MATHIAS enter, exhausted, after hours of
searching. KOENIG goes to KANO.
KOENIG
Disconsolate, hopeful
News?
KANO
(shakes his head)
They've run out of daylight,
Commander. The last Eagle
is returning to base.
confirmed
thinking!
2 pause
KOENIG
Have them re-fuelled immediately.
KOENIG, defeated, | hope/despair goes through |(sigh) alone? to his office where
BERGMAN is poring over his chart on the round table.
BERGMAN
(attempts to be cheerful)
It's looking promising. The
moon is curving in nicely towards
an orbital station around our
new sun. The gravitational
influence continues to increase
to a high point eight days from now ...
which will reach
KOENIG
(cuts in)
Knowing. The margins are too small - our chances
of going into orbit are no better than
fifty fifty. Right?
CONTINUED:
37
128 CONTD.
BERGMAN nods. KOENIG's black mood is pervasive.
VICTOR
John!
KOENIG (Contd,)
And - If we don't go into orbit, conditions
on the that surface will deteriorate
rapidly... (excessively, Right?) RIGHT!
129 INT. EAGLE PASSENGER MODULE. 129
MORROW is beside SANDRA, making her comfortable. HELENA
emerges from the rear door, carrying a metal container
which has been badly eaten away by acid. It obviously
smells vile. She holds it up for MORROW to examine.
He reacts in distaste.
HELENA
Briassic acid. It smashed right
through into the life support
systems.
CARTER wheels round from the doorway, which he is
attempting to replace.
CARTER
Why was it anywhere near the food?
HELENA
It wasn't. It arrived in the
cargo section along with the main
motor. We're lucky it didn't
explode right away.
CARTER
Maybe.
HELENA
Come on, Alan.
She takes him by the elbow and guides him towards the
entrance to the Command Module, away from SANDRA's
hearing.
HELENA (Contd.)
Ease up a little, will you? We
have survival rations ...
CARTER
(heavily sarcastic)
Yeah, and about half a pint drop of
uncontaminated water, Just great.
It's a hundred and twenty degrees
in the shade, What's that going
CONTINUED: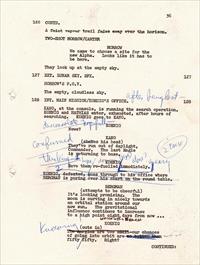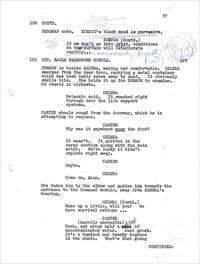 ---
Copyright Martin Willey