Script To Screen
---
All the scenes in the Technical Section were filmed on Monday 5th August 1974. After filming, the cast and crew enjoyed drinks from the stars, Landau and Bain.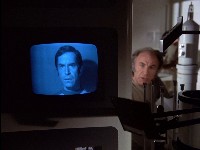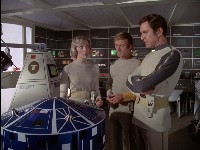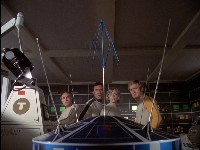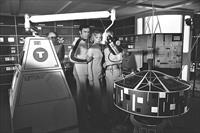 Scene 38 is the longest scene, with 2 full pages of dialogue as the Alphans discuss the Ariel satellite (according to the script "It resembles nothing so much as an early Earth satellite."). It starts with Koenig on the communications post screen talking to Victor, then jumps to having Koenig, Helena and Alan Carter present as Bergman uses his "X-ray machine". The scene ends with the antennae emerging and gas hissing out.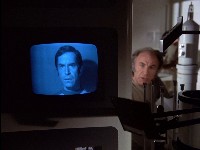 At the start of the scene, we can just see another technician, Jack McKenzie, who was featured in Earthbound (Simmonds makes him take out the Power Unit converter). Here we don't even see his face. According to the call sheet there are other Alphans in these scenes, many of whom should be familiar from other episodes, including Richard Adams and Anita West, plus two stuntmen and 8 others. None are visible in this scene, but we will see the stuntmen later.
Also on the call sheet, props should include "trolley and papers to fall" and for SFX "trolley on wire". This is presumably as the vapour fills the room and Koenig and the others escape. The action is not described in the script, and is not in the final edit.
The call sheet carefully notes what is shown on four screens, a-d, plus the communications post. There are two screens on the "X-ray machine", only one of which is visible, and it is blank.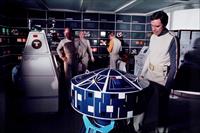 Behind the scenes image. Note the studio technician on the left hiding behind the "X-ray machine". Cast dressing gowns have been left on the chair and desk by Nick Tate.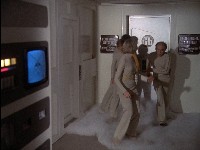 In scene 39 is in the corridor by Technical section. They call Paul Morrow on the communications post.
Scene 40 is a brief close-up of the satellite as gas fills around it.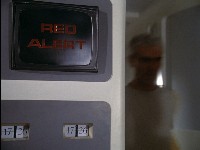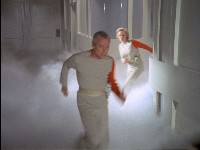 Scene 41 is a montage of shots of technicians running down the corridors as they fill with vapour. The first shot is possibly shot on 5th August, showing the communication post with Red Alert sign as Alan Harris passes before panning down to feet running past in the vapour. The next shot in a regular corridor was filmed on stage H on Wednesday 21st August during pick-ups.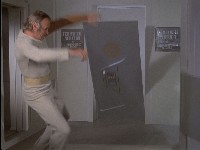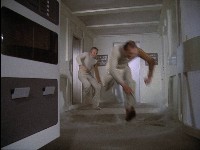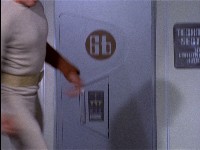 The last shot of Scene 41 shows a technician flung to the floor by the exploding Technical Section door. This was filmed on 5th August, and the stuntman is Alf Joint, who was Steiner in Breakaway. There are two unused shots in the This Episode sequence which reveal the other stuntman, Romo Gorrara.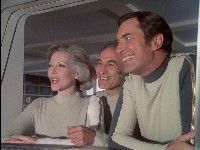 In Scene 65, the replacement window is fitted and Koenig opens it (see script). The call sheet notes Guy Francois Groen is the technician for scene 65, so it must be him who fits the window. Groen and his short window-fitting shot is cut from the final edit. This is followed by a full page dialogue scene, 67, which was obviously filmed by cut entirely. In scene 69, Bergman states "just instinctively I'd say it was spring".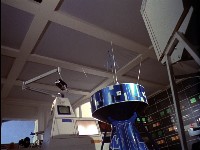 Scene 72 is a short scene with no cast. The antennae extend from the satellite, firing the lightning and triggering the rain.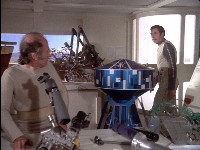 Scene 145 has the Eagle components on the bench. Bergman explains to Koenig that the atmosphere is causing rapid corrosion. There is a short cut scene when Koenig calls Kano, see below.
| | | |
| --- | --- | --- |
| GROUP THREE PRODUCTIONS LIMITED | | "SPACE 1999" TELEVISION SERIES |
| | | "THE LAST SUNSET" - EPISODE 11 |
CALL SHEET NO: 10
DIRECTOR

:
CHARLES CRICHTON

STAGE

:
'L'

DATE

:
MONDAY,5TH.AUGUST,1974

UNIT CALL

8.30.AM.
---
| | | | | |
| --- | --- | --- | --- | --- |
| ARTISTE | CHARACTER | D/R | MAKE-UP CALL | SET CALL |
---
INT.TECHNICAL CENTRE/CORRIDOR.SC.NOS: 38N.65D.67D.69D.72D.145D.40N.85D.39N.41N.
MARTIN LANDAU
KOENIG
321
7.30.am.
8.30.am.
BARBARA BAIN
HELENA
322
7.00.am.
8.30.am.
BARRY MORSE
BERGMAN
324
8.00.am.
8.30.am.
PRENTIS HANCOCK
MORROW
335
9.00.am.
9.30.am.
NICK TATE
CARTER
326
7.30.am.
8.30.am.
CLIFTON JONES
KANO
327
12.30.PM for lunch.
JACK McKENZIE
TECH 1
325
8.00.am.
8.30.am.
RICHARD ADAMS
TECH 2
325
7.45.am.
8.30.am.
ANITA WEST
TECH 3
336
7.45.am.
8.30.am.
GUY FRANCOIS GROEN(Sc.65)
TECH 4
325
7.45.am.
8.30.am.
STAND-INS:
Alan Meacham for Mr.Landau
-
8.00.am.
8.30.am.
Suzanne Heimer for Miss Bain
-
8.00.am.
8.30.am.
Ron Watkins for Mr.Morse
-
8.00.am.
8.30.am.
STUNT ARTISTES:
ALF JOINT
TECH 5
-
8.30.am.
9.00.am.
ROMO GORRARA
TECH 6
-
8.30.am.
9.00.am.
EXTRA ARTISTES:
4 MALE
TECHNICIANS
-
8.00.am.
8.30.am.
4 FEMALE
TECHNICIANS
-
8.00.am.
8.30.am.

PROPS

:
Commlocks. wrist monitors. X-ray machine. satellites.
trolley and papers to fall. glass window framed.ladder.

ART DEPT

:
Door to fall Sc.41.

SFX

:
Sc.38 vapour with heavy fan fx. trolley on wire.
Sc.72 Satellite antennae to extend.

CAMERA DEPT

:
Fog filters and diffusers required. Wild arriflex.

MEDICAL

:
First aid required from 8.30.am.

ELECTRICAL

:
Red alert panel for Sc.40.

ELECTRONIC

:
(a) computer dots.(b) crown fxs.
Sc.38(c) MF pansie. Compost: Alpha to Koenig.(d)waves.
Sc.40 as (38) Compost: Alpha to Morrow.
Sc.41 as (38) Compost: Red Alert panel.
Sc.145 as (38).Compost: Alpha:Kano.

CATERING

:
AM and PM break for 80 people on 'L' Stage.

RUSHES

:
to be advised.

TRANSPORT

:
(1) Ray Atkins to collect Mr.Landau and Miss Bain at 6.30.am.
(2) Unit car(Doug) to collect Mr.Morse at 7.15.am.
UNIT NOTE

:
Martin and Barbara would like the unit and cast to join them
for a drink on 'L' Stage on completion of shooting on Monday.
Ken Baker,
ASSISTANT DIRECTOR
.
There is a short sequence cut from scene 145, when Koenig calls Kano on the communications post. We know it was filmed from this call sheet and publicity photos that show it. The dialogue addresses the one point of opening windows that was problematic, that they needed to be removed before the end of the episode.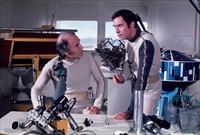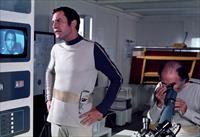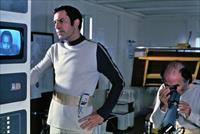 KOENIG
Something in the Atmosphere? (a beat)
We've got that atmosphere in every
section of Alpha.
BERGMAN
Inside the corrosion would be slower,
but ...
KOENIG goes to the Communications Post and presses a key.
KOENIG
Kano?
KANO
(on TV screen)
Commander?
KOENIG
I want windows replaced in every
section of Alpha and every air-
lock re-sealed . Re-pressurisation
with our own atmosphere is to
begin right now.
KOENIG flicks off the screen before KANO has a chance to
reply. He turns to BERGMAN.
KOENIG (Contd.)
Every Eagle is affected?
---