Script To Screen
---
Tuesday 11th May 1976 was day 6 of filming The Mark of Archanon. In the morning, the shots in the Eagle pilot section, which started on Monday, were completed. In the afternoon the crew filmed football sequence in the Alphan corridors. Finally, in the evening, additional scenes were filmed for All That Glisters, directed by Dave Lane.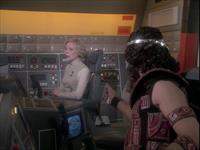 The Eagle scenes with Helena and Pasc started filming on Monday 10th and complete today. Tony, Nunez and Lyra appear on the TV monitors, while some of these shots will be shown on the Command Center Big Screen. The corresponding scenes in Command Center (scenes 62 and 63) were filmed on May 5th and 6th; the scenes in Medical (75-81) were filmed on Friday 7th and Monday 10th.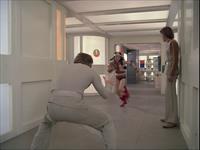 The football sequence in the Alphan corridors was filmed, with Alan, Johnson and Etrec. The remaining corridor scenes, with the security guards, would be filmed the following day, Wednesday 12th.
In the evening, there are two new scenes for All That Glisters. In the first scene, Helena is in the Eagle passenger module with Tony, as the rock starts to glow green.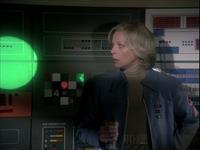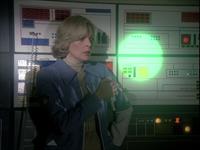 The new version of scene 37 has Helena trapped between two green spotlights, as she talks to Koenig on the commlock. Tony is not seen in these shots. The expanded scene adds more suspense and a little action, and suggests the rock isn't necessarily hostile.
Originally Koenig calls Helena and tells her to "Get out of there" (part of this is in the episode). In the episode as shot, Helena's face was immediately flooded by the green light. Keeping her voice low, trying to hide her fear, she moves slowly towards the door, talking to Koenig on the commlock.
KOENIG (V.O.): "Get out! ...it's not safe - get out fast!"
HELENA: Yes, I know that, John... I'm trying to get out...I'm trying."
In the new scene, Helena calls Koenig:
HELENA: "The rock changed colour. It's green."
Helena moves between the spotlights.
KOENIG (V.O.): "Helena. What's going on in there?"
HELENA: "It won't let me go."
KOENIG (V.O.): "Are you alright?"
HELENA: "Yes. It doesn't.. seem to want to hurt me. It seems to be holding me hostage."
We then resume the original episode, when Helena says "It seems to be searching for something." She runs for the door, and is paralysed by the green beam.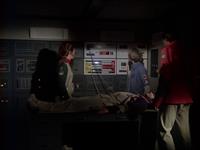 They have matched the computer wall to the original set, even finding the "5" chequerboard panel, but the panels on the margins are different to the original set, seen here. The white panel on bottom right is completely different.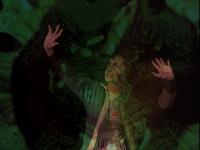 The next new scene is 117, showing Maya trapped in the rock form as it tries to absorb her. These shots were not in the original script, in which we only heard Maya's voice (her original line was "That's the death light!").
The new dialogue for Maya was ""Commander! Help me! It's pulling me towards it! But you can break it's grip! It's using most of it's power to fuse me! Break away now! Break away now! Red is death! Red is death! Use your laser gun! Dehydrate it"
The new lines add some commentary on the visuals, explaining what is happening.
GERRY ANDERSON PRODUCTIONS LIMITED
"SPACE 1999" - SERIES II

CALL SHEET No: 6

EXTENDED DAY

EPISODE: 8: "THE MARK OF ARCHANON"
DATE:
Tuesday: May 11, 1976
DIRECTOR: CHARLES CRICHTON
STAGE:
L
UNIT CALL:
8:30 a.m.
---

ARTISTE
CHARACTER
D/R
M/UP
ON SET

---

INT. EAGLE THREE PILOT SECTION

: Sc.Nos.57, 62pt., 63pt., 75, 79, 81 to comp, 83 to comp

BARBARA BAIN
HELENA
322
7.00
8.30
JOHN STANDING
PASC
336
7.30
8.30
TONY ANHOLT
TONY
325
9.30
10.00
RAUL NEWNEY
DR. NUNEZ
335
10.30
11.00
VERONICA LANG
LYRA
327
10.00
11.00

INT. COMMAND CENTER CORRIDORS

: Sc.Nos. 28, 29.

NICK TATE
ALAN
326
12.15
2.00
MICHAEL GALLAGHER
ETREC
335
12.00
2.00
JOHN ALKIN
JOHNSON
326
11.00
2.00

STAND INS

SUZANNE HEIMER
for Miss Bain
312
8.00
8.30
A.N.OTHER
for Mr. Standing
312
8.00
8.30
PROPS:

As per script to include: commlocks, stun guns, rugby ball.

ART DEPT:

Engine ignition sign.

ELECTRONIC:

Tony on Eagle Three monitor Scs.75. 81. Dr. Nunez on Eagle monitor Sc.81
Lyra on Eagle monitor Sc.79

ELECTRICAL:

Caravan cue light and cue lights.

CATERING:

A.M. and P.M. breaks for 70 people on L Stage.

LUNCH:

1 p.m. to 2 p.m.

RUSHES

Theatre 1 at 1 p.m.

TRANSPORT:

Doug Weatherley to pick up Miss Bain as arranged and bring to Studio.
---
Unit to wrap at 5.20 p.m. on above episode:
EXTENDED DAY SHOOTING: Episode 4: "ALL THAT GLISTERS"
Director: DAVID LANE: "M" Stage.
INT. EAGLE: New scene 37
| | | | |
| --- | --- | --- | --- |
| BARBARA BAIN | HELENA | 322 | from above |
INT. ROCK: (BLACK VELVET) New scene 117
| | | | |
| --- | --- | --- | --- |
| CATHERINE SCHELL | MAYA | 328 | when available from location |
STAND INS:
| | | | |
| --- | --- | --- | --- |
| SUZANNE HEIMER | for Miss Bain | 312 | from above |
| PAT THOMPSON | for Miss Schell | 312 | from above |
ROBERT LYNN
Assistant Director
---
Copyright Martin Willey