Script To Screen
---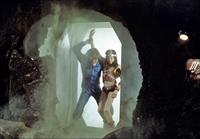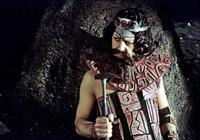 Tuesday 18th May 1976 was the 11th day of shooting for The Mark of Archanon; there was further filming on Wednesday 19th and a new ending was filmed after the 20th.
While Charles Crichton was completing these cave scenes on stage M, director Kevin Connor was filming on the Command Center set on stage L, for the first day of filming Brian The Brain.
Although the call sheet doesn't mention the scene numbers, we know the action because the sound tapes from 18th May exist. The cave collapses, Alan rescues Etrec, and as they treat him, Pasc stirs. This is a lot of shots to cover, but according to this sheet, they expected to finish by noon.
GERRY ANDERSON PRODUCTIONS LIMITED
"SPACE 1999" - SERIES II

CALL SHEET No.11

EPISODE: 8: "THE MARK OF ARCHANON"
DATE:
Tuesday: May 18, 1976
DIRECTOR: CHARLES CRICHTON
STAGE:
M
UNIT CALL:
8:30 a.m.
---

ARTISTE
CHARACTER
D/R
M/UP
ON SET

---

INT. CAVERN

: Sc.Nos. Cavern sequence to complete

BARBARA BAIN
HELENA
322
T.B.A.
JOHN STANDING
PASC
336
T.B.A.
MICHAEL GALLAGHER
ETREC
335
T.B.A.
TONY ANHOLT
TONY
325
T.B.A.
NICK TATE
ALAN
326
T.B.A.
JOHN ALKIN
JOHNSON
327
T.B.A.
RAUL NEWNEY
DR. NUNEZ
335
T.B.A.

STAND INS:

SUZANNE HEIMER
for Miss Bain
312
8.00
8.30
DAVID CLARE
for Mr. Standing
312
8.00
8.30

CROWD

1 MAN
TECHNICIAN
312
8.00
8.30
PROPS:

As per script to include: commlocks, stun guns, badges, mattress,
elbow pads, etc. geological equipment, sonarscope, thin metal pick,
plastic sample bag, medical kit, pressure gun.

ART DEPT:

Samm crystal, pressure normal sign, sign on cabinet, power unit, pieces
of loose rock, heart, brain & respiration monitor; medical monitor.

S.F.X.

To standby with dust, loose rock, sparks, smoke.

ELECTRICAL:

Light dimmer Sc.4; flashing lights on monitors.

FIRST AID:

To standby from 8.30 a.m.

FIREMAN:

To standby from 8.30 a.m.

CATERING:

A.M. break on M Stage for 70 people.

TRANSPORT:

Ray Atkins to pick up Miss Bain as arranged and bring to Studio.
All other details (Lunch; Rushes; P.M. break & Transport) as per Call Sheet No.1
for Episode 9: "BRIAN THE BRAIN"
ROBERT LYNN
Assistant Director
---
Copyright Martin Willey