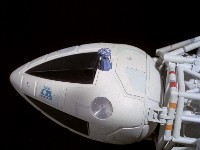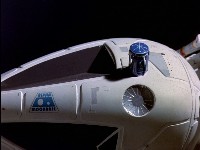 Close ups of the Eagle command module are inconsistent. Some, like all longer shots, are of the first 44inch Eagle. A few shots show the second 44 inch Eagle (its first appearance in the series), with different detailing and the Ariel probe is positioned lower. The probe model is different too: the first shot shows the wire attached to the probe, and a spider-web pattern on the top; the second shot shows a simpler star pattern with no central hole.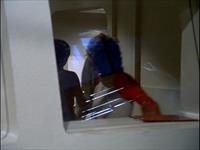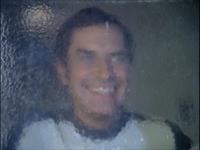 As the rain falls, the camera pans along the Main Mission windows. The last window, seen briefly as the Alphans run out of Main Mission, is dry and shows some odd reflections, including chains. This is probably the reflection of the water sprinkler used for the rain effect. Thanks to David Penn.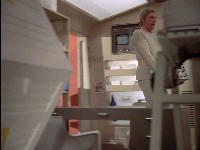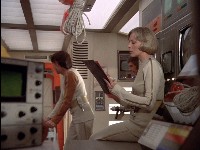 When the Eagle is being stacked with provisions, Helena supervises guards entering from both sides (the SFX shot shows the Eagle only docked on the starboard side).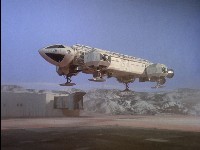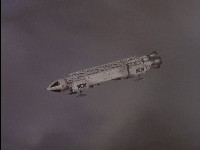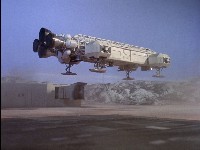 Against the blue skies, the wires holding the Eagles are often visible. The 22inch Eagle is used for the storm sequences.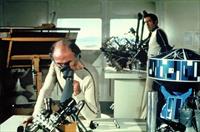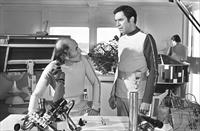 In these publicity photos, Barry Morse has a smoking cigarette in his right hand.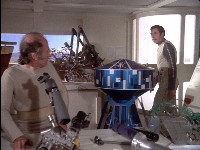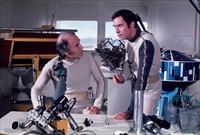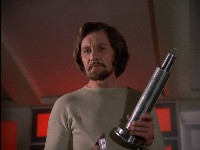 There is a metal cylinder on Bergman's desk which is the power converter unit from Earthbound.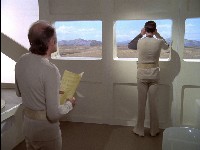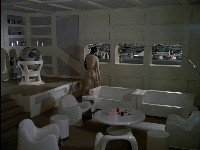 The backdrop outside the windows shows blue sky and a brown landscape; normally we see moonbase buildings through the windows. Thanks to Patrick Zimmerman.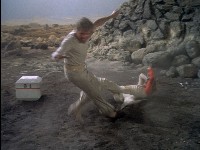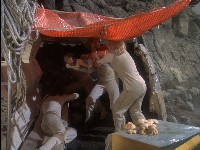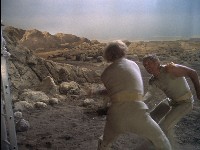 Nick Tate's stunt double is seen in several shots.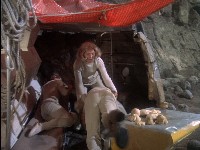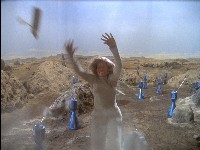 Barbara Bain's stunt double, Dorothy Ford, is also seen in a couple of shots. Zienia is also a stunt double in this shot (a man).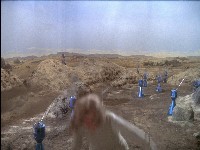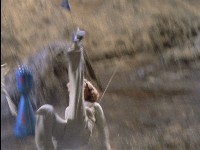 When Helena is thrown back by the Eagle explosion, the harness pulling back stunt double Dorothy Ford is very briefly visible. In the "This Episode" sequence, an alternative take is seen where the wire is more clearly visible.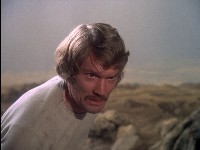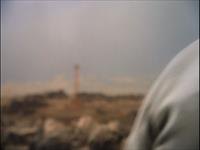 In one shot during the fight between Alan and Paul, a gravity tower (normally positioned around Moonbase Alpha) is briefly glimpsed behind Paul.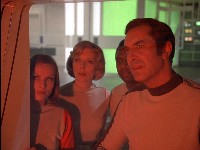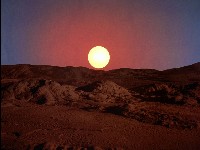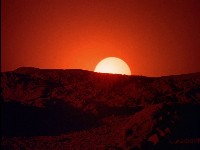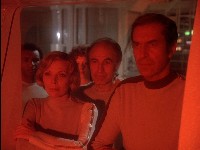 Near the start of the episode, they look out the Main Mission windows at the rising sun. At the end of the episode, they look out the same windows at the sun, setting in the same direction as it rose. Thanks to Patrick Zimmerman.