Text and photographs by Paul Stankevitch.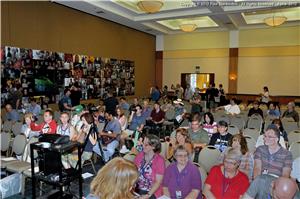 The biggest Space:1999 convention in 12 years was enjoyed by 127 fans covering 12 countries.
Despite the convention have a solid programme of events from Fri 14th to Sun 16th, most fans arrived by Thursday the 13th to celebrate 'Breakaway' day.
The main activities of the convention took place in the main hall which had an imposing wall made up of over 150 pictures and measuring 50 feet in length.
Guests at the convention were Martin Landau, Barbara Bain, Prentis Hancock, Nick Tate, Anton Phillips and Christopher Penfold and Judy Geeson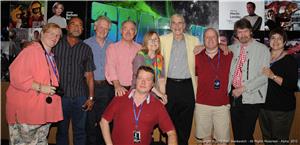 The table of events included panels from all the guest stars including Martin Landau who had originally cancelled due to work commitments but surprised the audience with an unannounced appearance.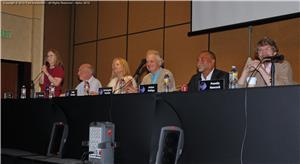 Additional panels included Blam! Ventures, with their Space:1999 graphic novels, Powys Media with their line of Space:1999 paperback novels, Jace Hall on his Space:2099 project. Robert E. Wood conducted two panels, one for his Destination Moonbase Alpha book and another with Anthony Wynn for a tribute to Barry Morse. Other panels covered Fan Fiction and an analysis of Alan Carter.
A special fan episode entitled Malice:1999 was presented along with a talk by producer Phil Cook and actors Brittany Martz and Mark Hyde. The production was well received and embraced by the fans.
A program of fan-made video shorts was shown and a special presentation allowed the audience to listen to some very rare behind the scenes production audio.
A dealers room was constantly active with everything Space:1999 - books, magazines, models, costumes etc.
So much stuff had been donated to the charity auction that mini auctions and spot auctions also had to be held.
The Saturday 'Maya's Monster Mash' party went down well with fans dressing up for the occasion in Alphan uniforms and pyjamas.
The convention was a huge success for charity and both fans and guest stars alike who all reported having an incredibly good time.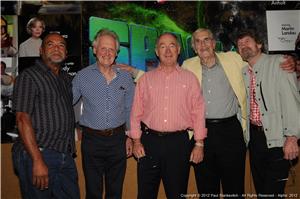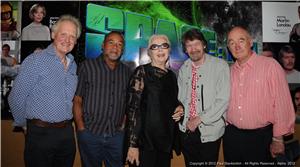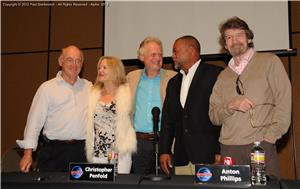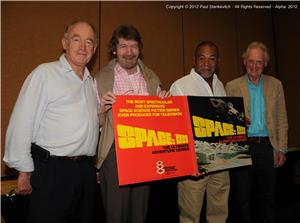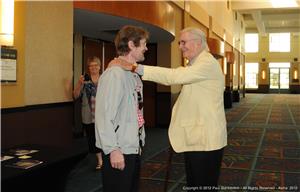 Martin Landau was a surprise guest.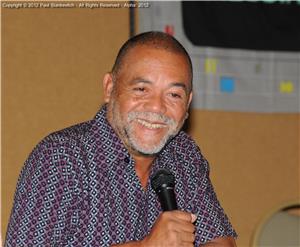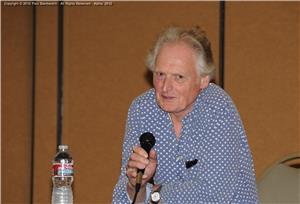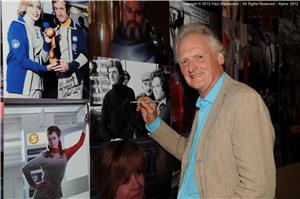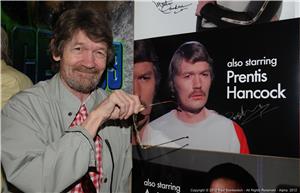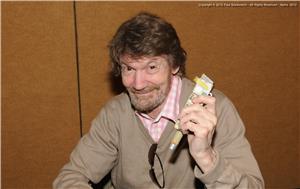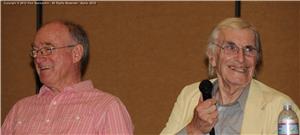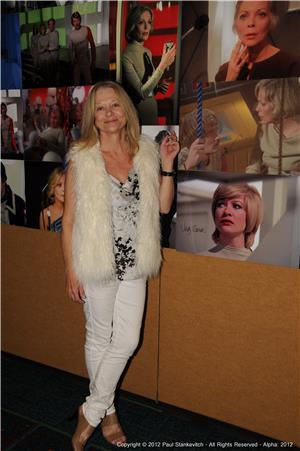 Judy Geeson alongside the wall of photographs in the main hall