Les Johnson (2)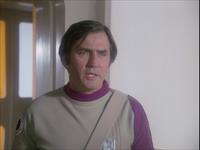 ---
Named in Beta Cloud (he is the technician who faints in the corridor). Earthbound (in corridor watching the Kaldorians), Guardian of Piri (at the party in Medical Centre), War Games (outside medical corridor), The Exiles (Life support guard), Bringers of Wonder part 2 (corridor)
Everson is listed for Earthbound call sheet; there is no name on the Guardian Of Piri,Dragon's Domain and War Games call sheets.
The call sheet for The Exiles dated 18 February 1976 lists Roy Everson as "Guard" and Ron Nichols as "Security" (plus Quentin Pierre, also "Security"). The ID badge for the guard has the name "Nichols", which suggests the featured role was intended for actor Ron Nichols, not Everson. But this is definitely Everson; see also aveleyman.
Another Alphan called Les Johnson appears in The Immunity Syndrome.