Script To Screen
---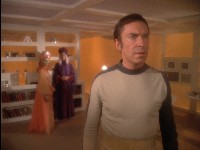 In scene 53, Raan and Vana show Koenig his quarters on Alpha. This was the last set in the original filming schedule, starting on Friday 3rd May, a full day of filming on Monday 6th, and finishing with a part-day on Tuesday 7th.
Normally Alpha sets were built on stage L, alongside the standing Main Mission set. Alien sets were built on stage M. Unusually in this episode, the giant mist-filled void was on L stage, while this "Alpha" set (and the Eagle scenes) were on M stage. As it is Raan's replica-Alpha, parts of the walls are replaced with orange gauze.
In the script, Koenig's tape recorder would play part of Wagner's love duet from Tistan and Isolde, act II. This was deleted before filming, avoiding music licensing costs. The details about Raan and Vana's ages was also dropped.
The Wagner theme was supposed to be reprised in scene 78, when Koenig talks to Vana ("Without feeling hate, you can't feel the joy of love.")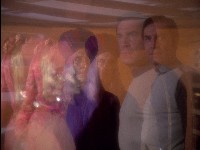 In the "This Episode" titles, there is a short scene showing Raan, Vana and Koenig in double exposure, with the quarters circling around them. This was the original opening to scene 53. In the final episode, the editor just cuts from a closer shot of the three in the orange void, to a wider shot in the quarters. The original intention was to mark each transition by the room spinning around the actors, with double exposures. It would follow the pattern of the earlier shot in the empty Main Mission as the room whirls around Koenig.
53 INT. ZENNO/ KOENIG'S QUARTERS. (DIFFUSED LIGHT) 53
Everything is as it is on Alpha, except the lighting
is a bit diffused to give a different mood to the
place.
RAAN
Your quarters on Alpha. I
am sorry it is not the real
thing, merely an image of it.
But quite accommodating, never-
theless.
As he speaks, RAAN moves about the room inspecting
various objects.
RAAN (Contd.)
(still moving)
So many gadgets. Quite prehistoric,
wouldn't you say, Vana?
VANA
(to KOENIG)
About 2000 A.D.?
KOENIG
About.
At the desk, RAAN presses a button to a tape recorder.
MUSIC, the love theme from Tristan and Isolde, fills
the room. Both RAAN and VANA smile.
VANA
That is lovely.
RAAN
Yes, music always survives
the ages.
RAAN presses another button and the music goes off.
RAAN (Contd.)
We have lovely music too. I
hope you will enjoy it.
KOENIG
Then I take it I'm a prisoner
here.
RAAN
No: no, no, Commander. You are
a guest in my home...a permanent
guest.
KOENIG reacts, then looks at VANA who is unable to
hold his look as if she were shy or too much attracted
to him. RAAN is aware of the exchange.
RAAN (Contd.)
Unfortunately, your life span
is of one tenth of ours.
Vana here is only two hundred
and...?
VANA
Eighteen, father.
RAAN
A mere child with so much to
learn. While I - how old am I?
VANA
(smiles)
Five hundred and eight, father.
RAAN
Ah, yes, I am a bit absentminded
about trivialities. Seem like
yesterday you were born.
KOENIG reacts to this exchange.
KOENIG
Neither of you looks a day
over twenty-one.
VANA smiles.
RAAN
(laughs)
Ah, a sense of humour. Very
good, very healthy.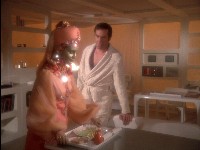 In the next scene in Koenig's quarters, Vana brings Koenig a tray of food. The first part of the scene was also cut before filming. Later in the scene Vana says they can "simply read your mind", but the script makes the point she can read his mind more emphatically, which pays off in a later scene.
60 INT. ZENNO/ KOENIG'S QUARTERS. (DIFFUSED LIGHT) 60
KOENIG is alone, checking over the room. Everything
is in working order. At his desk, there is a second
tape recorder. He presses a button.
HELENA (V.O.)
(in the middle of a
sentence)
...and has improved. However,
though the morale factor is
essential, we must maintain
discipline as well. I feel that -
VANA (O.S.)
Who is she?
KOENIG shuts off the recorder and looks to see VANA
standing there with tray of food.
KOENIG
A friend of mine.
VANA is aware of the understatement. KOENIG watches
her bring the tray to the table.
VANA
(as she moves)
Are all Earth women beautiful?
KOENIG
Are all Zenite women beautiful?
VANA
Yes, we think so. Do you?
This is a familiar beat. KOENIG decides to play along
with it.
KOENIG
If you can road my thoughts,
you know the answer. Or do
you want to hear it like any
other woman?
KOENIG has scored a point. VANA has to look away from
him.
VANA
Your food, Commander.
KOENIG
(moving up to her)
Fattening me up for the
slaughter?
VANA doesn't appreciate his implication.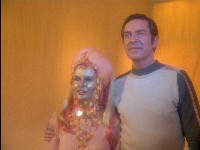 The first part of scene 86 was set in Koenig's quarters. It reveals that by falling in love with Koenig, she can no longer read his mind. In the second part of scene 86 (86B), they are in the void (purple in the script, orange on screen), watching the projection of the Zenno surface (Vana's line was changed in the July amended pages). Vana then tells Raan that she and Koenig will be "united as one".
86 INT. ZENNO/KOENIG'S QUARTERS (DIFFUSED LIGHT)
KOENIG is at the table having just finished a huge meal.
He drains his glass of wine, then smiles at VANA who is
in the center of the room laughing and carrying on in a
kind youthful dance of joy. GAY MUSIC fills the room.
VANA
(spins around)
I am so happy!
She rushes aver and throws her arms around KOENIG.
VANA (Cont'd.)
So happy! Everything is different
now! Is it for you?
KOENIG
Can't you tell?
Suddenly the mood drops for a moment or two. The
MUSIC stops.
VANA
(seriously)
I can no longer read your
thoughts. My heart has put
a shadow over your mind.
Realizing VANA is now too emotionally involved to read
his mind, KOENIG suddenly sees the chance he's been
hoping for. However, it's a difficult decision, but he
makes it.
KOENIG
(smiles)
Yes, it is different for me.
VANA is overjoyed. The MUSIC returns.
VANA
I am glad!
They embrace. We see that KOENIG's feelings are torn
in two directions. VANA breaks the embrace suddenly
and stands with her arm extended towards him.
VANA
Come with me.