Script To Screen
---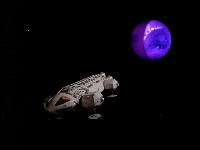 By July 1974, the editor should have almost completed cutting the episode. But the abrupt start was an obvious issue, so an additional shooting script of 4th July 1974 was written.
Now the Eagle had been investigating one of the planets. Otherwise it proceeds similarly to the first version that had been scripted and filmed, but moves at a faster pace. Oddly, the script has "co-pilot" rather than Alan.
We will look at the re-shoot on 22 July in more detail.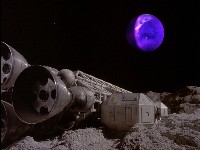 There are a number of new effects shots specified in this script. In the previous shots we saw a number of colourful planets in the space sky, one with a purple hue. In the new shots, including the dramatic shots of the crashed Eagle, Zenno is featured strongly. More on the effects storyboards
1
1 EXT. ALPHA SFX. (Already shot)
New dialogue. MORROW without undue concern, ca1ls up
Reconnaissance Eagle One.
MORROW (V.O.)
Alpha to Eagle One - do you copy?
2 EXT. SPACE. SFX.
Planet Zenno large in the frame. Eagle One flies
towards camera with KOENIG and CO-PILOT visible at
the controls.
KOENIG (V.O.)
Eagle One here. We copy.
3 INT. EAGLE COMMAND MODULE
KOENIG is at the controls.
KOENIG
We are returning to Alpha, Paul.
MORROW
Returning?
KOENIG
We had a close call. We were descending
to the planet and suddenly we were
being drawn down towards it. As if
the G-forces had increased enormously.
4 INT. EAGLE PASSENGER MODULE
BERGMAN, sitting with SANDRA, presses a key on the
console between the seats and speaks:
BERGMAN
I've checked that out John.
G-forces remained constant.
SANDRA
No other force was recorded on
the instruments, Commander.
BERGMAN
Whatever the force was, it
wasn't anything we know about.
5 INT. EAGLE COMMAND MODULE.
KOENIG
D'you get that Paul?
2
5 CONTD.
MORROW (V.O.)
Heard but not understood.
KOENIG
It took all the power we
had to get away...
As KOENIG speaks, warning lights flash and alarm
signals scream. He and the CO-PILOT reach forward
instantly to press check buttons. The Module begins
to shake violently, as all lights begin to cut out.
KOENIG
We're losing power, Paul -
We're in trouble...
KOENIG fights the controls and gets no response.
KOENIG (CONTD.)
Control systems out.
The Eagle begins to roll.
6. EXT. SPACE. SFX.
CLOSE SHOT
The Eagle rolls right over in a corkscrew.
7. EXT. MOON SURFACE. SFX.
Start close on the crashed Eagle. Pan up to planet
Zenno and zoom in.
8. EXT. SPACE. SFX.
Start close on Planet Zenno, pan down to the Moon
surface to a close shot of the crashed Eagle.
9. EXT. MOON SURFACE. STUDIO
LONG SHOT: KOENIG spacesuited walking over the surface.
CLOSE SHOT: KOENIG stops and looks up. We see clearly
through his helmet that it is KOENIG.