Script To Screen
---
The Diagnostic Unit set was built by converting Koenig's office and part of Main Mission (which became the corridor outside). There were 3 days of shooting on the set, from Tuesday 30th April 1974 to Thursday 2nd May, while also shooting Eagle scenes on M stage.
Wednesday 1st May was an extended day, filming into the evening. The call sheet below allows us to reconstruct exactly what was filmed.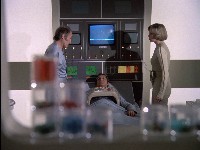 The first scene is 77, when Bergman ponders "There were four of us in the crash."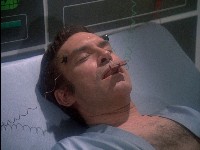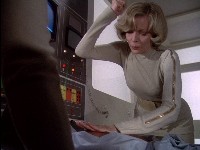 In scene 81, Helena tries to shock Koenig back to life. As part of this sequence, Helena administers chest compressions (cardiopulmonary resuscitation, CPR). Her technique is wrong, but performing correct technique on a healthy person is dangerous. To be safe, Bain uses a fake technique and Landau is replaced by a body double for these shots, his face carefully hidden by Mathias's arm.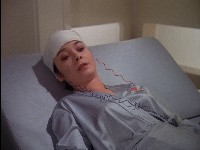 Scene 83 is a short sequence as Sandra tells Helena "You mustn't let him die."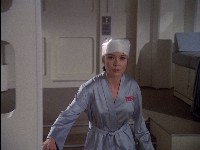 Scene 87 is cut from the episode, but a few frames from it appears in the "This Episode" sequence. The script direction reads "Slowly, SANDRA gets out of bed and tries to walk across the room. She gets about halfway when whatever lights are in the room begin to go out of focus, blinking on and off, then the room begins to spin until it becomes a whirling blur around her." The call sheet calls this the "giddy" shot.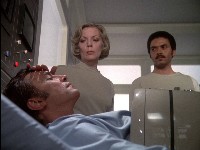 Two scenes are run together- scene 91 shows Sandra moaning in her bed, scene 93 has Mathias saying "There's nothing more you can do for him.".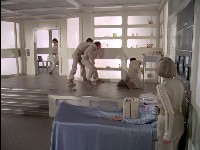 Scenes 96 and 97 has Alan Carter bursting in: "You're not going to kill him!" This is the big fight scene, between Nick Tate, Tony Allyn, stuntman Val Musetti and stuntman Paul Weston doubling for Anton Phillips. Some of this scene would also be filmed the following day, May 2nd.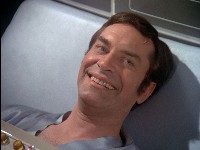 Scene 99 is the final scene, as Koenig awakes. Although scheduled, it looks like this scene was filmed on the following day, with the rest of scenes 96 and 97.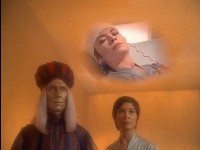 Scene 89, the burn-in, is the image of Sandra in her bed that Raan shows to Koenig in the Zenno void.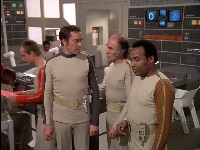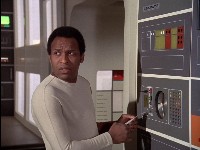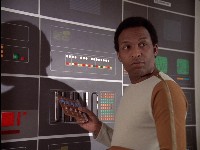 A new scene at the Main Mission computer was filmed for episode 4, Ring Around The Moon. The cast is Koenig, Bergman and Kano. It involves computer readouts, of which there are several in the episode, and a replaceable component. This shot of Kano under the big screen, when Koenig calls "Now, Kano, now!" from the Eagle, is almost certainly part of the new footage (the clock panel was not the big screen in other shots of the episode). Another possibility is the shot of Kano holding a circuit (the replaceable component?) when he says "Paul. Information on Triton is in place. Doctor Russell. Now you can only transmit what we want them to know." Again, this panel was not in the original set.
This scene is listed again on May 2nd, so they either didn't start it, or didn't complete it on the 1st May.
A stand-by set was the Eagle scenes for the start of the episode. These scenes were eventually shot on May 2nd, but they would be cut and re-filmed in July. In this version of the script, they were surveying the moon, not an alien world, hence prop moon charts and a crater photograph on a screen.
GROUP THREE PRODUCTIONS LTD.

SPACE 1999 TV SERIES

.


EPISODE 7: MISSING LINK




CALL SHEET NO : 8
DIRECTOR:

RAY AUSTIN

STAGE:

"L" "M"

DATE:

WEDNESDAY, 1ST MAY, 1974

UNIT CALL:

8.30 A.M.
EXTENDED DAY.
---

ARTISTE
CHARACTER
D/R
MAKEUP CALL
SET CALL

---

1.

INT. DIAGNOSTIC

77.81.85.87.91.93.
96.97(pt) 99 89(burn ins)
MARTIN LANDAU
KOENIG
321
7.30
8.30
BARBARA BAIN
HELENA
322
7.00
8.30
BARRY MORSE
BERGMAN
324
8.00
8.30
PRENTIS HANCOCK
MORROW
335
Required from 2.00p.m.
ZIENIA MERTON
SANDRA
328
7.45
8.30
NICK TATE
CARTER
326
9.30
10.30
ANTON PHILLIPS
MATHIAS
327
7.45
8.30
TONY ALLYN
1ST GUARD
325
10.00
11.00
VAL MUSETTI
2ND GUARD
336
10.00
11.00

STAND INS

Alan Meacham
for Mr.Landau
8.00
8.30
Suzanne Heimer
for Miss Bain
8.00
8.30
Ron Watkins
for Mr. Morse
8.00
8.30

STUNT DOUBLE

PAUL WESTON
double for Mr. Phillips
8.00
8.30

EXTRA ARTIST

A.N.OTHER
double for Mr.Landau(Sc.81)
8.00
8.30
PROPS
Commlocks. Wrist monitor. Mirror electrical shock machine.
Bandages.tongue block. Hypogun. Straps for chair. Life support
system. Stunguns. Mattresses, "Sign" for diagnostic.
Intravenous needle.
CAMERA
Wild arriflex for "giddy" shot. Sc.87.
WARDROBE
Koenig in pyjamas Sc.72. Sandra/Bergman pyjamas. Sc.77.
Pads for fight sequence Sc.99.
ELECTRICAL

Sc.71) Special
" 72) Zenno

Sc.77) Alpha
" 81) lighting.
" 85)


Special light for Sc.87.

ELECTRONIC

Sc.72.
Commpost. Wavetrace.
" 77.
A. Koenig/Sandra life signs
B. Bergman/Carter life signs.
" 81
As Sc.77. A. Koenig - shock treatment.
" 85 )
" 87 )
As 81A.Koenig weak
" 89 )
Sandra weak
" 91 )
" 93
As 81 A.Koenig weaker.
" 96
As 93
" 97
Commpost Alpha Card
" 99
A Koenig dies then relives.
| | | |
| --- | --- | --- |
| GROUP THREE PRODUCTIONS LTD. | | SPACE 1999 TV SERIES |
| CALL SHEET NO : 8 (CONTINUED) | | PAGE 2. |
2.

INT. MAIN MISSION. EPISODE 4 Additional shooting. L. STAGE

MARTIN LANDAU
KOENIG
321
from above
BARRY MORSE
BERGMAN
324
from above
CLIFTON JONES
KANO
327
Standby until 1.00.
STAND INS
from above.
PROPS

Commlock. Computer readout. Computer component and
replacement.

ELECTRICAL

Computer bank lights to flash.

ART DEPT.

Small panel to open in computer bank.

EDITORIAL

to stand by with Moviola and clippings.
3.

INT. EAGLE/COMMAND PASSENGER MODULE. STANDBY SET 'M' STAGE.


Sc. 3 (pt) 4 5 (pt)
MARTIN LANDAU
KOENIG
321
from above
BARRY MORSE
BERGMAN
324
from above
ZIENIA MERTON
SANDRA
328
from above
NICK TATE
CARTER
326
from above
STAND INS
From above.
PROPS:
Clipboard book. Commlock pens. Mooncharts
CAMERA:
Seahead required. Elemack.
ELECTRICAL:
Practical Readout for Sc.4.
ELECTRONIC:

Sc.3 (pt)
) Detector
" 5 (pt)
) trace.
" 4
A Crater still
B Detector trace.
RUSHES:
Lunchtime. Theatre to be advised.
CATERING:
A.M./P.M. break on L Stage
Running buffet from 5.30p.m. for 80 people
TRANSPORT:
1 Ray Atkins to collect Mr.Landau and Miss Bain at 6.30a.m.
2 Unit car to collect Mr. Morse at 7.15a.m.
KEN BAKER
Assistant Director.