Script To Screen
---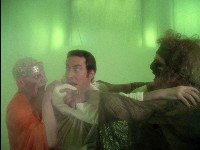 Filming for Missing Link started on Monday 22nd April 1974, and continued for 12 days, finishing on 7th May. For the first 4 days, another unit was filming the previous episode on the North Tunnel stage, Another Time, Another Place. On the last day, an additional scene for Breakaway was filmed (Alan in the Eagle), before starting Guardian Of Piri.
Additional scenes for Ring Around The Moon were filmed on May 1st and 2nd (Koenig, Bergman and Kano by the Main Mission computer). 1st May was an extended day.
Filming started on Monday 22nd, with all the scenes in Main Mission and Koenig's office. This would all be completed in one day. On Tuesday, the crew shifted to the Zenno/Void set, a large tent filled with mist alongside the Main Mission set on L stage. At the end of the first week, some corridor scenes were shot on another stage, H. On Monday 29th, Koenig's office on L stage would be transformed into "Diagnostic Unit and Corridor section". Then they would move to M stage to film Eagle sets and finally Koenig's quarters.
Wednesday 24th April was the second day of Zenno/Void filming. The void has different colours according to the mood of the scene. The default colour is orange (in script it was purple). Koenig is attacked by the creatures (scene 70A) in a green void (in the script yellow). Koenig is in the Eagle seat (scene 70B) in a blue void (in the script, black).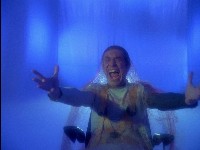 Scene 70B is the scene with Koenig in the Eagle seat, covered in cobwebs, calling to Bergman who runs but doesn't hear him. In the script and call sheet, this is the "crashed Eagle seat", but there is no evident damage to the seat. This was the first scene of the day, at 8:30.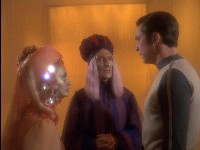 In Scene 52B, Koenig meets Vana. This scene had been started yesterday. More shots (different angles, close ups) were done today, and on Thursday 25th. Cushing and Dunham were due on set at 9:30. Unusually, Cushing was picked up in the morning by his stand-in, George Holdcroft. Holdcroft was a veteran of many small parts in film and TV (imdb, aveleyman). Cushing lived in Whitstable, Kent, but during filming stayed at Brown's Hotel in London.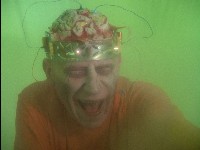 Scene 70A is the scene with Koenig attacked by the three "creatures". Make-up would take 3 hours. They would be on set for 10:30. Creature 2 would descend on Koenig from above. An experienced effects technician, Derek Bottell, was brought in to do the wire work. With complex make-up and many shots, the short sequence was not completed today. Bottell and the actors were on standby the following day, and there was more filming on Friday 26th April, and Monday 29th April.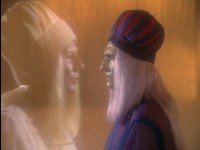 In Scene 76, Raan talks to another Zenite man, played by Patrick Brock. In the script there were two Zenite men, but with few lines it made sense to have just one. This shot was completed today. Brock was on set for 9:30, so it is probable that the scene was done before the creature shots above. The shot is a Pepper's ghost effect, with an angled glass in front of the camera showing the reflection of Brock.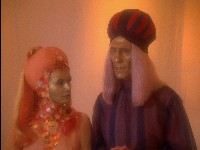 In Scene 82, Raan and Vana are in conversation ("As a scientist I owe it to humanity to learn all I can."). Scheduled today, they ran out of time and the shot was done on Thursday 25th.
GROUP THREE PRODUCTIONS LIMITED.

"SPACE 1999" T.V. SERIES

.


EPISODE 7: "MISSING LINK"




CALL SHEET

No.3
| | | | |
| --- | --- | --- | --- |
| DIRECTOR: | RAY AUSTIN | STAGE: | L |
| DATE: | WEDNESDAY, April 24th, 1974 | UNIT CALL: | 8.30 A.M. |
---

ARTISTE
CHARACTER
D/R
MAKE UP CALL
SET CALL

---

INT. ZENNO/ORANGE VOID

Sc.Nos.70B, 52B to complete, 70A, 76, 82, 86B.
MARTIN LANDAU
KOENIG
321
7.30
8.30
BARRY MORSE
BERGMAN
324
8.00
8.30
PETER CUSHING
RAAN
327
8.30
9.30
JOANNA DUNHAM
VANA
328
7.30
9.30
OLIVER MACGREEVY
CREATURE 1
325
7.30
10.30
NORMAN MCGLEN
CREATURE 2
326
7.30
10.30
ROBERT BRIDGES
CREATURE 3
335
7.30
10.30
PATRICK BROCK
ZENITE MAN
336
7.30
9.30

STAND INS:

Alan Meacham
for Mr. Landau
8.00
8.30
Tony Allen
for Mr. Morse
8.00
8.30
George Holdcroft
for Mr. Cushing
8.30
9.00
Lesley Stamps
for Miss Dunham
8.30
9.00
PROPS: Wrist monitor, Commlocks. Cobwebbing for Sc. 70A.
ELECTRICAL:

1) 40 watt bulb for creature 1, head.
2) Blue void FX for Sc. 70B
3) Green void FX for Sc. 70A

SPECIAL FX:

Smoke fx for Creature scene: Sc.70A.
wire man. Derek Bottell to standby from 8.30 a.m.

FIRE DEPT:

Smoke alarms to be removed.
ART DEPT:

Crashed Eagle seat for Sc. 70B
Black velvet to standby.
Turntable in use - Sc. 86Bpt.
CAMERA DEPT:

Highspeed R.35: Wild Arriflex for harness scene. 9.8 mm lens
for Arriflex.
CATERING: A.M. and P.M. breaks for 75 people on L Stage, please.
RUSHES: Theatre 7 at 5.30 p.m.
TRANSPORT:
Ray Atkins to collect Mr.Landau at 6.45 a.m.
Unit car (Doug) to collect Mr. Morse at 7.15 a.m.
George Holdcroft to collect Mr. Cushing at 7.30 a.m.
KEN BAKER.Assistant Director.