Script To Screen
---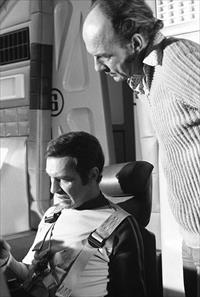 Missing Link was a problematic script, which went through numerous changes during filming in late April-May 1974. Edward di Lorenzo's script was finished on 5 April 1974, and began filming two weeks later on 22 April. Ten days into shooting the episode, and with just 2 more days to complete it, new script pages were published on 3 May. Two months after filming finished, it was decided the episode didn't work. A new script was written, dated 4 July, and the new scenes were shot on 22 July 1974 (after Alpha Child).
The biggest changes were to the opening scenes, leading up to the Eagle crash. In the original 5 April script, the Eagle is flying over the lunar surface, looking for minerals. They ignore the brightly coloured planets above, which computer has told them are dead. While this is clear on the page, when filmed it was not obvious. The audience wouldn't be able to see Sandra checking lunar charts, and the effects shots of the lunar surface could be an asteroid or alien moon. It seems odd that they ignore the planets, when in every other episode they would be exploring them.
1
"MISSING LINK"
FADE IN:
1 EXT. SPACE. SFX.
The Moon is moving through the universe. A number of
different coloured planets of various sizes are
spotted in the area and appear to form a kind of solar
system.
2 EXT. MOON. SFX. 2
Above the deserted Moon surface, an Eagle moves slowly
across the area, which is mostly covered with rocks
and small hills. Very little flat surface.
3 INT. EAGLE COMMAND MODULE.
CARTER is the pilot, KOENIG the co-pilot. KOENIG is
checking over various reports from a clipboard type of
book, flipping over pages, referring back to previous
pages, etc.
We see some of the coloured planets through the window
of the Command Module. CARTER leans forward to get a
better look at them.
CARTER
It's really beautiful ... those
planets.
KOENIG merely glances at the view, then resumes
checking the reports.
KOENIG
Too bad they're all dead.
The door leading to the passenger Module slides open and
BERGMAN enters. We can see SANDRA in the B.G.,
monitoring a machine.
BERGMAN
(as he enters)
Nothing yet, John. I think
computer miscalculated on
this one. There can't be any
mineral deposits in this area.
KOENIG
You may be right, Victor.
2
4 INT. PASSENGER MODULE.
It is a bit different from those we have seen in that
this is one of the Eagle used for surface exploration
missions. The top half of one side has a computer panel
equipped with various detecting screens and meters.
Against the bottom half of the wall is a full length
table on which are various charts of the Moon surface, etc.
On the other side of the Module are two seats, one behind
the other. (This set will be used again in the Rescue Eagle. )
SANDRA is standing at the table, monitoring the screens
and meters while checking the readings with the charts.
She presses a computer button and a tearout sheet appears.
She takes it then compares the figures with the charts
and meter readings.
5 INT. COMMAND MODULE
BERGMAN
We're wasting our time. We
should be back on Alpha having
a good game of chess, or something.
CARTER
(smile)
Just what do you mean "or something".
BERGMAN
Well, whatever makes you happy.
KOENIG
Right now ten hours sleep would
make me happy. Alan, turn this
thing around.
CARTER
(pleased)
Yes, sir.
CARTER starts the ship in a wide turn as KOENIG switches
on the intercom.
KOENIG
Eagle One to Alpha. Paul, there's
nothing out here but rocks. We're
coming back.
MORROW (V.O. FILTER)
Very good, Commander.
CONTINUED:
During the crash, there was sequence showing Bergman and Sandra being injured.
10 INT. PASSENGER MODULE.
BERGMAN, still standing at SANDRA's seat, is sent
slamming against the rear door where he crumbles to
the floor unconscious. SANDRA is thrown out of her
seat and slams her head against a solid object, then
is unconscious on the floor.
11 INT. COMMAND MODULE
CARTER fights the ship.
KOENIG
We're going to crash, Alan!
Pull up! Pull up!
CARTER tries.
Scene 10 was shot on 2nd and 3rd May, with stunt director Alf Joint arranging and George Leech for Bergman and Sadie Eden for Sandra. The shots were cut from the final edit.