Script To Screen
---
At the end of filming Alpha Child in July 1974, the cast and crew returned to film new scenes for Missing Link. The call sheet below breaks down the new shots.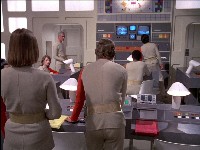 The opening shot of Main Mission, showing Paul Morrow standing at his desk, is from the original filming on 22 April. It is actually scene 32, after Alan wakes and calls Paul. As filmed, Paul is talking to Alan over the radio. With new dialogue we hear Prentis Hancock calling "Alpha to Eagle One. Come in, One.". The continuation of this shot, when Paul says "We'll have you home in no time", is seen later in the episode.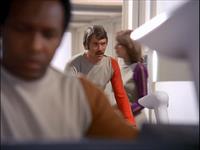 We then cut to a front shot of Paul, which is another recycled shot, but from a different scene. Abruptly Tanya disappears and a female security guard stands where she had been standing. This second scene is scene 20, after the title sequence, as Paul anxiously calls the crashed Eagle. This shot isn't obviously tense, so it has been shifted up as well.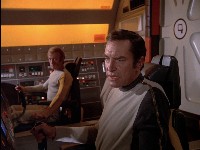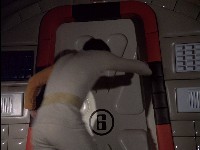 The original command module scenes were shot on the 2nd and 3rd of May. The new scenes were shot on Monday 22nd July. One continuity problem is that the original May shots have a number "6" on the door, and the new July shots have a number "4" on the door.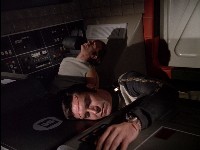 The call sheet specifies the broken wrist monitor, and the cut on the forehead to match the original filming.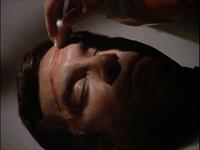 Barbara Bain isn't in the new filming, so this shot of her cleaning Koenig's head wound is a hand double, wearing her ring.
More scenes are discussed below the call sheet.
GROUP THREE PRODUCTIONS LIMITED.

"SPACE 1999" TELEVISION SERIES

.


"ALPHA CHILD" - EPISODE 10





"MISSING LINK" - EPISODE 7




CALL SHEET NO: 11
| | | | |
| --- | --- | --- | --- |
| DIRECTOR: | RAY AUSTIN | STAGE: | 'M' |
| DATE: | MONDAY, 22ND. JULY, 1974 | UNIT CALL: | 8.30.AM. |
---

ARTISTE
CHARACTER
D/R
MAKE-UP CALL
SET CALL

---

1.

INT. EXPLORER COMMAND MODULE. SC.NOS: 3,5,12,15. (Episode 7)

MARTIN LANDAU
KOENIG
321
7.30.am.
8.30.am.
NICK TATE
CARTER
326
7.30.am.
8.30.am.
EXTRA ARTISTES:
A.N.OTHER
HAND DBL FOR MISS BAIN
8.00.am.
8.30.am.
STAND-INS:
Alan Meacham for Mr.Landau
-
8.00.am.
8.30.am.

PROPS:

Commlocks, wrist monitor - broken. Helena's ring.

CAMERA:

Seahead rotating head.

SFX:

Smoke fx Sc.5.

FIRE DEPT:

Smoke alarms to be removed on 'M' Stage.

ELECTRONIC:

Sc.3 detector trace
Sc.5.detector trace to VTR noise.

MAKE-UP/HAIR:

Continuity cut on Koenig's forehead Sc.12.15.

ELECTRICAL:

Lights go out Sc.5.

---

2.

INT. EXPLORER PASSENGER MODULE. SC.4. (EPISODE 7)

BARRY MORSE
BERGMAN
325
9.30.am.
10.00.am.
ZIENIA MERTON
SANDRA
328
9.00.am.
10.00.am.
STAND-INS:
Ron Watkins for Mr.Morse
-
10.30.am.
11.00.am.

PROPS:

Astrocharts. Mobile Monitor. Trolley. Clipboards.

ELECTRONIC:

(a) Crater still (b) Detector trace

---

3. EXT. LUNAR SURFACE/AIRLOCK. SC.13 (episode 7).81.87.89.94.98.83.90.95.98A.84.92.96.
85.91.97 (Episode 10). 9.11.(Episode 7).
MARTIN LANDAU
KOENIG
321
FROM ABOVE
PRENTIS HANCOCK
MORROW
335
10.00.am.
11.00.am.
NICK TATE
CARTER
326
FROM ABOVE
CLIFTON JONES
KANO
327
10.30.am.
11.00.am.

STAND-INS

: FROM ABOVE

PROPS:

Special laser guns. Commlocks.

ACTION VEHICLE:

Moon buggy for dressing.

CAMERA:

High Speed S35.

ART DEPT:

Labels for helmets. Directional signs. Countdown clock.
Sign: "Airlock West 10".

PLASTERS:

Plaster to stand-by from 8.30.am.

ELECTRONIC:

Sc.89 & Sc.94 countdown clock/Commlock link.

SFX:

Dust fxs.

---

4.

INSERT: MONITOR (Episode 7 - "MISSING LINK")

ART DEPT:

Surround for monitor. Label for Koenig.

ELECTRONIC:

Vital life signs - Dead.

---

5.

INT.MEDICAL DEPT.SC.NO:100pt(Insert) ("ALPHA CHILD")

ART DEPT:

Caption for Monitor.

ELECTRONIC:

Caption/Link.

RUSHES:

Theatre to be advised.

CATERING:

AM and PM break on 'M' Stage for 75.

TRANSPORT:

(1) Ray Atkins to collect Mr.Landau at
(2) Unit car(Doug) to collect Mr.Morse at 8.45.am.
KEN BAKER ASSISTANT DIRECTOR.
On page 7 of the original script, we see Koenig leaving the Eagle crash.
24 EXT. CRATER. SFX.
The crashed Eagle. No sign of activity.
25 EXT. CRATER/STUDIO.
A small section of the Command Module in B.G. Slowly
up into the frame and out of the moon dust, KOENIG
appears. We read his name across his space helmet.
Breathing hard, he struggles to his feet and begins
to walk away from the crash, heading towards Alpha.
In scene 28, Koenig is walking across the lunar surface as an Eagle flies over. He waves, but it does not see him. In scene 36, he enters a Moonbase airlock. When the shooting schedule was drawn up, these shots were marked "to be scheduled later", and never filmed. So in the first version of the episode, Koenig is suddenly seen looking round the empty Moonbase and we have no idea how he got there.
The amended script reintroduced scenes 28 and 36, without any significant changes.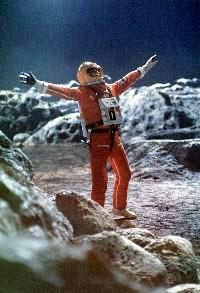 This was filmed on 22nd July, at the same time as the airlock/lunar surface shots in Alpha Child (when they go out to shoot at Jarak's spaceships).
Later Raan tells Koenig "Your ship went down a hundred miles from Alpha. You don't seriously think you walked a hundred miles in ten minutes." This was probably filmed (other parts of the scene are intact), but cut from the final edit.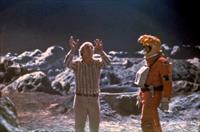 Ray Austin demonstrates waving to Landau, 22nd July 1974.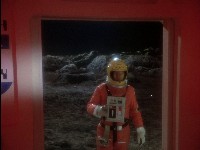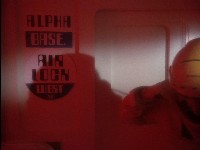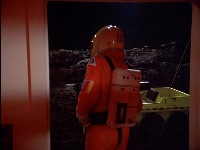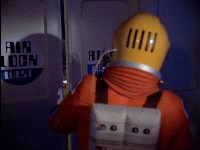 Koenig enters Air Lock West in Missing Link. Immediately after this shot was filmed, Landau would walk out the same door onto the same lunar set for Alpha Child (they swapped the signs for Carter, Morrow and Kano- east, west, south).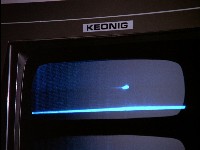 The close-up of the monitor. The call sheet, and the script, spell Koenig's name correctly. The label maker in the art department didn't.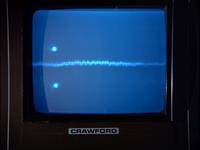 Immediately after the above shot, this monitor close-up was filmed for Alpha Child.