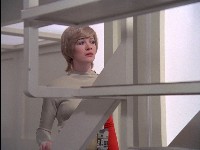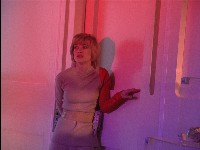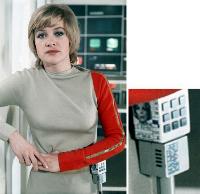 When we first see Regina in Main Mission, her commlock photograph is actually of Simmonds (from Earthbound). When she runs into the Command Office, the commlock photograph has changed to her own. A publicity photo (shown above) shows the commlock photograph to be Helena. Thanks to Craig Rohloff.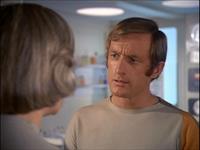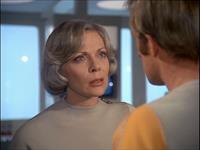 After Alan has placed Regina on the medical bed, Alan and Helena talk. Helena stands with the communications post behind her. In the reverse shot, we see another communications post beyond Alan. The shot is a cheat; the camera has barely moved, and it is the same communications post, and the same wall behind both actors. Barbara and Nick have merely swapped places so a new set wall didn't have to be constructed. Thanks to Craig Rohloff.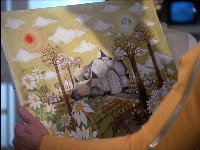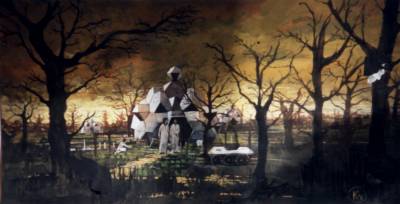 Regina's painting is by Keith Wilson. This is not the actual pre-production painting (which is shown here). The Regina painting is more cheerful: large sunflowers, fluffy white clouds and a red sun with a Van Gogh halo. The pre-production painting is darker and desolate.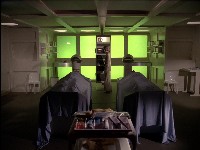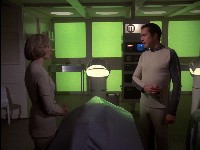 Helena gives Koenig the results of his autopsy. In the establishing shot, a Giano ashtray is seen on the left by the back wall. Later, the Giano has moved by the communications post and the Selene chair near it has moved.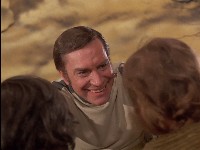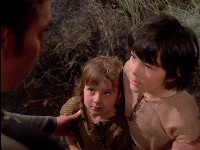 The shot of the children shows the girl is much shorter. In the reverse shot of Koenig with the two children, both children seem to be roughly the same height, with the fair haired girl possibly even taller (depending on the effect of camera angle)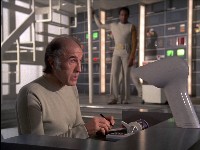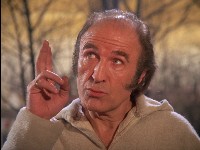 While the other "Earth" Alphans all look a little older and greyer, Victor Bergman seems to have got younger living on Earth. He's lost the grey in his hair. Thanks to Richard Totis.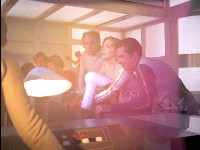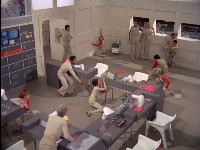 When they enter the space warp at the end, Bergman, Helena and Koenig are holding onto to Paul's desk. Sandra is in the foreground (on the computer side of Main Mission). Alan Harris is at the top of the steps on the window side. After the warp, we see the Alphans getting up from the floor. Bergman, Helena, Koenig and Sandra are now by the windows, Alan Harris is at Sandra's desk. Thanks to John Day.
Copyright Martin Willey. Thanks to Chris Moore.