4 Moonbase Layout
Almost all episodes were based on Moonbase Alpha (only All That Glisters did not feature it; some featured only Main Mission/Command Centre plus Eagle interiors, such as Death's Other Dominion, The Infernal Machine, Mission Of The Darians, The Rules Of Luton, New Adam, New Eve, Devil's Planet & The Immunity Syndrome).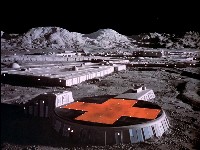 Main Mission (named "Main Mission Control" in Ring Around The Moon) and Command Centre are the control rooms which monitor and supervise all Moonbase operations.
Several Year 1 sets were split level, notably Main Mission/Command Office. The Command Office was revamped into several sets: the Diagnostic Unit in Missing Link, the Main Power Unit in Black Sun & Earthbound, the solarium in Force Of Life, the gymnasium in The Testament Of Arkadia. In Year 2 the base was moved underground, according to publicity. Two sets had windows to the surface, however: Observation in Seed Of Destruction & the Recreation Centre in The Lambda Factor/The Seance Spectre.
---
Copyright Martin Willey