Hydroponics
There are several Hydroponics Units on Moonbase Alpha, growing crops that form the basis of the Alphan diet. Among the units seen:
The "Hydroponics Unit" is also mentioned in Dragon's Domain.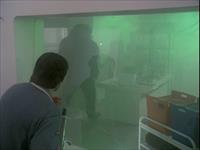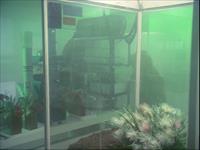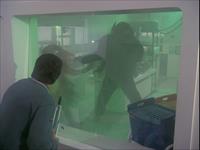 This view shows the work bench and a trolley to the side. This hydroponics lab seems to have a distinct lack of plants. A similar view. Why does this room have the capacity to be purged in chlorine? The wall panel on the far wall is the converter from the Main Power Unit, opened by Simmonds in Earthbound.
---
Copyright Martin Willey