Technical Section 6b
Technical Section 6b is seen in The Last Sunset. There is a bank of computers in an alcove (with two desks), two windows to the lunar surface, and an unusual swing door. The layout is very similar to Flight Control as seen in Breakaway.
Illustrated in Moonbase Alpha Technical Operations Manual by Chris Thompson (2021); page 53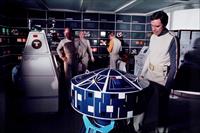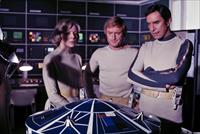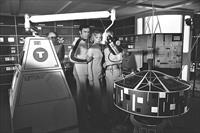 Behind the scenes shots of the computer wall. The edge of the set is right, but in the window view (see below) there are at least two blank wall panels.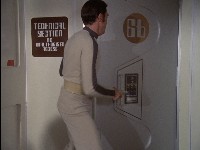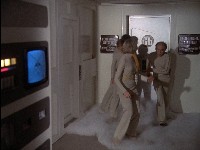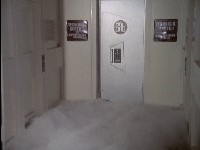 Unusually the lab door is a swing door. The same design door is used in the Medical Security Area in Force Of Life. The sign reads "Technical Section - No Unauthorised Access" (the spelling is the English "-ised", not the American "-ized"). The designation "6b" is on the door.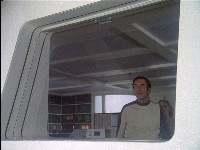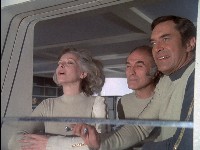 A view in through the window- which opens! We saw earlier the window being blown out by the air pressure, so it had to be repaired. The script describes technicians fitting the new window, but we don't see this in the episode.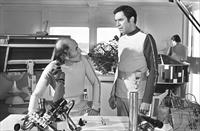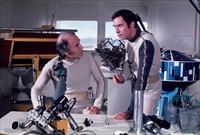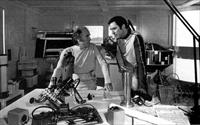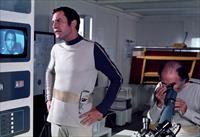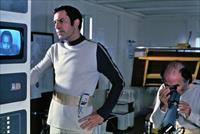 These wider views are publicity shots and cut scenes; we never see this much of the room in the episode. Note the Tizio lamp on the side of Victor's bench, and the drawing table. On the left is a communications post and you can just see part of the door; the frame looks like a normal sliding door, with control panel on the side, but details are unclear. The Boby storage cart is seen by the wall, with a Ditzel bar stool, and on the wall, the perpetual calender.
Bottom left corner is conjectural.