---
The standard uniform is worn both on and off duty, and even on Earth or on space missions (Dragon's Domain; note other missions in The Lambda Factor, Matter Of Life And Death, Brian The Brain & The Bringers Of Wonder favour beige jackets).
The unisex uniform consists of flared trousers, tunic and belt. There are no pockets.
Tunic The tunic is crew-necked, with a zip fastener on the outside of the left arm from mid-forearm to neck. It is worn outside the trousers, extending over the hips (female tunics may be slightly longer). The zip is a large "Talon" brand upholstery zip, to show up better on screen.
The seams are down the sides (on the top and underside of the arms) and down the centre of the back. The left arm is joined at a seam to the torso, but the right arm is not (arm and torso are made of the same continuous material).
Trousers and belt The trousers have a zip from waist to mid-calf length. (Incidentally, the names of actors were written on the insides of the zips on tunic and trousers). The light tan belt (2 inches /5cm in height, covered in vinyl) is used to clip on the commlock (worn on the left hand side). A stun gun holster may be worn on the right hand side (everyone appears to be right-handed).
Normal underwear would show through the material, so special seamless underwear was required. Some actors found jockstraps uncomfortable and wore nothing.
The uniform is beige except for the left arm up to the shoulder seam, coloured in the section colour code (Bergman and Simmonds do not have section colours). On screen and in photos this appears paler or even white. The material is a cotton/wool mix, and the large zips are upholstery zippers (to show up better on screen).
Security uniforms (purple sleeved) also include a light tan sash extending from the belt on the right side over the left shoulder.
The command uniform (worn by Koenig, Jackie in Alpha Child & Gorski in Breakaway) has a turtle-neck collar in "black" and a stripe on the outside of the right arm, extending from the wrist to the collar. (The actual colour is charcoal gray, but this appears black on screen)
The boots and shoes were white or beige. Landau, Bain and Morse wore boots from Bally, the Swiss-based designer shoe company. All others wore boots from the UK department store Marks and Spencer, although through the series many cast introduced their own, more comfortable footware, including Clarks desert boots.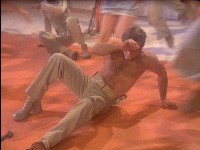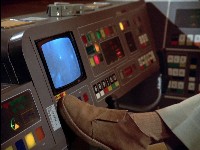 Within a few episodes, the cast were wearing more comfortable shows,