1960s-70s Industrial Design in Space: 1999
When they were designing Moonbase Alpha in 1973, Keith Wilson and his set decorator, Mike Ford, wanted to portray a futuristic and stylish environment. There had been huge changes in furnishings and consumer electronics in the previous ten years, with new materials, technology and designers. Wilson and Ford used many cutting edge designs from top Italian and European designers.
The design of furnishings and household products underwent a profound transformation in the 1960s and 1970s. As the world economy rebounded from war, ordinary people had spare money to buy more products, from furniture to new household electronics. The US and Russia had started the space programme, while France and the UK were developing a supersonic aircraft. Inspirational as these were, it was the big companies and universities in Europe that were buzzing with ideas to change ordinary people's lives. Magazines featured exciting modern designers, and technology introduced new techniques and materials.
Many items used in Space: 1999 can be seen in modern design museums, like the Design Museum in Kensington, London, and the Museum of Modern Art in New York. These photos come from the Art and Design Atomium Museum (ADAM), a Brussels museum whose core collection, the Plasticarium, is formed of items from these decades. The ADAM displays an unusually high concentration of items seen on Moonbase Alpha.
Plastics
Furniture was almost always made from wood or cane until the late 1920s, when Charlotte Perriand, working for Le Corbusier, introduced chrome-plated tubular steel furniture. In the 1950s, metal and glass became more popular, but plastics were lighter, more durable and more modern.
The first commercial plastic was Bakelite, invented by Belgian-American chemist Leo Baekeland in the 1907, and widely used by the 1920s. A variety of new plastics were invented in the 1930s, and war created huge demand and intensive research. Plastics like plexiglass (Perspex), nylon and polyester were familiar after the war, and more and more plastics began to appear in the home. Plastic composites like glass-reinforced plastic (GRP, fibreglass) and Formica, a melamine resin laminate, became widespread. In the 1960s, solid state electronics revolutionised home electronics, and plastic devices like hair dryers, cookers and televisions spread to every home, often with plastic bodies.
In designing Moonbase Alpha, Keith Wilson and Mike Ford wanted to portray a future made of plastics. They found plenty of real world furnishings using the new plastics. Even the sets, made traditionally with wood, were enhanced with plastics. The computer panels were made from perspex. The standard walls were coated with Formica to give them the plastic look, and they were easy to wipe clean after sets were moved around, or covered in Fuller's Earth in effects sequences.
Italian design
The epicentre of industrial design in the 1960s and 1970s was Milan, Italy. Here architects Alberto Rosselli and Gio Ponti popularised the concept of industrial design, and created a design award, the Compasso d'Oro (Gold Compass) to highlight it. It was home to top Italian designers like Joe Columbo, Vico Magistretti and Mario Bellini. Milan attracted other European designers like the German Richard Sapper who made his home there. A number of innovative Milan companies employed these designers, notably Kartell and Artemide.
Kartell had been founded in Milan in 1954 by chemical engineer Giulio Castelli and his wife, the designer Anna Castelli-Ferrieri. It began to produce plastic home furnishings in 1963. Artemide was founded in Milan in 1959, specialising in lighting designed by top industrial designers, but also producing plastic chairs and tables. Artemide was founded by Ernesto Gismondi, his wife, the designer Emma Gismondi Schweinberger, and the designer Sergio Mazza.
European design
Innovative designers were working elsewhere in Europe, but few were working in plastic. In most cases they used tubular steel or wood frames, polyester foam and fabric. The most notable designer who would feature in Space: 1999 was Pierre Paulin in France, whose Ribbon chair features prominently. Paulin's chair designs influenced another French designer, Olivier Mourgue, when he created the Djinn chair, featured in 2001: A Space Odyssey.
Other notable designers include Nanna Ditzel from Denmark (the fibreglass bar stool), André Ricard from Spain (Tatu lamp) and Willie Landels (Thowaway sofa), who was Italian but based in London (and editor of affluent style bible Harpers and Queen).
Plastic chairs
In 1948, the Museum of Modern Art in New York held an "International Competition for Low Cost Furniture Design". The competition aimed to help poor families, with limited living space and very limited budgets. Top designers would design furniture that could be cheaply mass-produced. Several of the entries proposed the use of the new plastics that had been developed in the war. Charles and Ray Eames, a husband and wife team, made revolutionary use of fibreglass, a material that had only been used in aircraft bodies and military boats before. The construction was also novel, using an hydraulic press over a metal mould. The Eames fibreglass armchair, finally released to the public by Herman Miller in 1950, came with a variety of metal or wood legs, including a rocking-chair version and fixed stadium sitting.
For much of the 1950s, few furniture companies had the knowledge or technology to produce plastic furniture. Eero Saarinen's 1957 Tulip Chair for Knoll also had a fibreglass shell, but the elegant base was actually coated aluminium, as plastic could not support the weight. In 1963 British designer Robin Day created the Polyprop stacking chair for Hille. The seat was polypropylene, with metal legs, and was the best-selling plastic chair until the 1980s. Meanwhile, several designers were incorporating plastic into upholstered chairs. Joe Columbo's 1963 Elda chair, named after his wife, had a fibreglass shell (it is seen in Alphan living quarters, and in the 2012 futuristic film The Hunger Games). Chairs also began to be upholstered with polyurethane foam. In 1965, Willie Landels designed the Throwaway sofa, the first sofa made entirely made with an expanded polyurethane frame, with no wood or metal.
In the 1960s designers were attempting to create the first all-plastic chair, with plastic legs as well as seat. Kartell and Artemide were already experienced in plastics and would become world leaders. The very first, in 1964, was Richard Sapper's K1340, a polyethylene children's chair, made by Kartell in Italy, with detachable legs. In Germany, Helmut Batzner had created the Bofinger chair, a single-piece moulded fibreglass chair.
In 1965, Joe Columbo created the Universale for Kartell, a chair made in ABS plastic (Acrylonitrile butadiene styrene, the same hard plastic used for Lego bricks, and the body shell of the Amphicat / moonbuggy). Danish designer Verner Panton produced the first single-piece moulded plastic chair in 1967, the S chair with a distinctive cantilever shape. In 1968, Vico Magistretti created the very influential fibreglass Selene chair for Artemide. Magistretti and other designers would design a variety of chairs, tables and lamps for Artemide, many of which would appear in Space: 1999.
After the oil crisis in 1973, plastics became much more expensive. Plastic furniture fell out of fashion, being confined to much cheaper plastics, such as polypropylene. The French company Grosfillex introduced their monobloc garden chair in 1983, which like Robin Day's Polyprop chair became ubiquitous.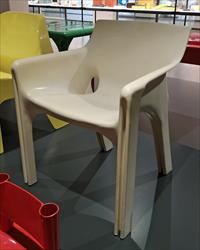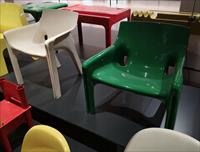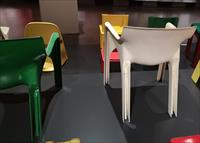 The Gaudi chair (in white), and the Vicario (in green). Both were designed by Magistretti for Artemide in 1971. The Gaudi is the chair mostly used in Main Mission (sometimes Kano has a Selene). The Vicario is seen in Koenig's office. Note the distinctive Magistretti legs with their "W" shape. He originally modelled the shape in paper to prove its strength. The small red chair just in front is Richard Sapper's K1340, the first fully plastic chair.
Functional
The dominant design philosophy was that products should be easy to make and easy to use. Products had to be functional, understandable and aesthetic. The ideal was minimalism and simplicity. Braun designer Dieter Rams codified the philosophy into ten rules, including the famous tenth rule that good design is less design. This ideal directly influenced the next generation of designers, such as Jonathan Ive at Apple. Functional, ergonomic, minimalist design still looks modern.
There was an obsessive attention to fine detail in design. The legs of Magistretti's chairs and tables used characteristic "W" cross-section, that made them strong but light. Many of the items were designed to be stackable, and some were modular, fitting together to create larger pieces of furniture. One small coffee table, the Demetrio 45, was usually seen on moonbase Alpha stacked up to make shelves.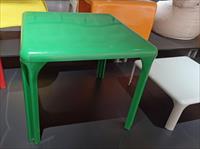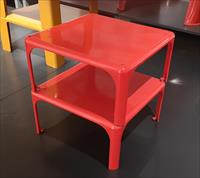 Magistretti tables made by Artemide. The green table is the Arkadia 80, from 1970. Alongside it, in white, is a Demetrio 70 coffee table from 1966. The red shelves are the Demetrio 45 coffee table, from 1966, stacked on top of each other. Moonbase Alpha did the same, stacking 3, 4 or 5 Demetrio 45 tables to form shelves that are used in living quarters.
Futurism
Some design set out to be ostentatious and futuristic, like Finnish designer Eero Aarnio's ball chair in 1963 (best known in The Prisoner). Wilson and Ford avoided the more exuberant designs except in alien sets. Aarnio's 1967 fibreglass chair, the Pastilli, appears on the Daria in Mission of the Darians and stacked on Ditzel barstools in The Infernal Machine.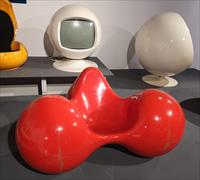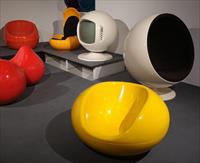 The spherical TV is the Keracolor, designed by Arthur Bracegirdle in 1969, alongside Peter Ghyczy's 1968 Garden Egg in yellow, the first hinged armchair. The red chair in foreground is Eero Aarnio's Tomaatti, for Asko in Finland in 1972. The yellow chair is Aarnio's Pastilli, also for Asko, from 1968. Behind is Aarnio's globe chair, as seen in The Prisoner, for Asko in 1965.
Throwaway
Plastic for some promised the start of a disposable culture, where things could be bought and thrown away without much thought. The Throwaway sofa designed by Willie Landels, embodied the concept in its name.
Dieter Rams believed the opposite- that design should be durable and should not become obsolete. Italy's Kartell advertised their plastic furniture by saying long-lasting plastic would avoid cutting down forests for wood.
In the 1970s and 1980s, it was clear that the throw-away culture had won. The durability of plastics made pollution a major problem. Many plastics are recyclable, but sorting different plastics is problematic, and some of the most common plastics are not easily recycled.
Colour
The 1970s were notably the decade of vivid primary colours and psychedelic patterns. Most of the furniture seen in Space: 1999 was also sold in bright red, blue or green. In decorating the moonbase sets, Keith Wilson and Mike Ford followed a largely monochrome colour scheme - most of the furniture is white, light grey or beige. They embraced a radically minimalist design. The all-white theme was the pinnacle of avant-garde design. The 2010 series Mad Men faithfully reproduces the late 1960s white theme in the office of Roger Sterling (decorated primarily with Eames designs and Eero Saarinen's 1958 Pedestal Collection).
Even Kubrick's 2001 sets were more colourful, with the bright red Djinn chairs. The Moonbase sets did have small bits of colour which pop-out even more against the white colour scheme- the black computers, the coloured lighting panels, coloured sleeves, and small props like the orange mugs from Gabbianelli.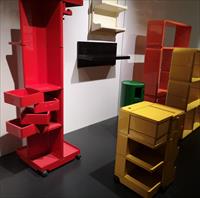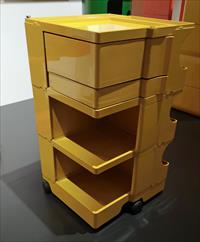 The Boby storage cart by Joe Columbo, for Bieffeplast in 1971. It usually stood in front of Main Mission and Command Center computers, and was also used in Star Trek The Next Generation between 1990 and 1993. This bright yellow version contrasts with the white and black version used on Moonbase Alpha.
---