---
---
This variation on the standard spacesuit appeared in a number of Year 2 episodes. There seem to be just two suits.
They first appeared on technicians in The Exiles. The Swift in Brian The Brain has a silver spacesuit with orange back pack and re-detailed chest pack (although the neck ring is orange). Koenig wears the same suit and helmet in The Seance Spectre as an "Anti Radiation" suit. In Dorzak Helena and a medic wear the suits, without helmets or equipment, as "Anti Contamination" suits.
The Alphan firemen in Space Warp and The Bringers Of Wonder part 1 wear identical silver suits with fire hoods instead of helmets, and a fire extinguisher back pack.
The two suits were purchased by Group 3 for the film Into Infinity, filmed prior to Year 2.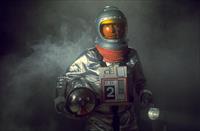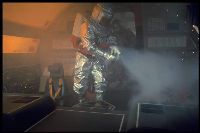 Firefighter suit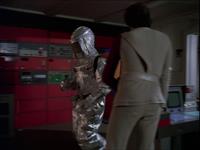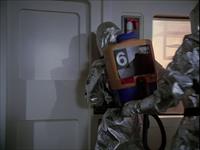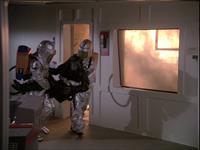 The fire-fighters in Space Warp. The backpacks are numbered 6 and 7. These fire-fighters wear fire hoods, not astronaut helmets.
---
Copyright Martin Willey