Moonbase Exterior Structures
---
Moonbase Alpha is constructed in a radial pattern around a central tower. Apart from the tower, other buildings seem to be 2 or 3 storeys high above the surface. Travel tube tunnels extend between buildings, the five launch pads and small structures. The lunar surface around the buildings is marked by small craters and occasional tracks, but there is no evidence of the heavy construction that must have been used to build the base. Without weather and erosion, every footstep in the lunar surface would be preserved - although the breakaway and numerous explosions would have obscured some details with new craters.
Most shots of Moonbase Alpha in Year 2 are library shots from Year 1 and photo cut-outs, but some new footage is used. Between Year 1 and 2, the Main Mission Tower has turned a little, and a thin boarding tube has been added to the launch pads. There is a little more detail on the launch pad spur.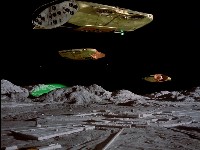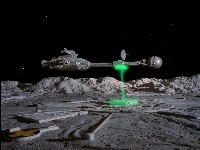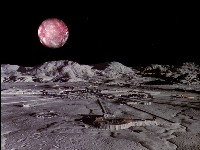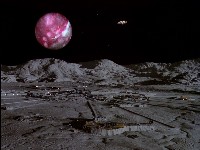 The battle scarred Moonbase in War Games.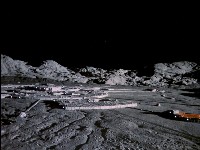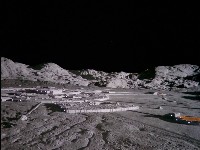 A pan down from space to the Moonbase is seen behind the title credits of The Troubled Spirit. The second establishing shot from The Infernal Machine is identical.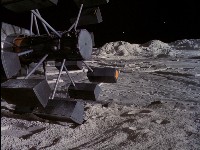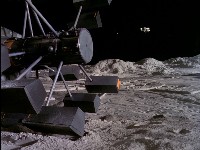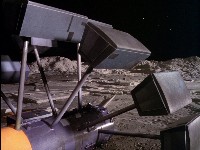 Low angle shot seen three times in The Infernal Machine
Distant views
---
Copyright Martin Willey