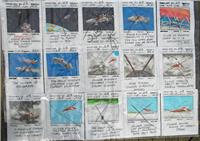 All special effects shots were first drawn as storyboards. Each image shows the design for a specific shot, and is crossed off when the shot was completed. At the start of the series they were drawn by Brian Johnson and Cyril Forster, but as Brian became busier Cyril took over most of the work. The first series storyboards are black and white and fairly crude; in the second series Cyril used colour to give a more effective sense of the shot.
The drawings/ description are either in pairs, on pieces of paper 32.5cm x 20.5cm (approx.), laid out in landscape format or a single 16.5cm X 20.5cm (approx.) portrait format eg: one of the big pieces cut in half, They are not regular A4 or A5. The drawings are then stuck to one large piece of black cartridge type paper and slid into a big ArtCare slip. The whole thing is approx. 85cm x 61.5cm.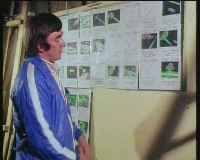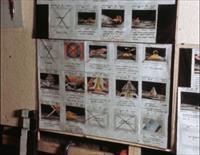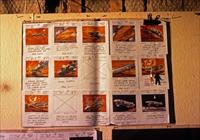 SFX storyboards pinned to the wall at Bray Studios in 1976. Brian Johnson consults the storyboard for Seed Of Destruction, July 1976. (more); storyboard for The Taybor on 28 May 1976. (more); storyboard for Seance Spectre, October 1976. Photograph by Robin Hill. (More)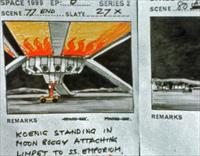 The individual sheets of paper that the paintings/directions are executed upon are photocopied blanks with spaces to enter the story, scene and slate number. There's a bordered space for the picture and below it space for the "remarks" eg: direction/ description of the shot, plus "space sky" and "planet ext" to be crossed through as required. The "remarks" below the pictures are mostly reproduced from the shooting script.
As a shot was completed a big cross was put over the relevant picture with a chinagraph (grease) pencil. The crossings out are still present and as they are on the plastic slip the drawings are unaffected.
On some storyboards is a small inked stamp and Brian Johnson's signature. Not all storyboards have the stamp and they were added after production, probably when Brian was selling the art. The stamp text reads:
Date................................................... (Alas not filled in)
BRAY FILM STUDIOS
PINEWOOD STUDIOS
SPECIAL/VISUAL FX
ATTN BRIAN JOHNSON

See also Year 2 title sequence storyboard.
Comments thanks to Simon Rhodes; images thanks to Simon Rhodes and James Winch.
Year One Storyboards
Year Two Storyboards
---